"Old age is the most unexpected of all things that happen to a man", so rightly said by Leon Trotsky.
The mind of an old man reflects the innocence of a child. Blessed are those who get to spend their old age with their loved ones. However, no one of us is also ignorant of the growing numbers of the unfortunate ones who are neglected or disowned by their own people. But the Almighty is not merciless and he finds the special someone from among us who come forward selflessly to usher in the love, care and hope to these elderly angels.
Ravi Kalra is one of those chosen ones among us who has devoted his life to the welfare of less privileged people.
The Moment Of Truth
As we all believe, everything happens for a reason. We all have a moment in life that forces us to change our perspectives and course of action in life. Ravi Kalra was no exception. One fine day he saw a stray dog and a human child eating together from the same stinking garbage. That was the moment of truth for Ravi Kalra which changed the course of his life and its purpose. In the year 2007, Ravi Kalra decided to give up everything and dedicate his life to serve humanity in all possible ways. In 2008, with his own hard-earned money he started The Earth Saviours Foundation in Delhi and now it is an internationally recognized NGO.
Ravi Kalra – The Man
Born and brought up in Delhi in a middle-class family, Ravi Kalra, a Delhi University graduate, went on to get level 4 Dan Black Belt in Taekwondo Martial Arts. While growing up, he had his share of hardship wherein there were times he didn't have a single penny to even travel on the local city bus. With grit and determination, he went on to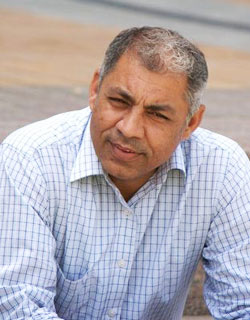 become an International Master Instructor and the President of the Indian Amateur Taekwondo Federation. Ravi Kalra, a self-made man, now has traveled to 43 different countries to date based on his work skills.
Ravi Kalra is also known as the "No Honking Man of India". He is the first person in India to launch the 'Do Not Honk' battle in order to control noise pollution. He holds the world record for having more than One Lakh commercial vehicles take down their "Horn Please" and "Blow Horn" signs.
Ravi Kalra, being a non-priest, is perhaps the only person who had cremated more than 4,950 unclaimed and unidentified dead bodies at the electric cremation center. He also did hold more than 48 amputated human heads during his midnight prayers at the different cremation centers. These are the unfortunate dead people brought to the cremation center after the postmortem and police clearance where Ravi offers his helping hand voluntarily to cremate them with prayers so that their souls can rest in peace.
It is now his regular practice to visit the streets of Delhi looking for the abandoned, bed-ridden, mentally disabled, HIV infected, people having maggots on their bodies, and barely surviving on the streets. Ravi Kalra immediately brings them to his Gurukul where they are instantly provided with food, accommodation, and medical care, all for free of cost. There are presently hundreds of such less privileged people living permanently at his Gurukul.
Ravi Kalra feeds almost 300 poor people every day.  He has also pledged to donate his eyes, kidneys, heart valves and other useful organs for needy people. He has pledged to donate his body for medical research.
It only takes an individual like Ravi Kalra to bring the change we all look for and inspire a thousand others like us.