Money saved is money earned. Period.
Birthdays are special. And to make one of her friend's birthday more special, Kulpreet wanted to gift her friend a mobile phone. So in her quest for the same, she started looking for the best deal/coupon online. After spending hours and hours searching for the best offers, she only ended up with few invalid, non-working coupons. And she was disappointed. However, after some introspection, she realized that though there are many sites offering deals/coupons, there is still a gap that exists which needs to be addressed. A pirate was born in her mind. And today we call it ShopPirate, offering online coupons that works, deals, discounts and savings.
In an exclusive conversation with LifeBeyondNumbers, Kulpreet Kaur, founder of ShopPirate, tells us more about her venture and the journey so far.
Looking Back
Hailing from a business family, entrepreneurship was always in my blood. After completing my MBA, I joined IBEE solutions as an HR and it was a long association of 9 years. It was a start-up, so I got enough exposure of handling multiple roles and responsibilities and start managing things from scratch. I was very closely involved when IBEE was acquired by XBT holdings. There I met Suresh through one of the common friends and he had good experience of 10+ years in performance marketing. With growth of e-commere while discussing on finding latest coupons and deals, and sharing our personal experiences on the same, the idea of ShopPirate came into existence. That time we both realized that there is a need of user centric coupon website which can save time and money of the consumer. To fill this gap and with strong conviction; we started working on concept of providing latest and working coupons and deals. This is how ShopPirate came into existence. We shared the mutual vibes and discussed business terms and conditions and went ahead to launch ShopPirate.
ShopPirate – The Journey So Far
As mentioned earlier, it was the incident of me searching for some good deals on website, at that point in time I realized that there was scarcity of good websites which offer relevant and active coupons. And then to tap this burgeoning e-commerce market, ShopPirate was launched.
In today's time with more and more shoppers preferring to shop online, coupons and discounts are one of the major factors contributing to the growth of online shopping. 70% of the shoppers are looking for store/product coupons and discounts to shop online. Though there are many existing players providing deals and coupons, there is still a gap. In such a scenario ShopPirate can be an ideal place for shoppoholics which save their time and money by bringing the active deals on table. We offer the latest working and tested coupons and deals across the ecommerce stores. We have stores which provide real benefit to the shoppers. That is what sets us different from our competitors as we offer relevant and user-relevant deals, rather than offering all the deals. We test every coupon at our end first and then offer it to customers. Our policies and offering are transparent and that is why our user base is increasing by every passing month. By September'14 end we will have 1 lac users which indicates the growing popularity of ShopPirate.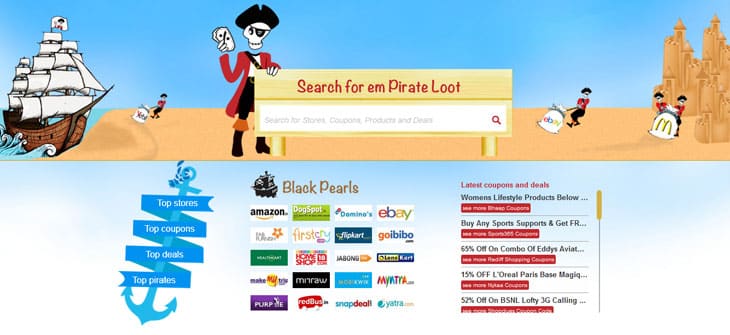 I understand the infrastructure of the Information and Technology industry – from strategy formulation to solution delivery – and enabling technology to enhance all processes and scale the organization to the next level. Being from a business family, entrepreneurship was always in blood. I have always seen my father as a business leader, how he started from scratch and made success. He is till date my inspiration. His real time experience and the challenges he faced in his course of journey always inspired and sparked the entrepreneurial drive within me. And when i got an opportunity to fulfil my dream of becoming an entrepreneur, i grabbed the opportunity.
We don't randomly add any stores. We cover stores which provide real benefit to the users. ShopPirate itself says we loot the best discounts and deals across the e-commerce stores. Besides affinity search, intent categorization and user friendly content, we focus on Omni channel approach and making ShopPirate available over mobiles and browser extensions.
Where We Are Now
We received seed funding of INR 50 lakhs from Confidance Holdings which helped to scale our operations. Very soon, ShopPirate will mark its presence in Canada, Australia and the US markets.
We will cross 1 lac registered users by September'14 end and we are still growing. We wish to have 2 lac registered users by 2014 end. Shoppers are opting for best coupons and discounts while shopping online. Apart from fashion and electronics, we are observing users shopping online for Health products, Automotive accessories, Baby Products, beauty as well.
As 35 % of the shopping is happening on mobile, the number of app downloads are increasing, top categories on mobile are travel, fashio, and Home appliances, challenge over here though it's easier to find information on merchants mobile websites—so while mobile-optimized sites are more user-friendly, they're currently insufficient. Keeping this in mind ShopPirate have user friendly app sites on Windows and iOs and Android app is in pipeline.
Challenges And The Road Ahead
For every startup setting up the team intially is a big challenge and we were not an exception. We always wanted to have a team of pro shoppers who undertands the pain of shoppers, looking out for deals and coupons. So by God's grace, today we have a team of 12 passionate professionals who work towards achieving a common goal that is to save shoppers time and money by providing latest working coupons and deals. Coupons which we get from merchants are usually with no expiry dates, so to overcome this we have quality analyst team who test each and every coupon which goes to ShopPirate everyday.
While the list of things we want to achieve is really long; one which is most important is – To be perceived as the most trusted name for online Shopping where users will save their time and money, nationally as well as internationally.
And The Learning
Hard-work and Passion driven by focused vision is the most important trait of an entrepreneur. You firmly need to believe in your instincts and should be ready to wear the cap of a captain, do multitasking and yet keeping the hold on how things are moving. I would advice not to be impatient. If you believe in your dreams, follow the path of discipline and do your homework correctly before launching a venture. And most importantly be ready to face various challenges. Do not do many things together instead do one thing and do it perfectly.
Getting ready for your next online purchase? Visit Shoppirate first. Remember: Money saved is money earned.