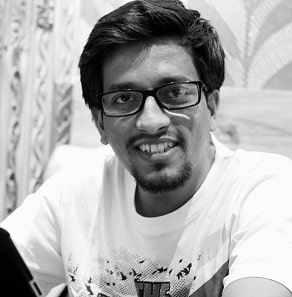 After his matriculation from his hometown Sonepur, Odisha, Jubanashwa Mishra has been living in different places around India from the last 14 years. 2 years in Sambalpur during Intermediate, 1 year in Bhubaneswar during JEE preparation, 4 years in Berhampur during Engineering, 6 months in Bangalore before Joining IT industry, 2 months in Trivandrum for TCS ILP training, 3 years in Chennai during his Software Engineer Job, almost 2 Years in Ahmadabad while pursuing post-graduation in MICA, approx 2 years in Mumbai and Bhubaneswar for different projects and jobs, and finally before starting One Week Job India – 6 months in Delhi. "My inconsistency with the cities and jobs sound quite alright when compared with the One Week Job India project; where I could not sustain more than one week in a job as well as the city", Jubanashwa says with a hearty laugh.

Despite his illegitimate relationship with the cities, Jubanashwa always had his loyalty intact towards the entrepreneurial bug to execute different ideas. While preparing for GRE, finding difficulties in memorizing a lot of words resulted in a picture dictionary called EZeeDictionary.com which consists of 2,50,000 word definitions. Inspired from Pecha Kucha story telling technique and giving the storyteller much more options to fetch a new story, the fetcha kucha Storytelling workshop evolved. When most of Odia films were lacking originality in the recent years, Jubanashwa founded "International Short Film Festival Bhubaneswar" to inspire the young filmmakers of his state Odisha.
In an awesome conversation with LifeBeyondNumbers, Jubanashwa Mishra talks about his amazing journey, his challenges, experiences, learning and lots more…
The Journey At One Week Job
I always had this question in my mind: Does every kid in India wants to be a doctor or an engineer? Why there is a growing trend in India towards the stereotypical higher education of medical and engineering? Are we lacking creativity or do not possess the courage to follow our dreams? There are a lot of other possible professions which a kid wants to be in, but these dreams are killed during adolescence.

The movie – Slumdog Millionaire had a great impact on me. As the story flows, the kid tries out many things in his life to survive; when nothing was there with him he was a beggar, with a little maturity he started selling goods, then selling toys in trains, worked as a tourist guide, worked as a photographer, providing chai (tea) to the corporate, learned on his own how people in BPOs work. There was always this pro factor for him of being a slum kid than being a kid born with a silver spoon. He did not have to think about the social status and parental interference before choosing any profession. I always had a question if the protagonist would have been from a regular middle-class family; would his parents have allowed him to do such things? Or he will be a doctor or an engineer in the future. It is necessary to break that trend and inspire the kids to follow their passion.
"Be as crazy as possible to be creative enough. Cultivate confidence to follow your passion and be patient to achieve your dream."All those thoughts kept quiescent till I heard about One Week Job Project where Sean Aiken from Canada did 52 jobs in 52 weeks to inspire the people to discover their passion. Thus connecting all the dots, One Week Job India mission started.
Founder of One Week Job Project, Sean Aiken from Vancouver, Canada graduated from college and didn't know what he wanted to do for a career. So to discover his passion he started a journey of 52 jobs in 52 weeks throughout the country. He tried every job he could get – Bungee Instructor, Dairy Farmer, Advertising Executive, Baker, Stock Trader, Firefighter, and more. After the successful completion of One-week job project, he spread the project and gave it the current mission which is to spread the message 'Discover Your Passion' globally as job satisfaction is a serious issue worldwide.  That's how One Week Job project was spread into USA, Australia, UK, and India.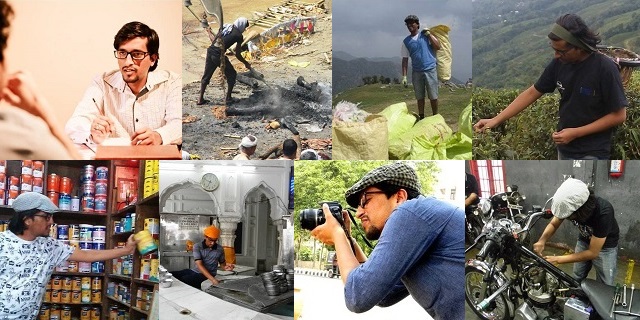 The Many Jobs On The One Week Job Journey
I did 28 jobs in all the 28 states of India for one week each, immersing in a process of re-discovering and re-envisioning myself. I started this journey in mid-May 2013 which ended in December 2013, with a variety of jobs ranging from mountain cleaner to TRP Analyst to Tattoo maker to Rafting Trainee to Cremation Assistant to Tea Factory Worker to Bullet Mechanic to Storytelling instructor to Tea Factory Worker to Data Entry Administrator.
In our previous conversation with Jubanashwa, he shared with us the 10 craziest jobs in the 28 Jobs in 28 Weeks journey. Don't forget to read this interesting story.
The Challenges
I didn't want to compromise on the urge to travel without any plans. The major challenge was to travel from one state to another state in between weekends so that I can very much be available on Monday for my next job. The only thing I knew was my next destination, and mode of travel was decided on the spot; all the train tickets were booked through tatkal, and all the buses and shared taxis booked on the spot. For the north eastern states, sometimes traveling took a lot of time to reach from one point to another because of the transportation constraints and hilly routes. On top of it, you need in line permit to enter into a few states like Arunachal Pradesh, Nagaland and Mizoram.
What's Next?
After the adventurous journey, I am very much busy with penning down my experiences, as a book on the journey is promised very soon. In the coming years, I will continue to keep trying to inspire the youngsters to discover their passion. Especially when they are in the stage of adolescence and confused about choosing a career. I feel that's when they need to be guided. Even in small towns, the senior secondary kids are very much unaware of the career possibilities. Our team at One Week Job is working on the same to provide a better solution very soon to help those kids.
Experience And Learning
Often ask yourself – 'Whats Your Dream'. Always listen to your heart. If you are passionate about something just go for it, don't listen to people. Sometimes don't even listen to your calculative brain, listen to your candid heart while taking decisions. You will always find people around you to intimidate you saying things like – It is very difficult, This is not perfect time, You don't have the time, What will happen if you fail, You are new and inexperienced, Will you be able to do that, No one has tried that before, It is very risky, This idea might not work, and many more. Don't listen to them!!!
Doing whatever you love doing is the first step to discover your passion. Follow your passion, setting up an unrealistic dream to chase, that's how perfection comes. Be as crazy as possible to be creative enough. Cultivate confidence to follow your passion and be patient to achieve your dream. Demystify the opportunity and dare to take risks and finally never forget to have fun and enjoy life.