Three friends from the Delhi College of Engineering, Gautam Garg, Mukesh Gupta and Swapnil Jain teamed up and co-founded Zerocrime is a crowd sourcing initiative that allows citizens and travelers to report criminal activity in neighborhoods.Scanova, an online marketing management venture before moving on to founding Zerocrime, a non-profit initiative. Based out of Delhi-NCR, the hotbed of criminal activity in India, Zerocrime is a web-based crime reporting (unofficial) application to map criminal activity that aims to make citizens aware of the surroundings they are living in or travelling to. Gautam believes that technology has the potential to create a huge impact on the development of our society.
Gautam's early years were spent in Mumbai but eventually did his graduation from Delhi College of Engineering where he met Mukesh and Swapnil; and has been living in the city since then. "I think I have always had this knack to try and do things in a better way. I believe this has led me to take up entrepreneurship as a career", says Gautam.
In this exclusive conversation with LifeBeyondNumbers, Gautam shares how they ended up starting up with Zerocrime, their journey, the plans ahead and lots more…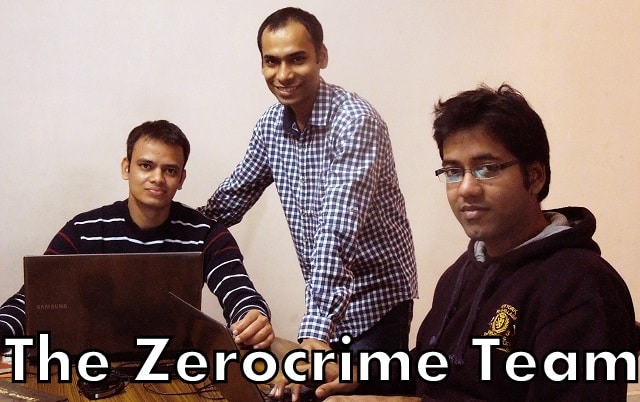 Inception of Zerocrime.org
Like every venture, Zerocrime began with the identification of a challenge in our society. One of our colleagues was mugged by robbers, who snatched his smartphone. When he tried to report this crime to the Police, they refused and only filed a complaint for 'Lost phone'. This is a prevalent practice in India where victims are often denied justice, ironically by law enforcement agencies. We felt there should be a platform where citizens can raise their voice and caution other citizens about the dangers looming in the neighborhoods; and hence, we came up with the idea of Zerocrime, a crowd-sourcing initiative that allows citizens and travelers to report criminal activity in neighborhoods.
Zerocrime.org

Zerocrime is an initiative that leverages a web application and crowd-sourcing to map criminal activity in neighborhoods. If a citizen or traveler has been a victim or witness to a crime incident, he or she can anonymously file an unofficial report with Zerocrime by providing simple details. Zerocrime will aggregate these reports to identify high-risk areas in cities and towns for particular types of crime. This knowledge will then be used to caution citizens (through web and mobile application) and inform the media and law enforcement agencies about troubled areas so that necessary action can be taken to mitigate future incidents. Currently, Zerocrime is in the beta phase where users are able to file reports and view criminal activity around them. We are in the process of developing a sustainable revenue model by leveraging channels such as crowd-funding, corporate and government grants, and commercial sale of our safety products to for-profit businesses.
We launched the beta version of our web application in October 2013. This version allows users to report crime incidents and view criminal activity around them. We are also creating awareness of our initiative through social media campaigns on Facebook, Twitter, Google+ and Quora. We are actively writing blog articles on crime-related issues in India. We are also conducting research through the help of 6-7 student interns. Zerocrime is now planning to start a volunteer program as many people have showed interest in working for this cause.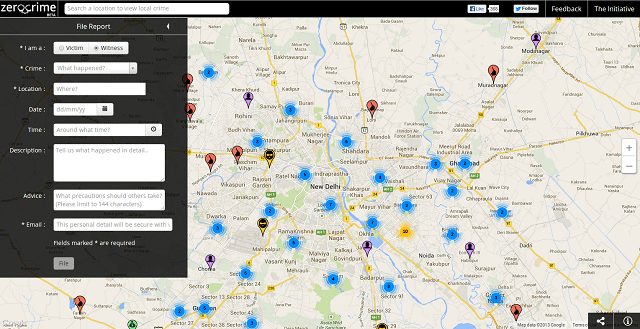 It is too early for us to consider any serious challenges, as its been only a few months since we started. However, we do foresee marketing as a considerable challenge given the fact that we have limited funds. Marketing our cause in a big way is important as getting crime reports is the crux of our initiative.
The Way Ahead
We plan to build our product over three stages. In the first stage, we will focus our efforts on crowd-sourcing reports. This is the key foundation of Zerocrime. This is what the current version is all about. We plan to add a few additional features such as crime filters that allow the user to view specific crimes only. Once we have enough reports, we will deploy our second phase which is rating and indexing neighborhoods with crime level. Users will be able to see a heat map of high-risk zones near them depending on the crime field they select. In addition, we will generate crime-related insights that we plan to share with law enforcement agencies, media houses, and anti-crime organizations & NGOs. In the third stage, we want this initiative to become highly actionable for the user. This is the stage where we launch our smartphone application that will act as a personal safety guide for the user. Through this application, users will be able to get safety notifications depending on their GPS location, send a SOS message to close family and friends in emergencies, located the nearest police station, and file a crime report.
We believe our product is unique because firstly it is focused on crime only. Other similar services either tend to cover many other issues such as civic, which we feel dilutes the cause or focuses only on a sub-segment of crime such as crime against women which is quite popular in the media these days. Our focus is more for the long-term and covers all categories of crime. Secondly, we are trying to build a platform that has a great user experience making it very easy for a citizen to interact and contribute to eradication of crime.
One should believe in the cause they are fighting for and find the strength to be persistent. We believe everything else will fall in place.