I am sure that almost everyone who spends time on the internet has come across things like obscenity, profanity, use of derogatory remarks, etc. The lack of accountability and possibility of using fake names and accounts is a major contributor to that. Piyush Grover and Piyush Pandey, two friends and now co-founders of their start-up, has come up with The Decent Planet to deal with this particular issue. "It was the need to have a decent place where interactions will be positive, healthy, engaging, enlightening and yes funny, but never indecent. We could not find it, so we created it." says Piyush Grover on his conversation with us. The Decent Planet is a social networking website with a healthy, intellectual and decent environment where people can interact with strangers like they would in the real world.
We caught up with Piyush Grover and had a chat about their journey, the start-up and lots more…
The Beginning
I met Piyush Pandey on my first day of engineering. We both had this mutual feeling of wanting to do something big although we didn't know what exactly it would be, and that kind of brought us closer. But while in engineering, we got overwhelmed by studies and exams; and after that we went ahead separate ways to pursue our MBAs. Me in Delhi College of Engineering and he did it from in Amity University. Having dinner one night, while we were catching up with each other, we started to explore practical ways of doing what we've always wanted to do.
Something that we have experienced ourselves is that there is a lot of indecency on the internet. This is because of a lot of factors, first of which is people get the power of anonymity. People say whatever they want without the fear of any consequence as such. We felt that the internet is not secure enough especially when you are speaking with strangers.
The Decent Planet
If I want to network with my existing network, I have facebook for that, for professional networking there's linkedin. But what if I want to interact with people I don't know personally, interact with new people and talk about things that matter to me or I am passionate about. Now if you google – make new friends – you'll find a lot of websites for that. However these websites are more inclined towards dating and even in dating you have these obscene content floating around and lots of fake and weird profiles with their profile pictures of very offensive nature. And there's this section of people who would use abusive and derogatory languages and not encourage in healthy discussions or even disagreements. And you also have the spammers. All of these negative elements and this massive trust deficit when it comes to interacting with strangers on the internet. That is the pain point we are addressing. We are catering to the dimension you want to talk to people you don't know and have discussions that are intellectually stimulating and in a healthy environment.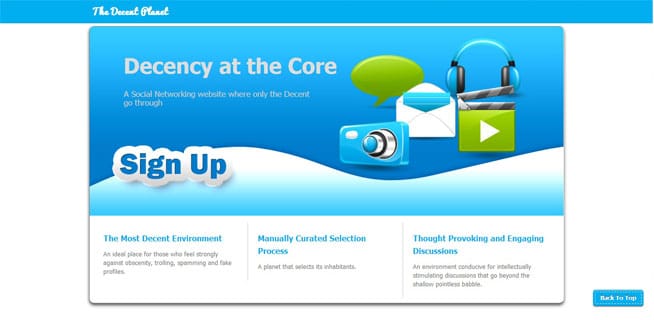 Right now we are working on automating of the process of verifying an application on the platform. We call it 'Decency Quotient' (DQ). It will get into the realms of analytics of social media. Let's say you have your accounts in Twitter, Facebook, LinkedIn, etc. Now when you log on to the decent planet using your twitter or facebook account, we have an algorithm that gives you a score after analyzing what you've done and how you have behaved on these platforms. That score will decide whether you should directly go in to the website without any signup forms or if you need to fill up a sign up form and go through the manual verification process. This will help us scale up and also this process make people more comfortable on finding their decency quotient score rather feeling judged by human minds.
Indecency according to us is being irrational and hurtful – in that order. Someone might say that when decency is shoved down the throat, the users might not feel free to voice their opinions or feel the need to act in a certain way – like a classroom where you need to be decent. But in reality if you really want to voice your opinions and thoughts in a healthy and decent environment, you can do it here more than anywhere else, without the thought of having someone start hurling abuses and derogatory remarks.
The Future
We have plans of launching a dating app, which we call 'Gravity' within the decent planet. We want to create a very non-intrusive and healthy space for people to get to know each other with similar interests, likes and dislikes. It will be a clean dating website with filters of the decency quotient. A dating website with genuine people without any obscene content that is fit for people to look out for suitable partners. We are looking forward to a lot of things, and the Decency Quotient (DQ) being the most exciting out of all.