There was an interesting twist to a regular monthly meeting of Women's Synergy (WS) Trustees, when the doorbell rang. Vaidehi Krishnan, the Founder of Women's Synergy, also the host, let in a smiling face that radiated happiness. It was Protima, a domestic help who worked for Vaidehi years ago. She had come to meet Vaidehi and update her about her life. The gesture fascinated me. I seldom took the time to meet my ex-employers despite the cordial relations we had shared at work.
"Talk to her in Bangla," Vaidehi said to me as she went to fetch water for Protima.
"Protima, didi ko woh Shyam wala gaana sunao." (Protima, sing that Shyam song for didi)
Almost immediately, full-throated lore invoking Lord Krishna rent the air and I felt tears pricking my eyes at the intensity of the prayer.
Snapshot of Protima's life as captured by Women's Synergy:
Protima did not know chinta, worry, or tears as a young woman. She made fun of people if she saw them crying. She was her mother's pet and sang with her at kirtans and festivals in her hamlet in Kanpur. A young man who heard her sing at a function fell in love with her voice and married her. Protima, over the moon, moved to Uttar Pradesh, her bridal home on nimble feet only to realize that the very quality which had fetched her a husband was to become her bane. Now she was a bahu (daughter-in-law) and such 'frivolous' pursuits like singing would jeopardize the family name. She was forbidden from doing what she did best and Protima resigned herself to her fate with the stoicism of her lot. She was a loving wife and dutiful daughter-in-law and bore five children during her married years, subduing her free-spirit in an oppressive environment.
Eight years ago when her family moved from U.P. to Delhi, Protima took up work as domestic help and her husband set up his tailoring shop. The children had grown up and the couple saved money to marry off the eldest daughter who was burnt alive within a year, in a ghastly dowry case. Paritosh, Protima's husband could not recoup from his daughter's death and became a shadow of his former self. Providing for the family was now Protima's responsibility. Seeing her sincerity and need, an employer gave her cosmetics to sell and Protima went from door-to-door selling a brand that helped her make ends meet. The youngest daughter eloped and returned crying in a few months, complaining of abuse. When the eldest son moved away from the parental home with his wife and never looked back, Paritosh, already a broken man lost his will to live. In 2011, he breathed his last muttering, 'you are now free to sing', to a distraught Protima.
The travails of life had robbed Protima of her melody among other things and she sank into depression. She dragged herself to work because there were still three children who were dependant on her. If the severe personal blows had incapacitated Protima, losing an income drained her further. The security personnel at a society where she sold cosmetics accused her of being a crook because she could not remember the house numbers that she had to deliver orders in. The patrons looked the other way as Protima pleaded innocence and was stripped off a better source of livelihood. Her habit of keeping in touch with people she had worked for brought her to Vaidehi's house.
Women's Synergy: Mission & Vision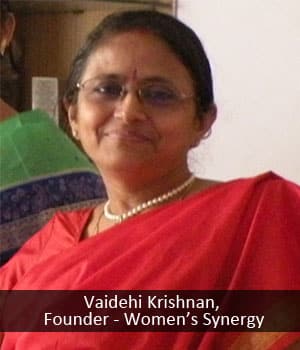 Vaidehi had conceptualized Women's Synergy a few years ago when she was herself converting personal struggles into strengths and envisioned a platform where symbiotic relationships amongst women from varied socio-economic, educational and other backgrounds could be established so as to facilitate their individual and collective growth and function synergistically to empower their less advantaged and circumstantially challenged counterparts.
She envisioned a self-sustained 'resource pool' belonging to women, by women themselves, tapping synergies towards self-development, thus rising individual standards of productivity and commitment towards their respective families, communities and the nation at large.
With no education and no hopes of getting one, did Protima know all that Vaidehi was creating? Of course not! So what was it that brought her to Vaidehi time and again?
Umpteen Programs and Participation Opportunities for Women:
"The way didi talks to me; tells me about how everybody has problems in life and how one's inner strengths/God/Nature, call it whatever, will eventually help, that I like to listen to her. Nobody explains things to me as didi does. And she encouraged me to sing. I like it. I forget my problems when I sing. I know I have to stand till I'm alive." says Protima.
For women who can be explained better, WS creates opportunities to bring them together, present its various programs and 'what's in it for them', for taking their dreams forward as proud creators of clear, self-created blueprints of their lives.
The Appreciative Strokes:
Has Vaidehi shared her own life story with Protima?
"I know didi for many years; she never talks of sorrow. She always inspires everybody and tells them to do what they are good at, not take things subjectively and so on.  And now she has made this organization where all women who need help will come."
With no knowledge of English or jargon of AI, Protima has still grasped some principles of 'Appreciative Inquiry' (AI), for application in personal life for moving towards Appreciative Living, (AL), the very philosophy of WS.
Brush swaps hands, Protima moves on:
Does she plan to take the cosmetics franchise again? Where are her children now?
Protima seems to have decided to rescript her life. It was many women like her who had sown the seed of one of WS' themes -'Rescripting Life' of Women's Kaleidoscope (WOK), women would soon be participating in large numbers.
With renewed inspiration and guidance from Didi, I have hopes of growing this small business and looking forward to a bank account and profits, savings, and a bright future, now that I have learned to look forward.
When I tell her I'd upload her song on YouTube and the whole world will listen to it, she blushes like a bride. "Ki je bolo didi, – what are you saying didi – she marvels at the possibility and there is an unmistakable gleam in her eyes. The future looks brighter and the birds chirp from the neem tree outside.
Carrying forward the best parts of the past:
Vaidehi strictly opines that it is not her story that is important – there are thousands who face domestic challenges – but what comes out of it creating a positive impact for others around that really matters. If she is able to inspire at least one woman to rise above her situation, by her own positivism, that is what will be an achievement.
Vaidehi has fifteen years of career record with a 20-year-long hibernation in between as homemaker and caregiver to her ailing family members. Springing back to face challenges in the career world at the age of 42 and transitioning from the private sector and Government job backgrounds, to the social sector post hibernation, she has wrapped up experience, developed sensitivity and her personal purpose in life which translated into WS' vision and mission today.
Appeal for institutional partnerships, public stakes, and holistic participation:
Women's Synergy is also looking forward to sponsorships and other opportunities in the pipeline to take women's lives, along with the Women's Synergy's mission forward.
The Women's Synergy website is under construction and the Women's Synergy Facebook page is the interface that is operational now. If you believe that every woman can lead, this is the forum you want to join. Women's Synergy solicits your support and promises you an enriching experience in your association with it. Men are welcome too; with your multifarious experiences, we could certainly do with your synergies joining the stream.
* Names of Protima and other characters has been changed to protect personal identity