Come April and the littérateur in me does a double-take. It is William Shakespeare's birth month. Though the exact date of his birth is unknown, St.George's Day, 23rd April, is when it is traditionally observed. That he died on the same day, 23rd April 1616, is what makes the date more significant.
As a teacher in the early part of my career, I dictated these dates to students who threatened to doze over their notebooks. That's not to say that I was a bad teacher. Far from it, I was one of the most loved. But mention Shakespeare to a high school student and his head would bow in reverence to the Father of English Literature. Or, without much ado, so I would like to think!
In my bucket list of Fifty Places to Visit Before I Die, Billy's birthplace was definitely in the top ten. So letting the world debate over who, of Chaucer or Shakespeare, is the real father of English Literature, when I finally went to pay homage to The Bard, one of my life's purposes was fulfilled. Having studied English Literature & then taught it for many years, this was nothing short of a pilgrimage. My visit to my Mecca, Stratford-upon-Avon, the birthplace of William Shakespeare.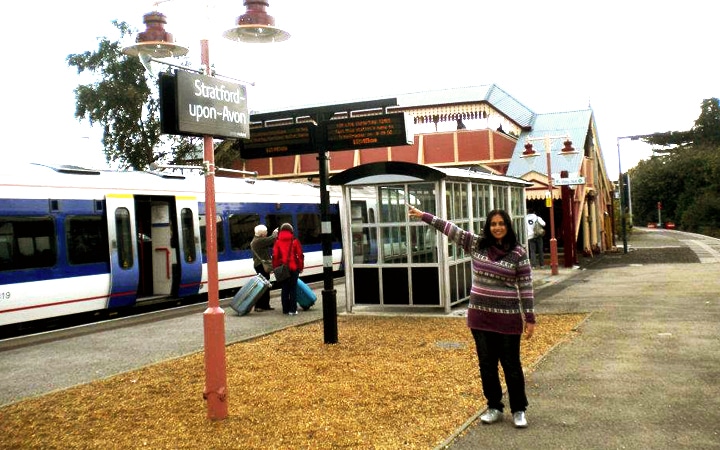 Who else but dear husband made it possible! Of course with due guidance from Above. If that hadn't happened, we might have reached another Stratford of London, and not Stratford-upon-Avon!  But that's another story.
The train from London Marylebone takes four hours to reach Stratford-upon-Avon.
The journey is peaceful; there is a song in the heart & some more in the iPod. The train chugs towards our destination while we admire the vast stretches of perfectly manicured greenland. This has always amazed me. How beautifully Nature is preserved here. I am still to see any wasteland in London or whatever countryside I have seen so far. Everything is so immaculate that you almost don't notice the deathly silence or the lack of warmth. Welcome to a cold country with cold food & cold people had been our welcome note. You forget all that as the beauty around enamours you, leaves you with a serenity that money can't buy.
If you are a literature lover or a globetrotter or both, this is the first site you want to start from Stratford upon avon. After the prelims, you want to find a decent accommodation so you go here. We found our cosy comfort in Royalyn @ £60 per night. Ahmad is an exceptionally warm host; the rooms are comfortable; the food fresh & the locale strategic.
We stayed there for 2 days & 2 nights which should be an ideal time considering the size of Stratford. All attractions are within walking distance, must to the respite of the harried traveler. Any ticket that you buy helps you see five points of interest and is valid for a year. Enthusiasts can make multiple visits over the next 365 days. With so many new places to see, I see the futility of the offer. While we were initially excited about this, we have never revisited a place. Any holiday that comes by invariably takes us to a different destination. This offer should be useful though if you have visitors; you can save on your own ticket then.
We walked from our B&B to Nash's House, New Place, Shakespeare's home from 1597 until his death in 1616, It was pulled down in the eighteenth century but its foundations and grounds can be seen, including a beautiful Elizabethan-style garden, created eighty years ago.
The site is approached through Nash's House adjoining, which contains exceptional furnishings of Shakespeare's period.
The Dig For Shakespeare project lets people soak in history as you participate in the excavation in the New Place site. Find out before travel if the project is still on, it can't possibly go on for ever!
The walk along the Avon takes you past boats named after Shakespeare's heroines. We took the Miranda across the Avon for 50p. The Stratford Food Festival was on the other bank. Gastronomical delights galore!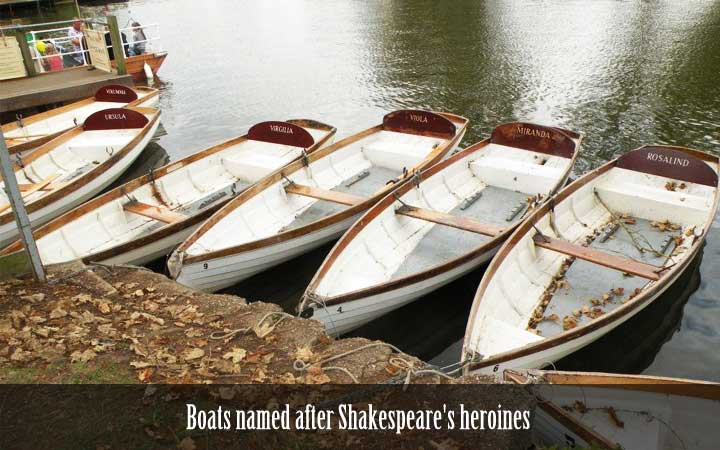 The famous Royal Shakespeare Company stages all his plays the whole year round. You can get a standing ticket for a fiver, if you can stand for over 2 hours! Pre booking is the wiser option, rates vary depending on the play.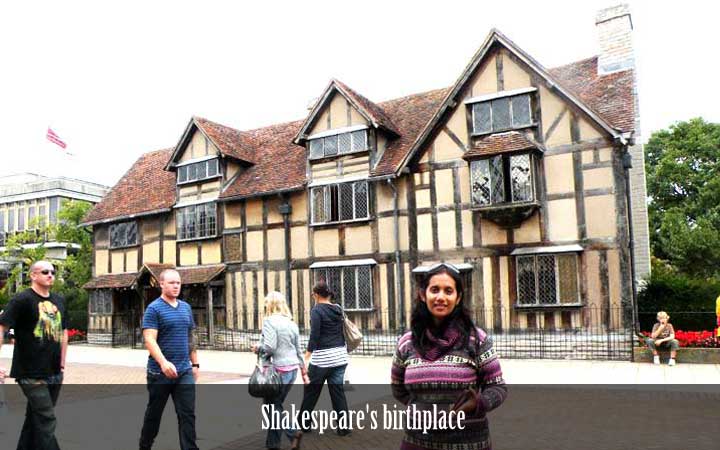 Don't be too particular about the order of your visits. We reached Shakespeare's birthplace after we had seen two other places. Just soak in the experience; breathe Romanticism; let the moments freeze in time. Who cares about chronology in a place like this!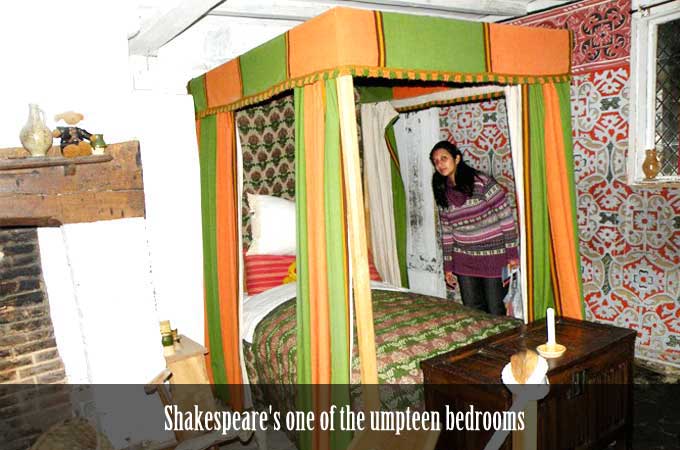 Things come to those who wait, they say! We had the exotic French Market experience, it being a weekend. The light August drizzle did nothing to mar the flavour of cheese & pastries here!
Travel Tip: Always carry your umbrella in UK no matter what month you are traveling in.
The Clock Tower stands majestic on the city centre & does what it's meant to do! Shakespeare's jester mocks the world in the town square. It's like being transported back in time. Except that there was no Morrison's in 1564! Or McDonald's!
The five houses, & the other attractions, related to Shakespeare are managed by the Shakespeare Birthplace Trust. These include Hall's Croft (the one-time home of Shakespeare's daughter, Susanna, and her husband Dr John Hall) and Nash' House, which stands alongside the site of another property, New Place, owned by Shakespeare himself, wherein he died. Near to the town are Anne Hathaway's Cottage at Shottery, the home of Shakespeare's wife's family, and Mary Arden's House (Palmer's Farm), the family home of his mother. The Trust sure does a commendable job! The upkeep is what keeps it an old world.
My pilgrimage album on Facebook gathered rave reviews.  For a few days afterwards, I was almost speaking the Thou language. And as I regaled my friend Shyam with my Stratford stories, he gave me a bemused, "Have you seen Anonymous? Watch it! All your Shakespeare fascination will vanish!"
PS: Shyam is one of the most affectionate people in my life. The undiluted fondness he extends to me & my family humbles me. He lets me bully him & get away with it and we seem to follow each across the seven seas. But that doesn't give him the right to shatter my Shakespeare fixation! I did watch Anonymous, rather belatedly, at his behest. And, like an idiot, live to tell 'a tale full of sound and fury signifying nothing….'