Consequences of Global Warming and Pollution is already causing a high alert among the who's who of the world. As an individual, we may not be sensing the casualties first hand, but we're slowly, and definitely, paying a price – our deteriorating health conditions.
Meet Joris Lam, the founder of Amsterdam-based start-up TreeWiFi. He is working on a product that can give you free WiFi in your locality. And yes, the word FREE is a myth. But you won't mind paying the price he is asking. And trust me when I say that.
During my conversation with him, Joris shared interesting details about his product and its probable impact.
Joris – The Man Behind This Inspiring Idea
A Dutch entrepreneur and designer, Joris Lam, who after a successful career in online media decided to design a better world in which problems can be tackled with fun and a human-centered design. TreeWiFi is an example of making a complex problem visible and fun to interact with. Each year he organizes MediaBites in which he gives students the chance to present their work to professionals. He also launched PlantaBee.org to combat bee extinction.
"I tried to learn more about the air quality in my neighborhood but I quickly realized that the city I live in (Amsterdam, Netherlands) only measures air quality in 14 places. Compared to other European cities it's not that bad, but in reality, it doesn't tell you anything about your particular street. This frustrated me and I set out to come up with a solution", said Joris about how exactly the idea triggered in his mind.
He is the only founder the team has right now. And he feels lucky to find four enthusiastic people who are helping him to make a perfect product.
TreeWiFi – The Product
The low-cost TreeWiFi device is built within a special birdhouse with sensors that you can hang on a tree to measure the air quality in that area. Air quality data is then collected and sent to a server where it is analyzed and made public for everyone to see. It makes the pollution level visible through an LED status light. When an improved air quality is detected in that particular locality, the LED light turns Green and it allows the birdhouse to share it's WiFi internet connection with everyone in that locality.
Thus, the product motivates people to use public transportation and their cycles more often to keep the air pollution free. Once they do that in their locality, they are rewarded with free WiFi for their bit of responsible effort and social contribution.
[mashvideo]
Subscribe To LifeBeyondNumbers:
.
Placing TreeWiFi boxes in every street or neighborhood will not only offer researchers a better understanding of the workings of air pollution but also inclusively motivate citizens to get involved in reducing air pollution.
What's Happening Now
Earlier, they won €1000 from Awesome Foundation Amsterdam after participating in a contest organized by The Spring Projects. The win helped them to kickstart TreeWiFi. And later they once again won additional €500 from the same.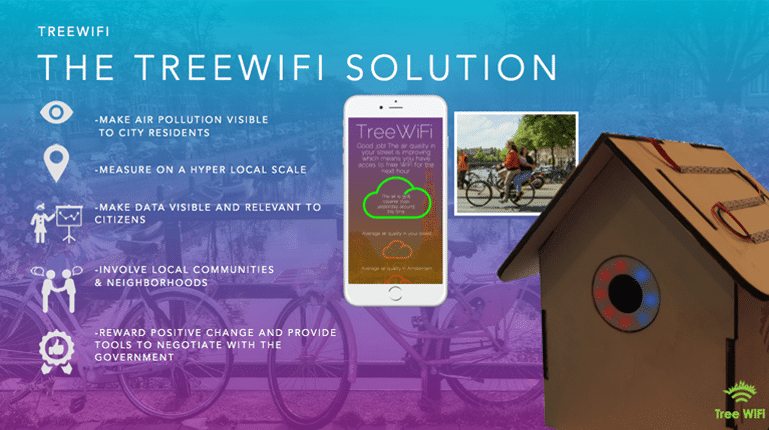 About the current status of the project, he said, "After a special crowdfunding campaign in which I didn't seek just funding but also looked for skilled professionals. I was lucky and gathered a team. We're currently working very hard on the software and hardware side of the project. Using low-cost air quality sensors on a large scale is ground-breaking, and we're working on making the data as valuable as possible so that local governments and municipalities accept it."
The team is using this summer to further develop the technology and hope to begin testing the product in September. By January 2017 onwards they are looking to start selling the product to their customers locally, and then scale it up gradually.
Visit TreeWiFi's website.