Human minds connect to stories better than anything else. Right from the bedtime fairy tales through the stories in school curriculum to the novels and movies at adulthood, we just can't stop loving well told stories. One of the most ancient art forms, storytelling conveys messages in an engaging way, making the listener retain the information or knowledge contained therein more effectively. In other words, human brains are hard wired for storytelling.
Steve Jobs was one of the greatest storyteller we have ever seen in the recent times. He successfully mesmerized everyone around with a compelling story, every time, to put across the value addition of Apple products. His famous commencement speech to Stanford in 2005 started with the lines "Today I want to tell you three stories from my life. That's it. No big deal. Just three stories…"
Nancy Katyal, hailing from a small town in Haryana, India is a storyteller who helps businesses and individuals make use of the art of storytelling to make lasting impressions whether professionally or personally. She happens to be one of only 12 members from India in the International Storytelling Network.
Nancy talks exclusively to LifeBeyondNumbers (LBN) about her storytelling journey and more:
LBN: Tell us about yourself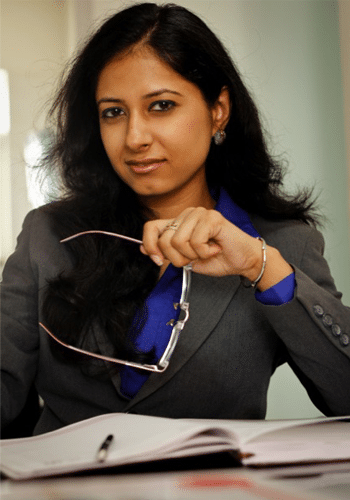 Nancy: I attribute a lot of importance to my first job as it made me discover the importance of bringing knowledge of multiple disciplines within the business to effectively solve problems. This belief has stayed with me over the years and inspired me to expose myself to multiple disciplines and broaden my outlook.
Post marriage, I took a sabbatical for 5 long years from an office job because I wanted to enjoy and cherish the initial growing years of my daughter. Working from home, with my interest in reading, I took up varied home courses with weekend classes in Post Graduation in HR, Teaching, Art and Science of Storytelling, Guidance and Mass Communication. Even without a formal job, I could feel a sense of relaxation and contentment with the confidence gained by pursuing these programs.
I started working back again after 5 years. The idea of helping others acquire what I have learnt interested me a lot.
LBN: What is Storytelling and how did you end up taking Storytelling professionally?
Nancy: Storytelling is one of the most ancient art forms. From the ancient cave wall inscriptions to the modern day highly graphical motion pictures and corporate info-graphics, storytelling has been an integral part of human evolution.
Storytelling has the power to connect with an audience unlike any other medium. Research has shown that any information or idea is quickly and accurately remembered when it is presented in the form of a story.
Storytelling helps in making an effective communicator and leader. It helps listeners connect to the message and retain it even after weeks, months, years and even lifetimes. I was always fascinated by the art of storytelling since when I was a kid. I grew up listening to the stories from my parents of triumph and struggle of different people.  Well told stories always caught my attention.
Also when I heard corporate storytellers from abroad, as to how, they could hold an audience totally engrossed in what was being said, I felt that there was not much that was happening in India and this art had vast scope. Hence I decided to take a plunge in the art.
Our country has an immensely big talent pool. It's just that they need to put their stories across in the right way.
LBN: What are the impacts of storytelling?
Nancy: Human beings are hardwired for stories right since childhood. Even as adults our major source of recreation is watching movies, which is all about stories of people like us. Stories help in making an instant connection with everyone. Hence everyone can be benefited from storytelling, irrespective of any profession or age group. So obviously if used properly, its impact can be huge.
LBN: How story telling is being looked at by the corporate sector?
Nancy: Storytelling offers immense potential for corporate institutions to embed its key initiatives and culture into the fabric of the organization and helps its employees, customers and suppliers connect and create harmonized change.
At a time when corporate survival often requires constant innovation and change, CEO's and leaders are required to inspire people for that change. Only setting sales targets and incentives will not achieve this, but effective storytelling will.
Much of the intellectual talent of an organization is not written down anywhere but resides in the minds of the employees. Communicating this know-how across an organization through stories can help a lot of people who struggle and face challenges in their jobs.
Effective managers and leaders are able to develop a storyline of what they want to be conveyed and are able to get their message across effectively through the principles of storytelling. In fact there is a story behind every message, but we don't realize the importance of conveying it or rarely communicate it effectively.
LBN: Who can become a story teller and how to go about it?
Nancy: Anyone who has faith and believe in the power of stories can become a storyteller.
There are immense opportunities for storytellers in India. It's quite surprising to know that only 12 storytellers including me are listed on the International Storytelling Network from India. This shows a huge scope and many opportunities for storytellers in India. Today, more and more people are showing keen interest on learning the art. Even schools require good storytellers who can imbibe the concept of storytelling into the curriculum. The corporates are also having sessions from storytellers to inspire their employees for driving change.
LBN: You are also an Image consultant, how does that help you?
Nancy: It is very important to look your part, whether you are a teacher, corporate professional or be it in any profession. Even before you get a chance to speak, what people can see is your visual appearance, hence it's important that we ensure that we dress as per our roles and goals; and storytelling further strengthens that with the choice of right words and the way a story is told. Both these bodies of knowledge complement each other. This helps me to draw synergies and enrich my learning sessions and consult offered to clients. The Perfect You, my image consulting start-up, is a step towards helping people to make the best out of themselves.
I strongly believe that in today's fast paced world of instant communications, it is important for children and young generation to be aware of the image and the message they send – whether at home, attending a meeting, wedding function or communicating at work. This is a powerful idea and I believe its time has come.
Click here to visit ThePerfectYou
We, at LifeBeyondNumbers, wish Nancy Katyal great successes and achievements in all her present and future ventures.