Ujwala Patil, a pharmacist turned Pharmacist Group Head turned social entrepreneur. Ujwala now works with people at the bottom of the pyramid to alleviate their pain by providing acupuncture therapy in such communities. In collaboration with Barefoot Accupuncturists, a Belgian NGO, she has established Barefoot.Slums, whereby she has today set up six acupuncture clinics across the country.
Erita D'Souza, a corporate citizen turned social entrepreneur. Erita quit a comfortable job with the British Deputy High Commission to work with schools in helping kids find their inner confidence and strength via unique initiatives. The Imagination Factory – Erita's brainchild sets up appreciation banks in schools whereby each child is rewarded for their kind gestures and positive behaviour.
Two people with remarkably different backgrounds, set on paths that are distinct from each other and yet joined together by one factor – UnLtd India.
What is UnLtd India?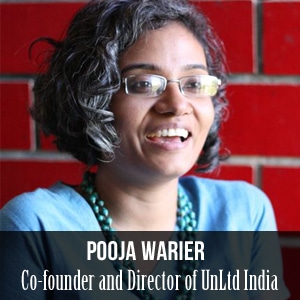 Unltd India is an incubator for early stage social entrepreneurs to equip them with the right tools in their journey to create social change. Unltd India was founded by Pooja Warier and Richard Alderson. Pooja and Richard met during Richard's assignment with Unltd in the UK where Pooja was interning. And discussions led to the thought of bringing the potential of Unltd to the vastly untapped potential in India. Says Pooja about setting up the India chapter, "Unltd is one of the greatest gifts I have ever received. It gives me an opportunity to make a difference while working with incredibly passionate individuals and inspiring mentors. If you are looking for an experience that is meaningful, challenging, transformative and fun, this is it."
So, whether you are a school dropout or CEO of a successful organization, if you have an idea that can bring about change in society, Unltd India would be a good place to head to for guidance.
How UnLtd India Works?
The process begins from submission of entries by SE potentials. Unltd India conducts two rounds of admission in a year. The first in February and the second in August. Once the form is submitted, each application form goes through an intensive screening process whereby the candidate has to make an informal presentation to the team.
Individuals whose projects are shortlisted then go through a Theory of Change workshop where their enterprise ideas are put through the grind to see which of those are practical in its current avatar, and which need further strengthening. The Theory of Change workshop is an important stage where the entrepreneurs revisit their vision in detail. This outside perspective prompts some of them to do a rethink on their plan, thus fortifying the idea at the core level.
After going through this churning process, the candidate finally makes a presentation before an external panel that usually includes representatives from the corporate front, the social sector and an entrepreneur. This panel makes the final decision on the projects that qualify as investees of Unltd India.
Some of the prominent names associated with Unltd India include Suman Srivastava – Former CEO at Euro RSCG, Amitabh Mall – Principal at the Boston Consulting Group and organizations such as The Edmond de Rothschild Foundations, ICICI Foundation and KPMG.
Unltd India's relationship with the investees is one of close friends, who stay connected through the excitement of the enterprise starting, professional wins or personal setbacks. The mentor, assigned to each investee, becomes a personal guide through her trying times as an entrepreneur.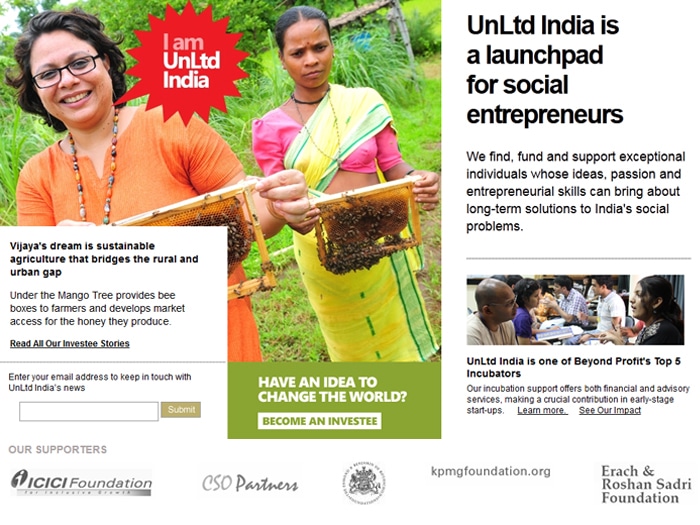 Unltd India has a time-tested and thought-through process of engaging with the investees in the course of the birth of their enterprise.
Four Is that Unltd India follows in the course of their relationship with an investee:
Individual
Unltd India aims to be a catalyst in the development of an individual as well as their capabilities. They look for individuals who have exhibited qualities such as passion, teamwork, commitment as well as entrepreneurial ability.
Idea
Through the selection process, the idea goes through several filters to check its clarity, usefulness and practicality.
Innovation
The team at Unltd India also studies the uniqueness of the idea – how is it different from what is in the marketplace already. They work closely with the individual to clearly identify the gap to fits into, and the solutions already present there.
Incubation
Once an investee has come on board, Unltd India presents a series of tools to sharpen their personal capabilities including coaching, a session with topic experts, being a soundboard for ideas. In addition, they also organize two hours of coaching every month for each investee, as also peer interaction and learning sessions where investees can get together to exchange experiences and feedback.
Unltd India breaks its investee engagement in three phases.
Level 1:
The investee may be undertaking the project on a part-time basis so that they have the scope to acclimatize themselves to the depth of the project and their own commitment. The investees may also get up to Rs 80,000/- for the initiative
Level 2:
Once they enter Level 2, the investees are required to pursue their project full-time. In this stage, Unltd supports them with up to Rs 2,00,000/- of funding
Level 3:
Now referred to as the Growth Challenge. Under this level, enterprises that have now established their potential can stand to earn up to Rs 20 lakhs in funding (payable over three years).
Unltd India is a Mumbai-based organization and is currently operational in Mumbai and Pune. It will soon be setting up chapters in Tamil Nadu and Hyderabad.
Want to apply for the current round of submissions? Click here to download the form now.