Veganism is the practice of abstaining from the use of animal products not just in diet but in all other ways as well, including the use of animal fur, leather, etc. In a country, where a vast majority of the population is vegetarian, Dheerin Motwani is a notch higher. He is not just a complete vegan, but he is a vegan fashionista. He wants people to enjoy the luxury of leather and such other luxuries without leather, and without animal cruelty. Dheerin Motwani has founded V-Designs, a premium luxury fashion brand that is ethical, cruelty free and totally vegan. "There's never a better time than now to turn over a new leaf. Catch up on lost karma and show some compassion without having to compromise on style or luxury", he says. "You will definitely not miss leather here!"
Dheerin quit his high paying job in London, and moved to India to take his dream and mission of V-Designs forward. His diligent efforts have been recognized in the form of awards such as the 'Best Vegan Accessory Brand' won at the India Fashion Awards held in March 2013 and a Vegan certification by People for the Ethical Treatment of Animals (PETA).
In an exclusive conversation with LifeBeyondNumbers, Dheerin Motwani talks about his venture, his journey and much more…
The Beginning
I left India in 2006 to pursue MBA at the University of Oxford. I was intrigued by the consultancy industry and found myself working at a very dynamic consultancy firm called Capco in the heart of the financial district in London. At Capco, I met intelligent and motivated people who inspired me to discover and follow a passion. My passion was design – product, fashion, software, I didn't know what. But I did know I appreciated design and I understood it.
Any NRI would agree that it is not uncommon to be talking over drinks with friends about a target when you will move back to India. People would say they'll move back when India will improve; I said if I move back, India will improve. I have a very strong faith in the promise of Young India and I think we can make a difference. As soon as some financial commitments were met, Shilpa my wife and I decided to move back to Mumbai to start our respective businesses. I wanted to move back to India to employ and share my experiences of studying and working in a developed country. At V-Designs we do not source from China – we conceptualize, design, sample and develop all our products in India. This is something which is at the core of our business operations and we will never change this.
I started my career at Tata Consultancy Services, before moving to UK to pursue my MBA at Oxford. My entry into the fashion industry was coincidental – I never planned for it. I knew I loved good design and that is what I wanted to create. I have always admired subtle things that generally went unnoticed in products, from the fit of earphones to the way a car door clicks – these things made a difference to me. V-Designs is blessed with a very creative and talented design team which supports the vision to bring out premium cruelty free products.
V-Designs
Unlike most business ventures, V-Designs started with a cost benefit assessment of karma. When I decided to relinquish meat, unlike most other vegetarians, I went completely vegan – right down to my shoes.  This was also the time that I began to notice how other vegetarian friends squirmed at the sight of a slaughtered lamb, but thought nothing of spending a small fortune on a pure leather accessory. The dichotomy turned into a moral dilemma for me. Leather is synonymous with luxury, for sure, but not without the associated guilt. As I delved deeper into the processes, I acquired shocking knowledge of how these goods are made – in complete violation of all animal rights. I discovered how animals are tortured and skinned alive to provide you with that perfect shiny pair of shoes or the bag you have been so proudly brandishing.
I was repulsed, and realized that the only reason such products are popular is because they are in many ways synonymous with luxury. This sparked an interesting thought – What if we are able to create a product that is 'violence and guilt free', and yet retains the supple luxury associated with couture leather? This idea for premium handcrafted guilt-free accessories led to the birth of V-Designs. Products at V-Designs are completely animal friendly or 'vegan'. V-designs is a versatile contemporary accessories brand that offers a wide range of vegan leather accessories that are individually handcrafted by skilled craftsmen. It captures the real essence of today's awakened youth and the spirit of contemporary living by providing a subtle balance between style and utility.
V stands for Vegan, Versatile and Vegan Fashionista!
V-Designs is self funded at the moment and we would like to continue this way until we find a right partner. We place ourselves as providers of premium cruelty free lifestyle products. We have started with a range of bags and soon V-Designs will come out with a wide range of bags, shoes, small accessories and lifestyle products for personal, travel and home use. Our new chic collection has just rolled out on several online stores as well as in their respective websites.
The Challenges
When you are running a startup, you don't bite what you can chew, you bite all you can and then learn to chew it. This is a quote I read on twitter and this is exactly what I experience each day. By no means it is easy to conceptualize an idea, give it a shape, have the right team, have the right product mix, excite the customer and be profitable. But it's the journey that is fascinating for me. I learn something new each day and that keeps me going. The number of young Indian entrepreneurs that I see around, are a source of encouragement. I am a firm believer in the concept of cruelty free luxury. Today it may be a small market and the majority do not understand how Vegan & Fashion sit together, but I firmly believe this is the future of fashion and "ethical is the new cool".
Running The Marathon And Awareness Against Animal Cruelty
I'm a keen sportsman and have played competitive badminton and handball but can't get myself to run. A year ago, I injured my back and have been out of sports for a while and had to start gradual training towards a goal and improve my physical fitness. When I heard PETA was pulling a team to raise funds against animal cruelty, I thought it was the perfect opportunity to get things back in order. So I signed up for the half marathon. Today I can only run about 5-7 kms but I aim to complete the race in 2.5 hours, case in point of biting what I can and then learning to chew (laughs…).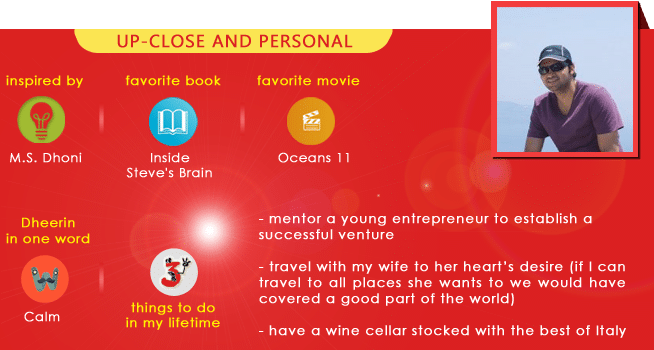 The spirit. The cause. And the focus. Dheerin has it all perfect in him to the T. As we talked, we could not ignore the enthusiasm and the positive energy in him to give shape to his dream. We, at LifeBeyondNumbers, wish Dheerin and his team a great success ahead.