D
ifferently abled since birth. A qualified Systems Engineer. A degree in Entrepreneurship from a top notch US College at Boston. However, he returned to India in a bid to do something different, unique and un-chartered as far as the annals of his own pursuit or that of his family's background were concerned. He is a rare combination of hard work, determination and a certain relentless will that sees him undertake some of the most challenging infrastructure projects in his family's robust and growing Om Metal business group. He painstakingly follows a well conceived weekly work schedule to which he swears at all conditions. What others call a holiday, he regards it as an incessant opportunity to indulge in his favorite activity – reading.
Meet Vaibhav Kothari – a young man neatly dressed, seen mostly in formal wear, at times without the painfully correct tedium of wearing a tie, smiling, simple and, armed at all times with an attitude that cohesively marries carefree-ness and great self confidence. As I began to hurl down my volley of questions to this young business man from Rajasthan, his charming personality greets me with a welcoming smile. It is an indication that not only is his busy day free for a casual but meaningful chat, but that this multi talented youngster is looking forward to sharing a few rounds of tea with me. Seated relaxed in the welcoming ambiance of Marriot's coffee shop at Saket, I got what I truly regard as a privilege of meeting this versatile young man.
The Will To Succeed And Conquering The Constraints Of Life
The most unique thing about Vaibhav – part businessman, part motivational speaker, a budding entrepreneur and a film maker is that, all the while I was talking to him, he wasn't speaking a single word. He uses a professional translator that bridges the communication gap between himself and the recipient. Deaf by birth, Vaibhav from a young age took control of his life and decided to leapfrog the natural constraint he was born with. While there are a million and a half people in Asia that languish under the enervating problem associated with speaking and hearing abilities, Vaibhav is a rarity that breaks the moulds and patterns associated with the patriarchal society and its convenient stand on deaf people. As a society, we often fall short in offering support and amicability to those born with this tragic impairment but Kothari's resolve in leading a substantially productive and meaningful life can give others like you and me a great complex. He works hard, day and night in taking the family business of infrastructure & construction forward and yet takes time out to pursue his own set of ideas that he plans to proceed forward with.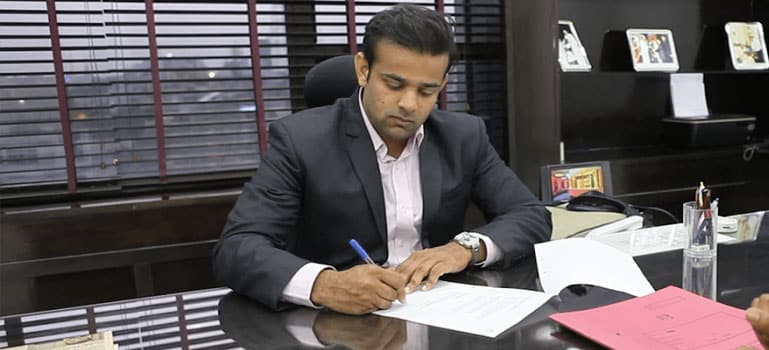 Vaibhav's never say die attitude combined with his simplicity and warmth makes him a special soul. At the US, Vaibhav honed his skills and technical prowess in engineering and understanding the nuances of corporate leadership and management. But, he soon realized, his heart lay elsewhere. Drawn to the creative and art oriented facets of life, this young visionary, dreamt of doing something different. On his return to India, he went a step further than what his contemporaries and relatives in the social and family circle had expected of him. While on one hand, Vaibhav continued to painstakingly work at a critical road construction, expansion project at Kota, Rajasthan he donned the creative hat and directed and, starred in a short documentary feature film that underlines his life journey and conveys the ethos with which this zesty youngster lives.
Vaibhav And His Creative Journey – Not Anymore
The prospective of meeting a young business man as young as 30 can usually be conceived with a certain uncalled for flamboyance or a tad bit of brashness. But our man is a simple hero who defeats the traditional image circumnavigating a rich or a spoilt youngster. Vaibhav is as simple, emotionally balanced, rational and creative as they come.
Challenges, we all have but how we tackle them plays an intrinsic part in deciding our journey and destiny. Vaibhav Kothari's simple, heartfelt and gutsy directorial feature film "Not Anymore" talks about the regular life of this ambitious 30 year old born in Kota, Rajasthan and how he deals with the everyday challenges, tasks and work related activities associated with his family business set up: the Om Metal Group.
'Not Anymore' is a searing triumph of the human will, embodied by Kothari's resilience to lead a normal, active and at times hectic life whilst overseeing a huge magnitude of professional endeavors. The movie takes us on a quick, well paced and well informed journey where the bright youngster skillfully maneuvers challenges that he faces just like any other normal person despite his hearing and speaking impairments.
Not Anymore(Trailer)
[mashvideo]
"Not Anymore" has been awarded two times – once with "5th Dada Saheb Film Festival" for Special Jury Award on best production line and another with "BestShorts Film Competition" for best short film based on disability merit.
Not Anymore also includes Vaibhav's loving and caring family, a support system that has funneled his creativity. Not being able to speak can not only seem to be harsh, painful, awful and hugely challenging, to some, it may just bring them to the confines of an inactive, silent space in life where they are forever looked and perceived as incapable of achieving what they actually can. Vaibhav's triumph against the odds is a willful negation to the above notion. He rises from the language barriers and efficiently dictates his life journey through this meticulously created film that reflects on the professional pursuits and stoic career challenges that the young man artfully navigates using professional services of qualified translators. In doing so, Vaibhav's well made 'Not Anymore' educates people with similar challenges in how to lead a normal and conventional life by utilizing translators that bridge the gap between an opportunity, challenge and difficulty.
Through Not Anymore, he carefully combines simplicity, passion and a zest to lead a normal life, that he leads amidst the same set of professional challenges, realities and opportunities as everyone else. He conveys his everyday life through Not Anymore in a fervent need to be consistently be amidst work. When I asked him if he ever thought whether making this movie would be an eventuality at the time he was making it, considering that he cannot speak and hear, Vaibhav politely smiled and refuted my question. He nods in approval whenever he hears a great idea and candidly shared with me, the moment he thought of making a movie centered on his life, his nod of approval was one that raked in absolute self conviction.
What Lies Ahead For The Passionate Dreamer?
Vaibhav is a hard guy to please. He wants more than others in life and works equally hard at it. He doesn't like wiling away time in needless shenanigans and often during his leisure hours, stays hooked on to interesting documentary movies or catching up with his huge friend circle, where some are entrepreneurs, and some fall in other brackets of life.
Unwilling to vile away time in small talk, Vaibhav has set his heart upon acting and these days, can be often found on Skype and other communication mediums speaking to his friends at Los Angeles and other parts of the US, some of whom have prospects of an interesting role for him in the offing.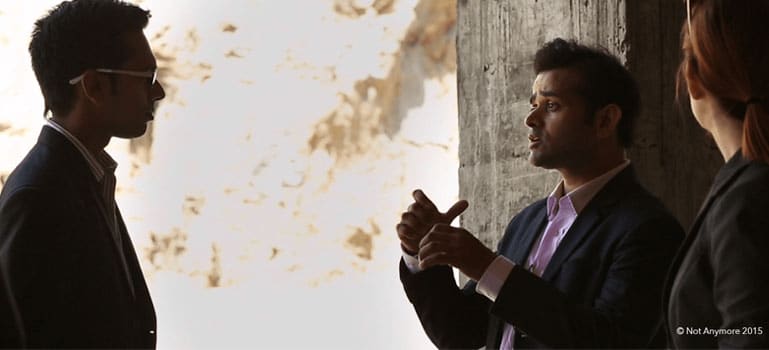 He's more than hard working, sincere and honest. He knows that he is regarded as a businessman hailing from a well settled and widely respected family but, like you and me, he dreams, and dreams big. It is pertinent to note that his flight to realizing dreams doesn't stop there. As a man of conviction and tremendous self honesty, an outright castigation of the many young lives we find lurking around us in doldrums, Vaibhav dedicates his endless passion and will to succeed at his honest endeavors. He wants to lead a meaningful life and go beyond the miles of his family's established business. Not a stranger to the stiffest challenge that life could ever impose on anyone considering that he cannot laugh, talk and shout like us, his will refuses to bow out to his natural unnaturalness.
He also plans to take up professional motivation speaking in future, something that has caught his fancy for quite some time. And it has to be said, once Vaibhav sets his sights on something, things usually fall into the radar of his grabbing. And he can surely credit his perseverance for his success.