Apurv Bansal, Prateek Rathore and Tejendra Pratap Singh started wishpicker after they faced the problem of choosing and finding the right gift themselves. Apurv completed his B.Tech in Civil Engineering from IIT Delhi, Prateek did his B.Tech in Computer Science from IIT Delhi as well, and Tejendra did his B.Tech in Computer Science from IIT Patna. Apurv's interest in the internet space and Prateek's keen interest in entrepreneurship led them to co-found wishpicker along with Tejendra, who happened to bump into Prateek and Apurv when they were still conceptualizing wishpicker. He loved the concept, as he thought that it solved a real world problem.
Apurv has worked as a management consultant with Bain & Company for 2 years in their healthcare, IT and Infra verticals, while Prateek worked with Royal Bank of Scotland in their IB division and went on to complete his management studies from IE Business School, Spain. Tejendra having had the startup bug in him from as long as he can remember, was looking to work with an early stage startup when he found his calling at wishpicker. Prateek is also a professional dancer and takes to the stage every now and then, whereas Tejendra loves to play the guitar, and is also a malt connoisseur.
In this exclusive conversation with LifeBeyondNumbers, Apurv Bansal talks about their journey with wishpicker.com, challenges they faced, what they learnt and lots more…
Inception of wishpicker.com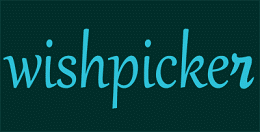 We started wishpicker because of a problem that we personally faced. I was in Mumbai, and was looking to send a gift to my girlfriend in Delhi. On searching for a gift online, I was flooded with a large number of gifting options, but no website could really help me decide what to gift. Prateek was faced with the same problem when he was pursuing his management studies at IE Business School in Spain, and was looking to send a gift back home on his parents' anniversary. There were a large number of gifting websites, but no one actually suggested what would make a good gift for his parents. Confused, and disappointed, he called up his sister back home, and asked her to go buy a nice gift from the mall.
We both spoke about this, and realized that this was a problem faced by a large number of people on a frequent basis. We knew that this was something that we could solve using technology. I quit my high paying corporate job at Bain, and Prateek moved back to India and we started our journey with wishpicker.
Wishpicker is solving a real world problem – we help you decide WHAT to gift! We did a Beta launch in June 2013, and moved out of Beta in Dec 2013. Wishpicker has been witnessing a great traction, and are seeing a few thousand visitors on the site daily. We pride ourselves on the technology that we use, which would not have been possible without the great team that we have here. Me, Prateek and Tejendra are the co-founders. Prateek and Tejendra lead technology, while I handle operations and marketing. Dhiraj and Zubair are both Computer scientists who drive the technological innovation that takes place here. Sanchita is a gift wizard – she makes sure that all the gifts on wishpicker are tasteful and 'giftable'. Also, she leads our team of content creators who manage social media marketing. We are currently self funded, and are in the process of raising a round of funding in the next few months.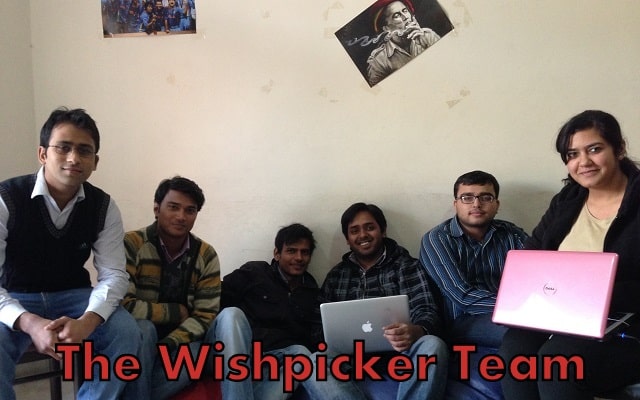 It has been a long journey. We have developed a gift recommendation algorithm that almost eerily predicts WHAT would make for a great gift. The one thing that helps this work is the use of machine learning in our gift recommendation algorithm. Incorporating machine learning helped us make the algorithm more effective and intelligent. The algorithm learns from user trends and behaviour, and figures out what kinds of gifts are relevant for a particular occasion or relationship. This helps us minimize human intervention, and use technology to ensure that wishpicker does not disappoint anyone struggling to figure out what to gift. Also, wishpicker reads the Facebook likes and interests of your friends to predict what they would like as a gift. This was a fairly complicated process that took months to build.
On the non-technical fronts, we maintain a very popular blog that is aimed at making people smile – which is the whole point of existence of wishpicker!
The Challenges
The biggest challenge was in building the right team. Without a great team, your business is destined to fail. At a start-up, you will never be short of work, and will constantly feel the need for more people. The key is to not hire in a hurry, and make sure that the candidate is not only talented and hardworking, but also fits in well with the culture of the company. An additional team member may help you take a step forward, but a wrong hire will push you 2 steps behind!
Another challenge was to ensure that if someone comes to wishpicker looking for a gift, he/she does not go away disappointed. This was made possible by the use of machine learning in our gift recommendation algorithm. Wishpicker's algorithm reads user insights, and becomes more and more intelligent as the number of people using it increases. As a result we are able to maintain a conversion rate much higher than that of vanilla e-commerce stores.
The Future
We have an extremely scalable model, given that we are completely cloud based, and do not hold our own inventory. Also, the problem that we are trying to solve – deciding what to gift – is intrinsically global by nature. As a result, we plan to expand internationally this year. We are looking at 2 international geographies to begin with. In a few years, we plan to be the portal that helps people around the world figure out WHAT to gift.
The Learning
There are 3 important takeaways that I would like to share from my journey with budding entrepreneurs:
Conviction: People will try to pull you down all the time. They will dismiss your business model, and tell you that you are wasting your time. If you do not have 200% conviction in your business, it becomes very difficult to survive the lows.
Patience: It takes 10 years to become an overnight success. Patience is the biggest virtue that you will need to possess. Things may take time to turn, but there is always light at the end of the tunnel.
Leadership: The most important component of any business is a rockstar team. To keep the team motivated, and to ensure that they are enjoying their work, you will need to be a very good leader.
For us, customer is king. Listening very closely to your customers, and moulding the product accordingly is crucial. It is extremely important to be flexible, and always being open for feedback. At the end of the day, it is the customer who decides the fate of your company – not the competition, or the investors!
Go. Get the perfect gift for the ones you care and love.