Today, August 13,  is Organ Donation Day. If you have been reading about it, thinking about it or are confused if you should do it, we give you 10 moving reasons to pledge your organs: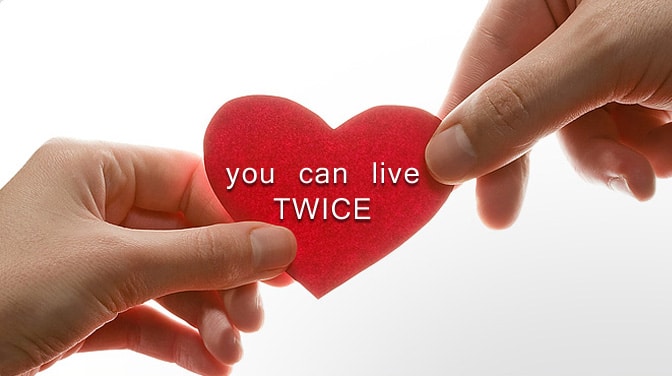 #1

In India every year

500,000

people die because of non-availability of organs. You can help fill the deficit.
#2

 By donating your organs you can save not one, not two but

8 lives

. It is a selfless good deed that will carry you far karmically in this lifetime, and long after.
#3 Myth: 

Only hearts, livers, and kidneys can be transplanted. 
Fact:

 You can pledge the heart, kidneys, liver, pancreas, lungs and intestines. Tissue from the eyes, skin, bone, heart valves and tendons can also be used. 
#4 A whopping

100,000 people

 live in darkness waiting for Corneal Transplants. You can give the precious gift of sight to someone long after you are gone. 
#5

 The annual requirement for Liver Transplants in India is 2,00,000. However only about

4000

Liver, Kidney and Heart Transplants are done in a year. Every pledge counts.
#6

 Only

3% of all patients

in need of a

kidney

get a donor, which boosts illegal buying and selling of kidneys at unthinkable prices. You will help curb crimes related to the illegal organ trade.
#7

As of today, close to

72,000 Indians

have pledged their organs. It's your turn now.
#8

 The celebs are doing it, so why not us. Think Aishwarya Rai, Aamir Khan, Amitabh Bachchan and many more. You will be setting an example for your peers and others around you.
#9 Myth:

An existing medical condition means you are unfit for organ donation.
Fact:

With recent advances in transplantation, doctors are able to use organs from individuals who were previously considered unfit for donation, 
This is YOUR CHANCE to join a nation-wide initiative for awareness and social duty, along with the likes of the Kokilaben Dhirubhai Ambani Hospital, The Apollo Institute of Transplants and many more social groups.
CLICK HERE TO PLEDGE YOUR ORGANS TODAY