Wealth, whether hard-earned or inherited, gives a privileged few the opportunity to live a life of comfort and abundance. In the recently released annual list of the World's Billionaires by Forbes, there are 1,645 billionaires in the world, of which 172 are women.
This feature deals with the humanitarian, CSR and philanthropic efforts of women in power who have employed their good fortune and position to help transform the lives of the less fortunate across the globe.
While they could have easily spent a life nestled in luxury, away from the grim realities of the real world, these individuals have extended a caring hand to those in distress, setting a precedence of how the world's privileged participate in philanthropy by not just parting with their wealth but by jumping right into the thick of things to make a real difference.
Sudha Murthy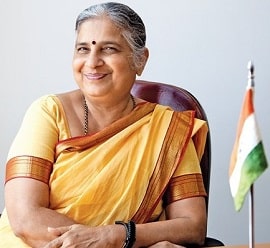 A prolific writer who has authored more than 75 books, Sudha Murthy is a highly educated and well exposed individual. While husband Narayan Murthy was busy spearheading what would become Infosys and one of the biggest Indian based enterprises of our times, she took to social work like fish to water. As Chairperson of the Infosys Foundation, her initiatives are not merely limited to smiling for the flash bulbs while she presents life sized, PVC set cheques to NGOs.
From providing computers and basic computer related education in schools, to empowering women through an awareness of hygiene, art, culture, literature and more – her efforts have been outward looking rather than mere reflections of what other billionaire wives are doing.
In 2006, Ms. Murthy was awarded the Padma Shri, the fourth highest-ranking civilian award from the Government of India.
Melinda Gates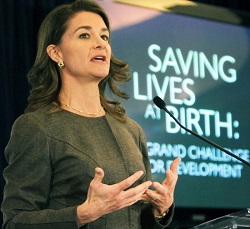 She showed the world how to walk shoulder to shoulder with your man as he makes giant strides when it comes to conquering the collective imagination of the computing world. Not only has Melinda Gates carved a niche for herself as an erstwhile project manager at Microsoft, but she has also taken philanthropy and CSR initiatives to a whole new high thanks to her vision and untiring effort.
As the co-founder of the Bill and Melinda Gates Foundation, she has been at the helm of several projects involving raising funds and public service. By 2013, she and her husband had donated more than $27 billion USD to the Foundation.
Ms. Gates firmly believes that access to contraception and family planning can significantly empower and change the lives of disadvantaged women. At the 2012 London Summit on Family Planning, Ms. Gates committed to providing contraceptive aid to 120 million women in developing countries by the year 2020.
Nita Ambani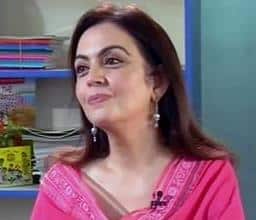 Known as much for her social initiatives as for being the spouse of one of India's most illustrious industrialists, Mukesh Ambani, Nita Ambani spearheads several social development initiatives as Founder and Chairperson of the Reliance Foundation.
With social development projects at more than 50 locations across the country, the Reliance Foundation works for upliftment of the underprivileged by addressing the basic pain points of rural India – education, health and income generation. Ms. Ambani also heads Project Drishti, an initiative which has helped give sight to more than 11,000 visually challenged individuals through free corneal graft surgeries. 
Nita Ambani is one such lady who has taken terms like "welfare and CSR" and turned it into a world of opportunities that do not merely help people find sustenance, but also help them build a better future.
Angelina Jolie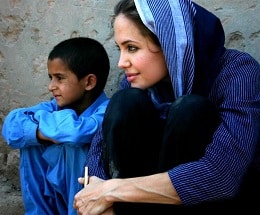 This stunning beauty and talented actor has carved a niche for herself with path breaking films that won the hearts of even the staunchest critics. Yet, this Hollywood "It" girl distanced herself from all of it to travel the world in pursuit of humanitarian work.
A United Nations ambassador for years now, Jolie's philanthropic journey began in 2001, when during the filming of Lara Croft – Tomb Raider, she came face to face with the sufferings in third-world nations. Today she seems more at peace with her life in minefields and bereft slums in faraway Africa, Cambodia and other such "locales".
As a result of her efforts, she has managed to turn the spotlight on a variety of the world's problems, for which she has received worldwide recognition. A perfect example of how far power can really go when in the right hands!
Oprah Winfrey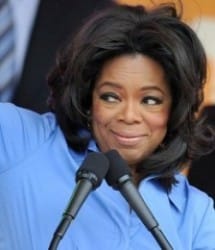 This lone crusader began a career that took her to the pinnacle of success. But once there, she did not forget her roots. In 1998, she founded The Angel Network to raise funding for projects aimed at rehabilitation and empowerment.
She took her passionate work forward by urging her well placed friends to invest their hard earned fortunes to help those in need. And today, thanks to her network and efforts, donations to the tune of billions go to initiatives in various corners of the African continent!
With the Oprah Winfrey Foundation, Oprah Winfrey Operating Foundation and the Oprah Winfrey Leadership Academy for Girls in South Africa, Ms. Winfrey has donated over $400 million in charity.
Women in the role of the caregiver might not be a terribly new concept for the world. But women who are as qualified as men to take the world of business and commerce by storm – and who choose to focus on the world's problems as well; there's a novelty that doesn't get old!