If you love to travel and talk about it, until recently blogging might have been the only means to share your travel experiences with family, friends and the world at large. Today, travel aficionados are spoilt for choice, what with a number of websites and apps where you get to share real time experiences and follow like-minded wanderers from around the world.
If you have any interesting travel experiences, tips, informative stories about places and things to do, you can also write and publish your stories with us here.
Here are some of the coolest virtual places to boast about your one-in-a-million travel experiences, share photos, keep travel journals, publish photo books, videos, text and much more.
1. Findery: Every place has a story
Launched in 2011, Findery is a social discovery platform that brings places to life through notes left by travelers. The notes comprise a gamut of facts and experiences which could be anything from the history of a place, favorite things, memories, little-known facts, local knowledge or secrets hidden from the world.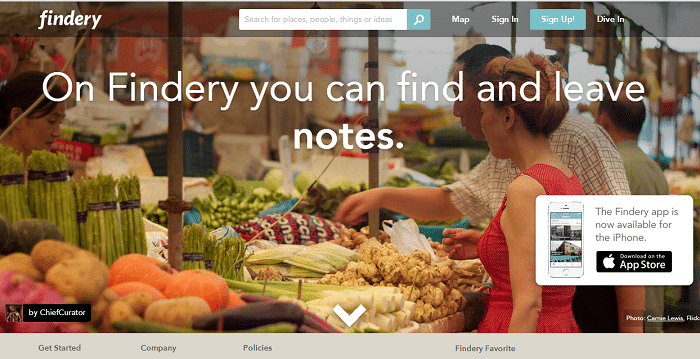 This free service enables people to explore the world through the insights and experiences of others. Its tag line "Every place has a story" resonates through the notes people leave on the platform. In March this year, Findery rolled out an app, which is also available for use on the mobile web.  This app lets users take photos and notes from specific locations and tag them on a map anywhere in the world for others to see and discover.
2. Placing Literature: Where your book meets the map
If you love books then, Placing Literature is the site you want to explore. Launched in June 2013 at the  International Arts and Ideas Festival, Connecticut, U.S., the website maps out scenes and locations from novels, allows you to zoom in, pick a spot on the map and describe your book.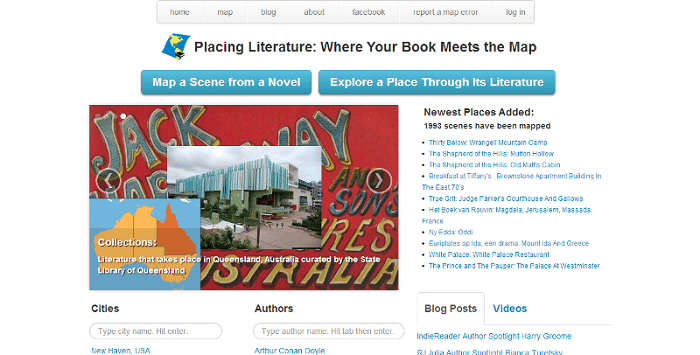 You can also add your own location from a favorite scene in a favorite book. Next, click the map to drop a marker, click the marker and describe your book. The strength of this unique platform is that it is crowd-sourced by readers and lovers of literature. Talk about bringing fiction alive?  Placing Literature lets all bookworms do just that!
3. Trover: The best of everywhere
Trover is a website and app for sharing your travel moments and discoveries through photos. It is committed to bringing you "The best of everywhere" whether it's a quaint street-side bar,  a sunset that took your breath away or a local crafts-person weaving magic with their hands.
Trover provides explorers a platform to share interesting photos, add a description, create bucket lists and follow other explorers from around the world.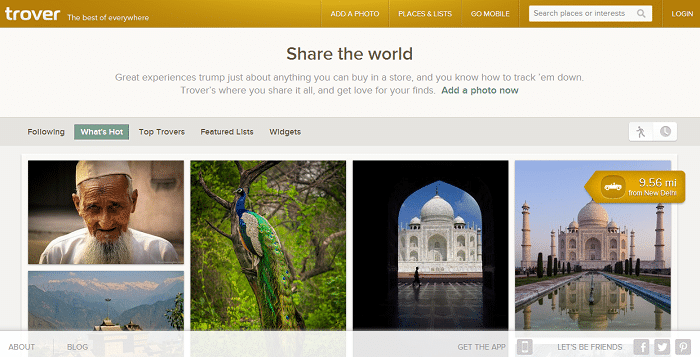 4. StoryTravelers: Visual storytelling through photos & videos
Joining a group of visual story telling artists who use imagery and videos to share their travel experiences.  The objective?  To ignite a spark that builds in you a burning desire to visit the places featured on the website. StoryTravelers helps you 'translate your travel experiences into awesome visual stories: professional photography videos, photo stories, micro and instant blogging'.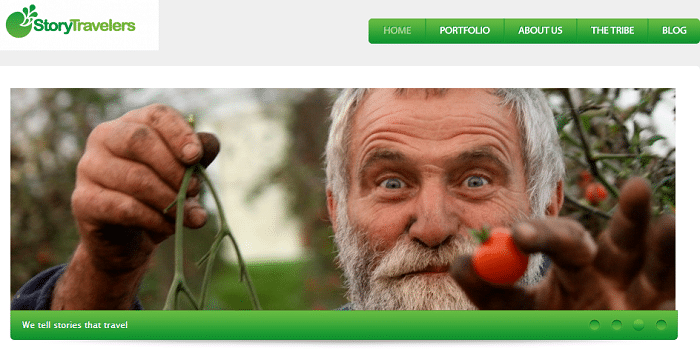 5. Explory: A studio in your pocket
With Explory making a story from your videos and photos is really simple.  You can add music, narration and text description to your photos and videos, share your stories via email or social media and you also get to decide whether your stories are public or private.
What's more!  It offers the viewer a touch interface where they get to decide the pace at which they want to view a story. Download the Explory iPhone app here.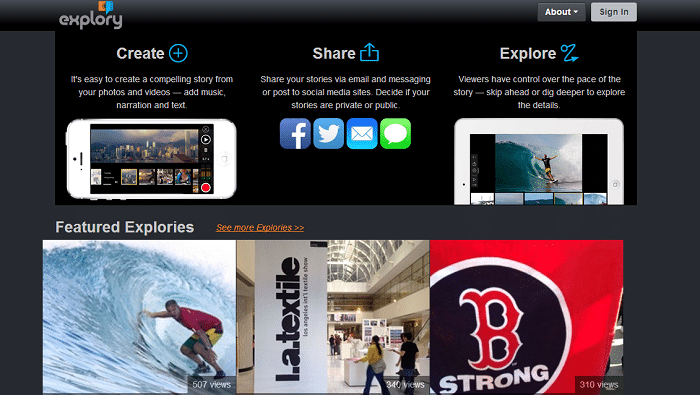 Besides these here are some more websites and apps that let your travel do the talking:
Atlasa: A social-mapping tool that helps users plan trips.
SpeakingPhoto: A tool for adding voice-overs to photos. Its tagline "Say more than cheese!" says it all.
Storyrobe: A storytelling app which lets you 'Live. Create. Share'.
Gogobot: A crowd-sourced trip-planning website.
We all have a fascination for stories and these tools and platforms equip us with the means to showcase our experiences to the world, indulging our insatiable need to share stories and memories with other people.
The human voice that these platforms give to travel stories is something one can never find in a guide book. Add to that the ability to share moments on the go and you have an alluring blend of technology and personalization together with the power of imagery- a lethal combination no wanderer can resist!
Know of a cool travel sharing website or app? Do help fellow explorers by talking about it in the comments below.