IT Engineer from Sardar Patel College of Engineering, Mumbai, Minnat Lalpuria started her career with a short stint at Tata Consultancy Services. Soon after the world of digital marketing beckoned, she shifted her career path to learn more about the new age medium. In 4 short years, she went from being account manager to heading the India branch for a Singapore based digital agency. Born and brought up in Mumbai, Minnat has always had the 'itch' to start something of her own.
She decided to enroll at Indian School of Business to learn the ropes and sharpen her skills before starting on the journey as an entrepreneur. "Passing out of ISB in 2012, I resisted the charm of campus placements and launched my own venture, 7vachan immediately after, and there has been no looking back thereafter", says Minnat.
In this exclusive conversation with LifeBeyondNumbers, Minnat Lalpuria talks about her journey, inception of 7vachan, challenges she faced, her learning along the way and lots more…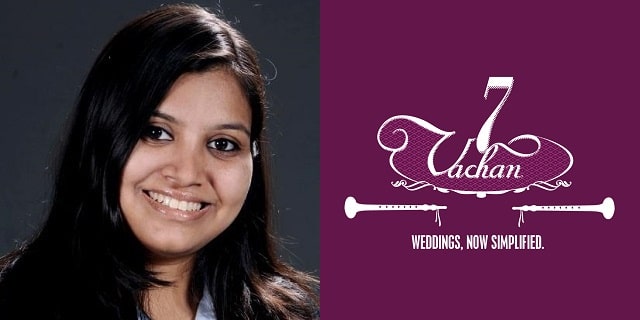 Inception of 7vachan
Weddings have always fascinated me. So when I thought of becoming an entrepreneur I couldn't think of a better industry to be On an average we have saved 12% in the overall client's budget.in. Indian weddings are Big, Fat & Fun. But finding the right places or professionals required to put together a wedding is a long and tough task. Families put aside many months to prepare for the wedding as they know the research itself takes up weeks! More than 90% weddings in India don't have a wedding planner, i.e. a family members or the bride & groom themselves take on the responsibility. They rely heavily on references from friends and families. Many a times having to compromise on budget or choices. These issues cause stress and rob the family of the good times they should be having around the wedding.
So my inspiration behind launching 7vachan was to create a platform that would help couples plan their weddings in a faster, simpler and stress-free way. And ensure smiles along the way.
What is 7vachan
7vachan is an online wedding consulting service. We help find the right professionals for any wedding need, in just 3 short days. Our team is trained to understand the consumer's requirements and provide them with a researched & customized list of options, filtered by location, availability, budgets, etc. making it easier for them to compare and book the best deals.
Our associations with wedding professionals and brands also gives us access to better deals which we share with the consumers, ensuring the best 'value for money'. From wedding venues to delicious menus, we can help them with any wedding related need. 7vachan was founded in September 2012. We have spent the last few months interacting with customers as well as brands and wedding professionals to understand the wedding business better. The aim is to provide a platform that benefits the user as well as the provider, making the wedding business a pleasurable one.
Now that our idea has taken shape and our expansion plans are in place, we will be approaching funding agencies to power our growth. We are currently seed funded and soon be looking at VC funding.
In the last year and a half 7vachan have helped over 150 couples find the right partners for their wedding requirement. From wedding venues to designer wear for the bride and groom to the right candid photographer to capture the special moments, whatever their needs might have been, 7vachan have provided the best options to choose from. And helped them get good deals too – saving time, effort & money!
In the mean time, 7vachan have also been building an extensive network of wedding professionals. From 5 star wedding venues to budding designers to local names to reckon with, our network of wedding professionals will include good quality vendors for every budget and requirement. 7vachan is currently more than 500 professionals strong, adding new brands & vendors every week. We have not only increased the choices in a client's basket but also help make considerable savings and faster decisions. On an average we have saved 12% in the overall budget. Venues have been our USP, where we have saved 35-40% on destination weddings venue alone! Vision of 7vachan is to organize this big fat industry, providing a platform for consumers to meet professionals. The response till now has been very encouraging!
The Challenges
There have been many (laughs…)! The biggest challenge has been to find people who share our vision and can help us make 7vachan the brand we want it to be. There are many talented people out there, but to find one that you can share your dream with is easier said than done. But we have managed. From a 2 member team to an 8 member team, the 7vachan dream is growing.
Weddings are a family event in India. The elders in the family play an important role in the decisions, and they are not very comfortable with the "online" bit. They prefer a face to face meeting. But thanks to our result oriented approach, we have managed to overcome such obstacles. I am still at the beginning of my journey, I am sure I have many more lessons to learn as I grow.
The Way Ahead
My vision for 7vachan is to be the one stop solution for all wedding needs for Indians across the globe. 7vachan should be the go to brand for anything wedding related requirement, even if it is just advice. The immediate action point is to invest in the website and talent to cater to a wider audience. We aim at atleast 1000 weddings in 2014 and completely geared up to take it on!
The Learning
Being an entrepreneur today is easy and difficult at the same time. Easy because the community is more accepting of such a career choice, thanks to all the successful examples in the country. Difficult because there are just so many like you around… the competition is very tough! The two golden rules that have helped me in my journey so far are:
Believe in yourself & your idea! The road will not always be rosy. You will hit roadblocks many a times. It is only your belief in your idea that will keep you going.
Listen. To all around you. Every good idea can be bettered. And you will find that advice will come to you from the unlikeliest of people and places. You will be the best person to know which ones to take seriously and which to discard. But keep an open mind and listen!