Writer and Columnist Shweta Ganesh Kumar is the bestselling author
of three books, with her last worldwide release 'A Newlywed's Adventures in Married Land,' having received rave reviews from critics and readers alike. Her short fiction has been published in more than twenty anthologies and online literary magazines in more than four continents.
She currently lives in The Philippines with her husband and two-year old daughter, skillfully dividing her time between people and things she loves.
We spoke to Shweta about her fourth book and first collection of short stories, Suspended Animation – Short Stories of those who wait' which is now available worldwide through Cresco Books.  Here's an excerpt:
What is Suspended Animation?
'Suspended Animation' is a collection of short stories about those and by those, I mean both human and non-human, for whom waiting is a constant reality of life. It is an anthology of 22 stories that captures snapshots of lives caught in status quo, as they wait for something to release them from it. Be it the wait for a natural disaster to pass or the wait for a forever absent spouse or even the wait to transform oneself and fight the odds, the book aims to take the reader, through a complete spectrum of emotions and insecurities.
Why a short story collection this time?
I've always been a fan of the short fiction genre. Being a former journalist, telling a story that one can read in a single sitting comes more naturally to me, rather than drafting a larger chunk of the protagonists' lives, like in a novella or a novel. The stories in this collection were written over a span of four years and from multiple locations, thanks to my muse and her mysterious ways. A few stories on, I recognized the common thread of 'waiting' binding the stories together and that is when I decided to collate it as an anthology.
Earlier this year, I got in touch with Cresco books, an eBook only and environment conscious publisher and that is when my manuscript was released from its own state of Suspended Animation to a full-fledged book.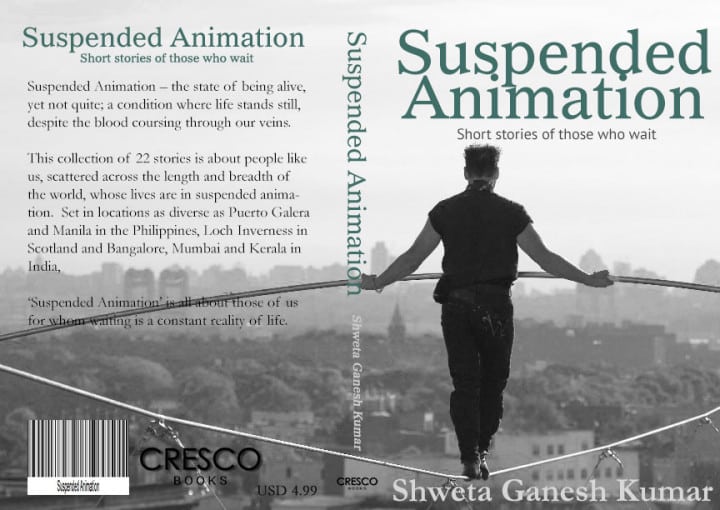 Are the stories inspired from real life?
That's a tough question. So, let me just say I have found that when I write about the things I know and have experienced, the story seems to flow with a life of its own. The stories in this collection are not based on other people's lives, but they are definitely based on real-life incidents, sights, meetings and experiences that made me stop, reflect and get inspired.
Like in the case of 'Sole Mate', a story about a monitor lizard lamenting its solitary existence. This story was born out of an encounter my husband and I had, with an actual monitor lizard on our honeymoon!
Or 'Green To Red', which is a story about two beggars, inspired by a two-women begging team, I often saw at the traffic signal near our apartment in Manila.
What can I say? Reality inspires me.
What was the thought behind the intriguing title Suspended Animation, and the equally compelling tag line, Short stories of those who wait?
'Suspended Animation' is a phrase that I have carried with me all the way from 2005, when I was a post-graduate student at the Symbiosis Institute of Mass Communication, Pune. One of my closest friends there Shiv, was a film student focusing on animation. In our final year there, he started work on a project, which involved a lot of editing and production that I found fascinating. I loved watching the frozen frames, which were waiting for the next stage in their virtual lives and the phrase stayed with me.
Years later, when I recognized the theme of 'waiting' surface in my stories, it was this phrase that lit up in my mind.
I knew with all my heart, that this was my title. And the tagline, was just my way of dedicating it to all those who stand in wait.
We know you have a toddler. How does she manage and do a great job of raising a writer mum?
Ha, ha! That's a great question. She does a great job of keeping me on my toes all day long and falling asleep early enough so that I get time to write. She also makes sure that I am completely logged out from social media during the day, so that I am always fully present, making me absorb all the little things of life, from the shape of the funny looking cloud in the sky to the spider hanging from our window. I feel that ever since she came along, I live life more mindfully, which has started to reflect in my writing as well.
So, yes, she is doing a fantastic job of raising her Amma.
What are your days like? Do you believe in a disciplined routine or do you take to the pen only when it comes from within?
I approach writing as I've approached all my previous jobs. I could not afford to have a day off as a reporter or as a communications executive. When you are at work you work, no matter your mood. This approach works for me as I manage to write at least a little bit, every day. Being my own boss, I stick to this tactic to ensure I don't slack off or procrastinate.
I also work on multiple projects simultaneously. This way even if I don't feel the words flowing for a certain story, I know that it will for another column or blog waiting for my attention.
What lies ahead?
I'm currently dividing my time between a number of projects. Jostling for mind-space and time is a play and my first non-fiction book on sights and experiences in The Philippines.
*****
'Suspended Animation' is available worldwide from Amazon, Google Play and Scribd. To learn more about Shweta's life and work, connect with her at www.shwetaganeshkumar.com.