The ultimate war for survival where X-Men characters come together with their younger selves from X-Men: First Class to save the species from annihilation.
The new Bryan Singer directed X-Men movie is not particularly for a typical X-Men fan – but for everybody. You don't even have to flip and read about the X-Men series to watch it.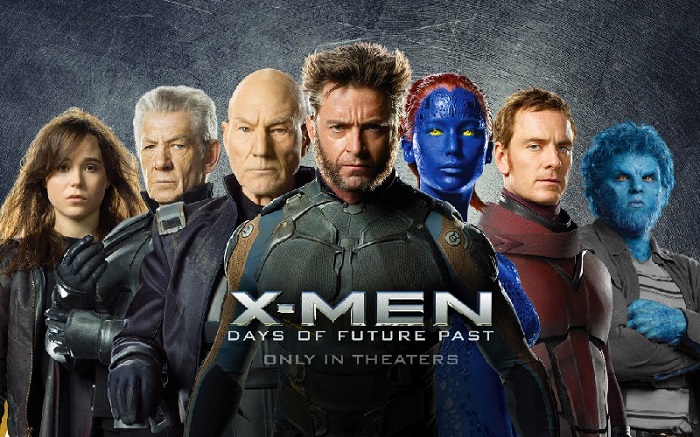 The Cast
Singer has managed to get a gigantic cast for the movie right from Hugh Jackman as Logan/Wolverine (so far the most beloved character of the franchise) who is tough and funny as a mutant with accelerated healing, James Mcavoy as Charles Xavier (the Young Professor X), a telepath who can get into people's conscience and manipulate, Michael Fassbender as Magneto the most powerful mutant who is seen manipulating iron, steel, stadiums, railway tracks; Jennifer Lawrence as Raven/Mystique capable of changing shape and form is the most vulnerable character in X-Men. Halle Berry as Storm has a limited screen space, Ellen Page as Kitty Pryde who is the prime facilitator for time travel.
X-Men has many more characters to describe but what you take back with you is Quicksilver enacted by Evan Peters as a mutant with the ability to move and think at supersonic speeds. With his silver hair, Pink Floyd T-shirt, Peter is a terrific character who breathes lightheartedness into the movie, and many will be sorry he doesn't stick around longer.
The Story
As far as the plot is concerned, Professor X and Erk (now reunited) send Logan back in time, in 1973, when Raven had killed Dr. Bolivar Trask (Peter Dinklage), a U.S. military scientist. Raven was captured and several tests were performed on her only to find out that her DNA has transformative powers and this was used to perfect the Sentinels. Logan is asked to time travel to save the extinction of the mutants; to stop Raven from killing Dr. Boliver and for this he is asked to unite with Charles and Magneto.
X-Men leaps forward and backward and that is not uncomfortable. The canvas is vast and the screenplay by Simon Kinberg is gripping. One has to give credits to the spectacular cinematography by Newton Thomas Sigel.
Is Logan capable of stopping Mystique/Raven from the devastation that would affect their future?
The movie is a pop-corn entertainer. You are touched and enthralled at the same time. It is magnificent and makes you wonder that Bollywood is light years behind.
Go watch it!
Running time: 132 minutes