Women have been one of the favorite subjects of authors. The innumerable shades of a woman's psyche drive in flocks of pens to paint their emotions to words. Lately, with the uprise of mythical writers in the nation, a good number of them have started diving into the old scriptures and have brought out the women we have forgotten. Though time has changed and the world has evolved, women have always been women.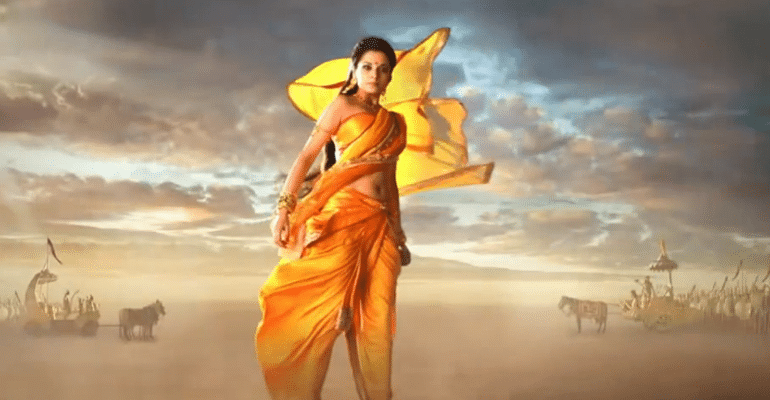 Following is a list of the magnanimous mythical female characters and the books based on them which have been revamped and reintroduced to the modern readers with a fresh perspective.
1.

Yagnaseni: The Story of Draupadi

Pratibha Ray makes a determined effort for a portrayal of the epic character and brings to the surface the broader and deeper aspects of Draupadi's mind that lay submerged in the majestic sweep of the grand Mahabharata. The novel won her the Bharatiya Jnanpith's prestigious ninth Moortidevi Award in 1993. | Read this book |
2.

The Palace of Illusions (Character:

Draupadi

)

The novel traces the princess Panchali or Draupadi's life, beginning with her birth in fire and following her spirited balancing act as a woman with five husbands who have been cheated out of their father's kingdom. She is swept into their quest to reclaim their birthright, remaining at their side through years of exile and a terrible civil war involving all the important kings of India. Meanwhile, we never lose sight of her strategic duels with her mother-in-law, her complicated friendship with the enigmatic Krishna, or her secret attraction to the mysterious man who is her husbands' most dangerous enemy. | Read this book |
3.

Karna's Wife: The Outcast Queen

This is the debut book by author Kane who always chooses unusual characters in her books. Kane narrates the story of Karna, the unsung hero of Mahabharata, through the words of his fictional wife Uruvi. | Read this book |
4.

Satyavati

Utkarsh Patel's latest and second book is Satyavati, based on the character who really is the pivot of The Mahabharata. In this book, he fleshes out Satyavati's character not just as Hastinapura's regent queen or Vedavyasa's mother, but also as a woman who makes some tough choices in life. A shadowy character with strange origins is transformed into a woman of flesh and blood, whose bold decisions dictate the course of the protagonists' lives, and indeed, the entire epic! | Read this book |
5.

The Rise Of Hastinapur (Character:

Amba

)

We have often overlooked the women in the Mahabharata, knowing that the greatest stories were theirs. In this book, author Komarraju talks about Amba who lives for revenge, Kunti who puts everything at stake for her brother Vasudev, and Gandhari who marries the blind king. In the background, Bhishma carefully pulls the strings, making alliances and marriages, and making new strategies. | Read this book |
6.

Abhaya (Character: 

Satyabhama

)

Abhaya is a princess and a formidable warrior who defeats the demonic Bhauma alongside Krishna. Author Saiswaroopa Iyer blended history and mythology beautifully to make a compelling first book. Her Satyabhama/Abhaya was not just one of Krishna's lovers or wives, but also an independent character worth looking up to. | Read this book |
7.

Sita: An Illustrated Retelling of the Ramayana

Devdutt Pattanaik, the latest mythic sensation of the country, reversed the gaze by telling the Ramayana from Sita's point of view. Pattanaik retells the Ramayana, drawing attention to the many oral, visual and written retellings composed in different times, in different places, by different poets, each one trying to solve the puzzle in its own unique way. | Read this book |
8.

The Girl Who Chose: A New Way of Narrating the Ramayana

Another book by Devdutt Pattnaik, The Girl Who Chose is the re-telling of Ramayana, from the standpoint that only Sita had the luxury of making choices, and her choices decided the course of the epic. | Read this book |
9.

Sita: Daughter of the Earth

Adaptation of the Ramayana, the ancient Indian epic – it is a tale of love, honor, sacrifice, hope, and justice by Saraswati Nagpal and Manikandan. Princess Sita of Videha gets married to Rama, the prince of Ayodhya, where her life takes a new turn and is ordered to live the difficult life of a forest dweller. Sita gets abducted by the wicked demon-king Ravana and was hidden away in Lanka. The story focuses on one woman's shining strength in an unforgiving world. | Read this book |
10.

Sita- The Warrior of Mithila

The only feminine fiction by Amish Tripathi till date, Sita- The Warrior of Mithila begins its story with King Janak of Mithila finding a girl child abandoned in a field. She is mysteriously guarded by a vulture from a pack of wolves. King Janak adopts her but he had not wondered that this orphan girl will be the one needed for the protection of the divine land of India from the demon-like desires of King Raavan. It follows through Sita's childhood and tutelage, her marriage with Ram, and ultimately her 14-year exile, accompanied by her husband Ram and his brother Lakshman.  | Read this book |
11.

Sita's Sister (Character:

Urmila

)

In this book, author Kane has constructed the life and character of the little-known wife of Lakshmana, Urmila. The Ramayana takes scant notice of her, and when it does, consigns her to what is essentially a 14-year long coma. But Kané imagined her as a living, breathing heroine who holds the fort when everything is crumbling and everyone important has left.  | Read this book |
12.

Lanka's Princess (Character:

Suparnakha

)

This is a book by Kane where Surpanakha is more than just a lustful demoness whose nose was cut off by Lakshman. It builds upon the academic narratives of feminism, whose followers have long championed Surpanakha's cause. It reiterates the idea that women who are vocal about their desires and sexualities are not automatically evil.   | Read this book |
13.

Lakshmi: The Goddess of Wealth and Fortune, An Introduction

Lakshmi, the goddess of material profusion, wealth, and auspiciousness, is one of the most popular and widely revered deities of the Hindu pantheon. This title helps readers appreciate the Hindu approach to wealth and power. At the same time, it also delves deep into the significance of temples, symbols and festivals and the names associated with her and the ceremonies that assure material fulfillment.  | Read this book |
14.

Shakuntala: The Woman Wronged

Utkarsh Patel's debut novel positioned its heroine as one who dared to loved, accepted the consequences but kept her pride intact. She is not the wheedling little woman of Kalidasa's play Abhijñānaśākuntalam who goes to Dushyant begging him to take her back. Patel's Shakuntala, like Sita, demonstrates a strong act of defiance in rejecting her husband after ensuring a safe future for her son.  | Read this book |
15.

Menaka's Choice

Kané then wrote Menaka's Choice (2015), a tale about the apsara who was famously sent by Indra to stop great sages like Vishwamitra from achieving their spiritual goals. But Kané's take was unique in that she wrote about Menaka as a woman who chose to be a mother, depicting her anguish when she was required to leave her child behind and return to the celestial realm.  | Read this book |
Some Other Feminine Narratives
16.

7 Secrets of the Goddess

Lakshmi massages Vishnu's feet. Is this male domination? Kali stands on Shiva's chest. Is this female domination? Shiva is half a woman. Is this gender equality? Why is then Shakti never half a man? Taken literally, stories, symbols and rituals of Hindu mythology have much to say about gender relationships. Taken symbolically, they reveal many more things about humanity and nature. Which is the correct reading? This third title in the bestselling 'Hindu Trinity' series by Devdutt Pattnaik focuses on the Goddess and respected mythologist tries to unravel the secrets locked within her stories, symbols, and rituals.  | Read this book |
17.

Devi: The Mother-Goddess – An Introduction

This book by Devdutt Pattnaik is written in a simple narrative style, taking the reader through Shakta imagery, philosophy, beliefs, customs, history, folklore, and myth, it teaches the meaning of goddess worship in our time. Reaching to young and old alike, it brings together tales of various goddesses and heroines.  | Read this book |
18.

The Goddess in India: The Five Faces of the Eternal Feminine

In this wide-reaching exploration of ancient Hindu lore and legends, author Devdutt Pattanaik discovers how earth, women, and goddesses have been perceived over 4,000 years. Some of the tales recounted are revered classics; others are common and folklorish, often held in disdain by priests. Until now, most have remained hidden, isolated in distant hamlets or languishing in forgotten libraries, overwhelmed by the din of masculine sagas.  | Read this book |

image: source
- People Also Reading Now -
- Share Your Thoughts -
DISCLAIMER:
Not all images are owned by us or by our contributing authors. We, at times, use images from the web that closely represent the story theme. And we make sure to provide due credit to those images by linking back to their original sources. If you find any such image which you own and want us to remove it from our site, please send us a mail via this form with a proof that you are the owner of the image in question. We will remove it at the earliest.
We respect your concern.
Read full disclaimer...