It's indeed a cliché to say "I want to change the world". But only a few actually take the pain to go out in the Sun and do some actions. And she is one of those few individuals.
Meet 35 years young lady Marta Vanduzer-Snow. She grew up in Boston and was living in New York City for a decade before moving to India in 2012. What's inspiring and special about her?
In two villages of Uttar Pradesh, Raebareli and Amethi, Marta has built 82 low-cost evapotranspiration toilets in homes and 1 in a school, one 10 feet wide & 400 feet long road which is one of the area's first permeable roads, and also carried out many other projects in the fields of education, health care and infrastructure (food, water, power, transport). And all these with her personal money from the pocket. Surprisingly, all these at 1/3rd of the cost of the similar governmental projects in these villages.
In our hour-long conversation, Marta shared more about herself and her passionate selfless project "Better Village, Better World".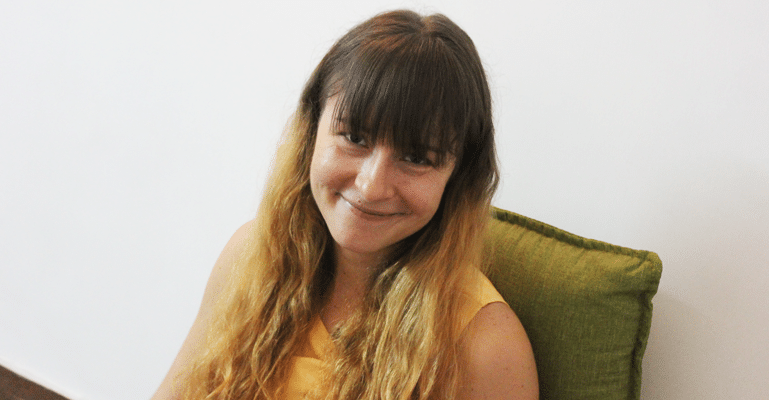 Knowing Marta
She was a full-time Ph.D. student where life was more centered around classrooms and her books.
"I spent my 20s thinking and working for social change from a desk, as a researcher, and at a policy level. These past few years, working with my hands, seeing what has been made at the end of the day is its own, is an incredibly special reward. The contribution made from a day's work is clear. I first came to India in 2004 for a book project; it was an honor and tremendous privilege to learn from some of India's leading minds. Years later, knowing I wanted to develop this idea, I thought India would be the perfect place", says Marta.
I was definitely curious to know how this project got triggered in her mind in the first place and the on-ground experience so far in India.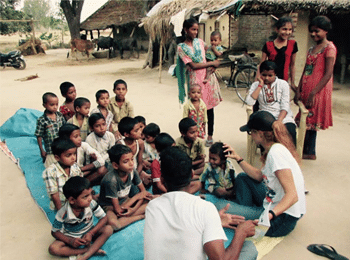 "It started when I read Amartya Sen's "Development as Freedom
" when I was in my early 20s. Ever since I've been thinking about the kind of policies his thesis demands. So far, this work, this experience has been "good-hard." There have been so many tests of patience. I could make a list of examples, but they all are on the whining, complaining verge, nothing important.", she says with a beautiful smile.
Continuing the conversation, she adds, "It took some time to win people over. I slept for two months in the village, I did morning readings, I personally cleaned the local primary school. After some time, the times and ways in which the community has supported this work is one of my favorite part of this project. They have volunteered their time, given land, and so many more things."
But Why
Like you, I was also curious to know why Marta has come all the way from America to build toilets and roads in the Indian villages.
"I could do very little back home compared to what I am doing and can do, here in India due to the dollar value. India gives me the opportunity to touch people's lives in a much greater scale. So I just packed my bags and moved. I feel it's irrelevant where, but as long as I can do my bit of contribution to make this world a better place to live in, I think my job is done", she says with all her passion.
But why all these with your personal money from the pocket? This is what she has to say:
On asking how much she has spent on these developmental work so far, she was very reluctant to answer. "I don't want to reveal that part of the story. Let that number be with me. I feel my purpose will be lost if I answer that question to anyone. What's important to me is whether my work is impacting the lives of the people around here or not", she answered with a lot of positive vibes. I am sure, the impact of the work she is doing will last much longer, even after she is gone from here someday.
"

Better Village, Better World

" – The Project
Marta's passionate work and her purpose, so far, have directly impacted the lives of 82 families in 2 villages of Uttar Pradesh.
Talking about the scope of this inspiring project, she adds, "We build evapotranspiration toilets, permeable roads and solar power homes and many other projects. We are working on so many projects in the areas of education, health, infrastructure – organic farming, water, food transport. Community libraries, community-run arts and sports programs. Many things."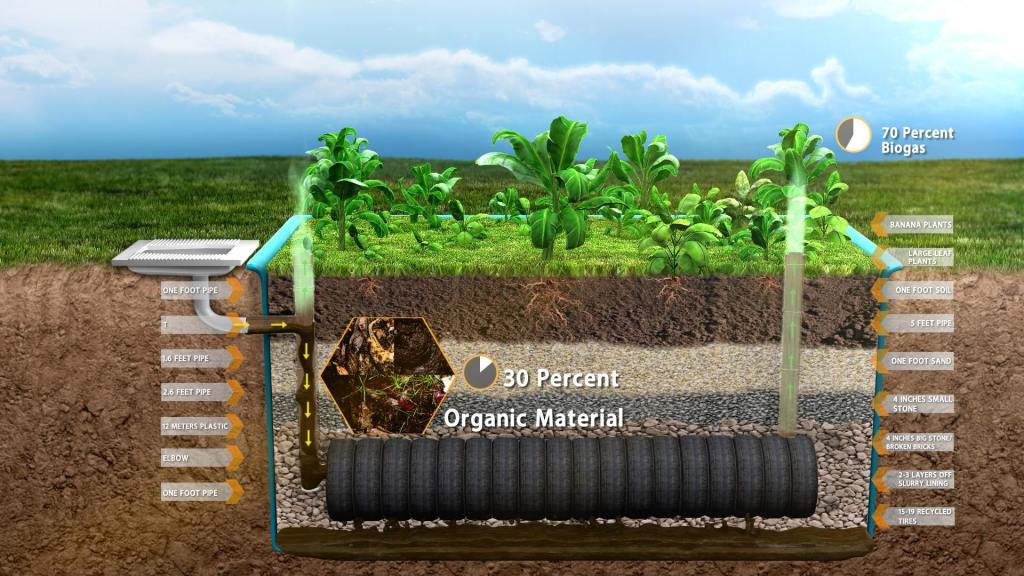 The cost of one such evapotranspiration toilets is Rs.9,900, whereas the cost of a government bio-toilet built under Swachh Bharat Abhiyan which is tentatively Rs.20,000.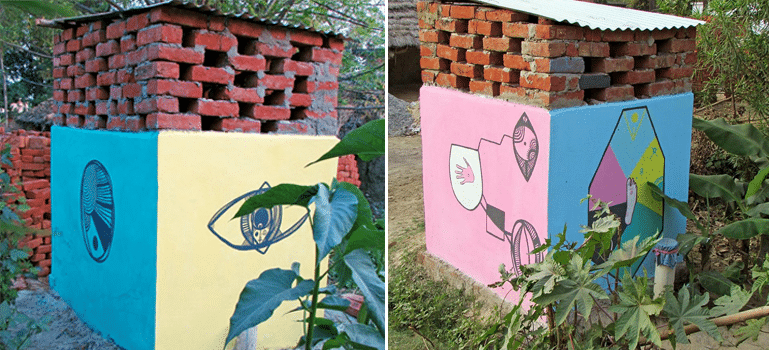 Under this project, Marta has also installed 27 solar power panels, including two street lights and one mobile charger. She also got French drains built with rainwater harvesting techniques and has been working on Mycofiltration systems for potable water.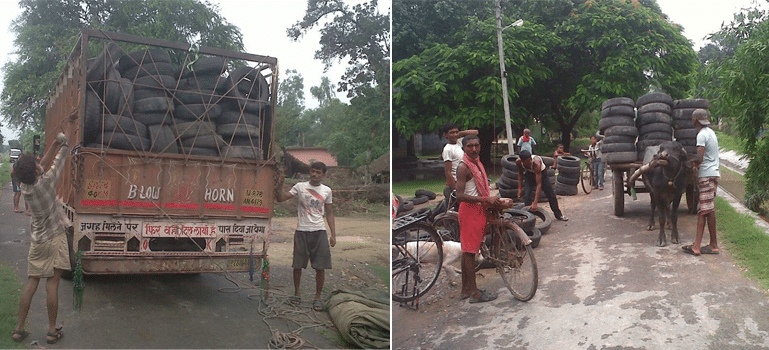 The response she received from the people around has been incredibly supportive. Of course not everyone, all the time. What they've been able to make on the ground, and even documenting that work, has been because of a series of collaborations with people here in India and abroad.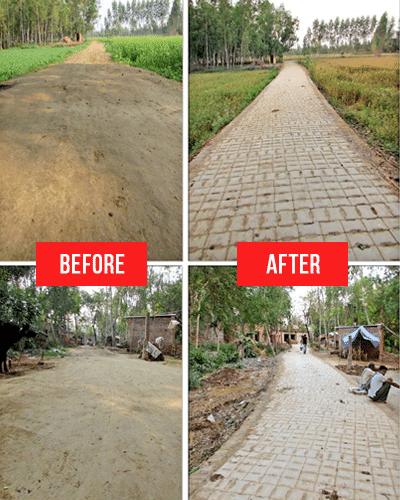 "When we needed volunteers to run the community libraries, 40 young women came forward to the local girls inter-college. I'm not sure how to articulate how that felt. It is only with all this support that we've been able to produce anything", says an overwhelmed Marta.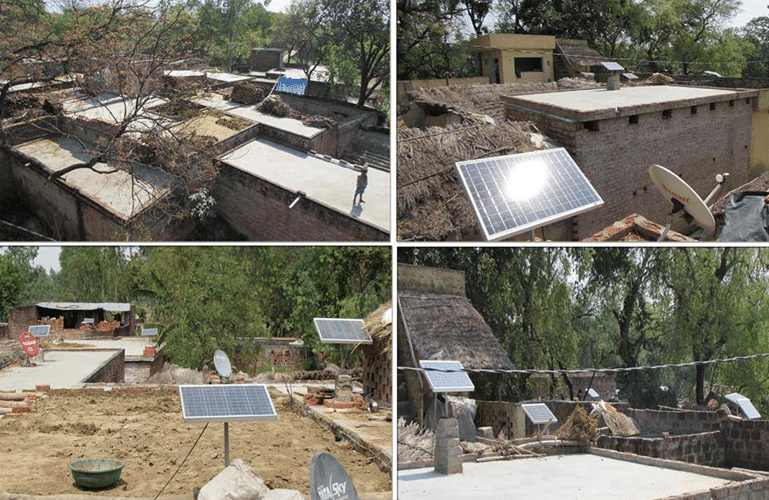 She further adds, "We brought the community together and communicated to them the benefits of every project we are doing in the village. Today this small village understands the importance of hygiene and healthcare. Children in the village are educating their elders to use toilets and keep the neighborhood clean. The response from this village gives us hope that we can reach out to one more village, and my personal involvement will make a difference."
The Team
"I work with Pawan Singh; he is the project director managing all the projects on the ground, full-time. I found him through the organization I volunteer with in Rae Bareli. We have also collaborated with different individuals and companies in the past – an app developer gifted us an interactive map to monitor this work and a telehealth company gave their service 'Mera Doctor', a medical facility that offers 24×7 doctor-on-call service for free for a year to two villages as a pilot. In terms of building, we hired people from the same village and have stayed with the best workers from that group."
The Experience So Far
"Where I work is so beautiful, the people, nature, almost everything; the negative news about Uttar Pradesh that gets national and international attention sometimes saddens me. One of the men we work with had a baby girl and to celebrate, his home filled the night sky, all night, with music and joy.  I wish I heard more stories like the gentle, kind, smart, hard-working men I've met and the strong, courageous, resilient women", says Marta with a touch of sadness and lot more hope.
The Funds And The Way Foreward
"I would love to keep working in Jagatpur, Rai Bareli, UP. We've now identified three more neighboring villages where we hope to work this year. To scale up the work, we are currently crowdfunding one village and exploring financing options for the other two."
Marta's crowdfunding project has just a few more days left to raise the estimated fund of $8,745. This fund will be used for the planned developmental works in the village. Any valuable contribution from you or your friends can help many families of an Indian village to lead a better life.
Your smallest contribution can make a bigger impact. You may contribute any amount to her crowdfunding campaign to help her raise the required amount and extend her work to two more villages in the area.
To connect with her project on Facebook, click here. Help Marta to help make our villages healthy and happy! 
If Marta has inspired you, don't forget to share her story with your friends.