T
he establishment and expansion of EaseMyTrip seems like a business fantasy where two young brothers,
just 17 and 19 years old then
, thought to save on their own travel cost, and this idea established a multi-billion business empire.
One of the biggest challenges for us was our age as agents were not taking us seriously. Nishant was of 19 years and I was of 17 years at that time.
The last financial year(2014-15) of EaseMyTrip closed with sales of about Rs. 1300 crores. Presently, Easy Trip Planners Pvt. Ltd (EaseMyTrip.com) is considered as one of the best travel agencies in India working with a network of 50,000 travel agents, 1200 Franchise Outlets, 1800 Corporate, 140 Distributors, and 640 White label solutions.
The seed of this business sprouted when Pitti brothers (Nishant Pitti & Rikant Pitti) were enjoying their summer holidays and booked flight tickets for their father for fun. The journey began from here in order to save on their own travel cost. However, they became more committed to move forward and provide affordable travel solutions to other travelers as well. EaseMyTrip was founded on May 2008 and the young founders of the company in their mid-20s have set the goal of crossing sales limit of Rs. 2000 Crores in coming financial year 2016.
Inception of EaseMyTrip
In reply to how the company was established, Nishant Pitti, eldest of the duo, said "the idea got triggered when I thought to book flight tickets for our father, who used to travel a lot for his business. Fortunately, we were able to save between Rs. 300 and Rs. 500 on every ticket. I was in the first year of my college that time in the year 2004."
The Pitti brothers – Rikant and Nishant (L to R)
"Dad shared about the kind of savings we were able to make among his friends and relatives. So, our relatives also started calling us for booking their tickets. I was in Class 11th and one can imagine the level of excitement that time. Earlier, we were booking those tickets without any service charges but then we started charging from them. For that age group, we were making a lot of money for us. We completely got into this small sort-of-business thing", Rikant Pitti added with enthusiasm.
Taking the conversation ahead – Nishant further said "as our booking quantity increased, an airline noticed that one particular Email-ID was doing loads of bookings. So, they proposed us to be their travel partners. The idea was thrilling but we had to pay Rs. 25 lakh as deposit and sell tickets of that much amount within two months. The airline offered to give us a 5 % of incentive but we convinced them for giving us 6%."
Challenges, Learning & Growth
"We agreed with the proposal of airline in our juvenile zeal and influenced dad for the money. But Rs. 25 lakh was a big amount and selling tickets of this value was not so easy. Fortunately, dad helped us through his contacts and got most of our tickets sold", said Rikant.
Nishant added further – "as my college resumed, I was being hooked by something called a born businessman inside. Then, we talked with different airlines for making alliances with them and focused on B2B segment."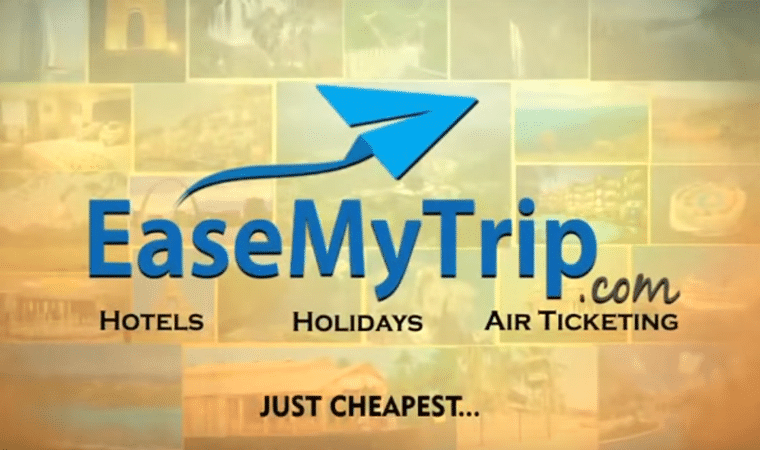 As per Rikant "One of the biggest challenges for us was our age as agents were not taking us seriously. Nishant was of 19 years and I was of 17 years at that time. Relying on two teenagers was not a good idea after all." Somehow they managed to establish their travel agency. Business nurtured as soon as they started advertising through different means and their contacts expanded in cities like Srinagar, Guwahati and then Mumbai and Bangalore. By July 2006, Pitti brothers were connected with 80 agents and in 2007; the number increased surprisingly and reached up to 400. With a very small team of 5 people, they were working on their B2B portal and did work really hard to know about the different aspects of travel & tourism sector in India. Finally, EaseMyTrip was launched in the year 2008 as B2C website of this company.
EaseMyTrip's turnovers from that year were recorded as INR 33 Crores in year 2008-09, INR 110 Crores in 2009-10, INR 364 in 2011-12, INR 680 Crores in 2012-13, INR 1100 Crores in 2013-14 and INR 1300 Crores in 2014-15.
The Road Map Ahead
"We are planning to expand our network in Tier-2 and Tier-3 cities of India to be in easy reach of those customers not having credit/debit cards for online transactions. EaseMyTrip is also about to open EMT Holiday Hubs in all metro cities to increase revenues from Non-Air Products, including hotels and holiday packages, car rentals. We have already hired more than 100 travel consultants for this process and planning to double this number in coming year. By spending on TV commercials, Print and Digital Media, we have plans to increase the visibility of our brand. We have also become travel partners of many Bollywood films and co-produced a film also. Presently, our overseas branches are in places like Bangkok, Dubai, Singapore and Maldives and our next plan is to open offices at locations like – Philippines, Malaysia, Indonesia, South Africa, Brazil and United Kingdom.", the two reveal their plans with a contagious positive energy.