Happiness is subjective. However, the very basic of being happy is the feeling of contentment or just being at peace with yourself. "Happiness is not ready made, it comes from your own actions...", says Dalai Lama. And one can't disagree with this thought easily.
During one of the Q&A session on Facebook, Mark Zuckerberg answered a variety of questions asked by the community. One of the chosen question which Mark answered was asked by New Delhi resident Kirti Sharma. Her question to him was: "What's your definition of happiness? And how has it evolved over a period of time as you grew up?"
Not all expected a meaningful and rooted answer to this question from the man who runs one of the most successful tech companies in the world with a current worth of almost $40 billion. And we simply loved him more when he simply answered:
"Great question. To me, happiness is doing something meaningful that helps people and that I believe in with people I love.
I think lots of people confuse happiness with fun. I don't believe it is possible to have fun every day. But I do believe it is possible to do something meaningful that helps people every day.
As I've grown up, I've gained more appreciation for my close relationships — my wife, my partners at work, my close friends. Nobody builds something by themselves. Long term relationships are very important."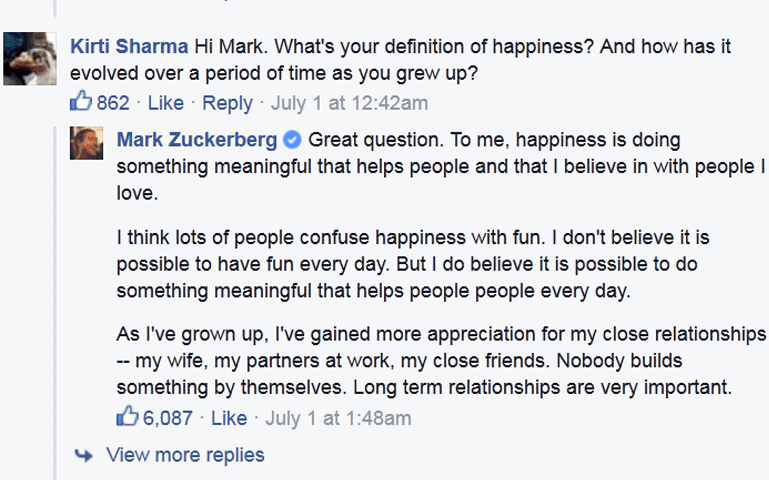 During this Q&A session, he also answered questions from the likes of Stephen Hawking, Arnold Schwarzenegger and Arianna Huffington. To read his answers to all the questions asked in the Q&A session, click here.