What if I tell you that 4% of India's children never start school, 58% never complete primary school. And 90% never complete beyond 10th grade. It's just 10% who complete their basic education. So, me, you and everyone that makes the so-called educated class are just 10% of this country's children.
This was what shook me off my comfort zone and helped me embark on a journey to create a difference to the lives of children in the country. In summer of 2014 I found myself among a set of distinguished individuals who were equally moved by this reality and wanted to BE THE CHANGE THEY WANTED TO SEE.
This was when Teach for India happened to me. But little did I know I had a lot more in store to experience. They say the Teach for India fellowship brings in some of the best minds from across the globe onto a common cause; I realized that when the next opportunity to understand the Global Education scenario came knocking.
Meeting Malala Yousafzai
The 23rd of July this year, I found myself sitting on a flight to Manchester, United Kingdom. I was to attend an event by World Merit, the UK-based organization which made it a reality for me to come face to face with Malala Yousafzai. I consider myself fortunate for having been chosen by World Merit from over thousands of applicants – youth from across the globe with a vision of a changed World.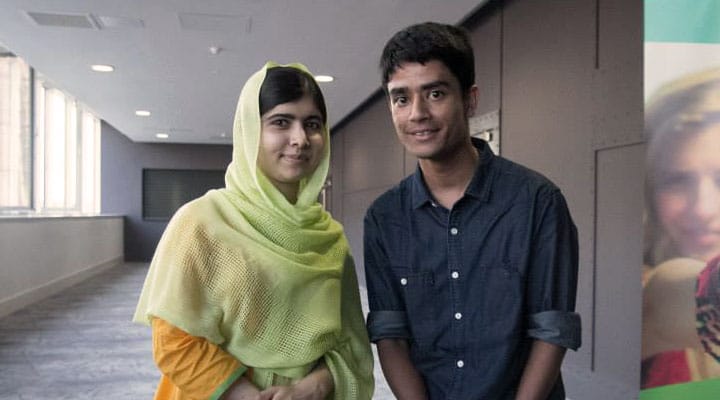 The venue was filled with young people coming from around the world to experience the day and go back inspired to stand up for education.
Listening to two of the youngest change-makers in the world was an inspiration in itself. Parker Liautaud (youngest person to ski the North and South poles) and Felix Finkbeiner (Founder, Plant for the planet at the age of 9 and today his organization has planted over 12 billion trees in under 7 years; i.e. over a hundred trees every hour).
Another big high for me was to hear the person who is known for delivering the most watched TED talk ever. Sir Ken Robinson. His words make you realize the efforts needed in Education and the changes that ought to happen, the work that needs to be done and the hope that we all can make a change.
Malala comes in for the keynote.
The lady took center stage at around 6 in the evening. She began with humble words and shared her experience in the fight for Educational Equity. There was one thing which changed for me that day. For many of us the whole idea of Malala being in the limelight has been about the US trying to defame the insurgent groups in the concerned region. But it was only now that I learnt that for over 7 years, she has been proactively working to help young girls get access to education.
Malala had been doing extraordinary work in Education much before the attack and the media coverage. Her efforts to address the UN, being nominated for Nobel prize as well as her bravery in stepping up to convince the Nigerian government to take action to help locate the 200 missing girls. (It did have an impact as the Nigerian government gave its first public statement after her visit).
Her poise and humility was indeed something worth noticing. She shared her concerns about how much we all need to change and open up to the realities of life. Only then, she feels, our societies will grow up to the fact that education is a universal right irrespective of gender, caste or religion.
Next Stop: Meeting Malala in Person
Sir Simon Preston introduced me to Ms. Yousafzai. I had questions pouring in and she answered every one of them patiently over a coffee. Malala really did make me understand the meaning and necessity of education access for everyone. How it shapes future of countries and how it makes a difference to people's lives. Talking with her helped me realize she is someone who truly believes in what she preaches.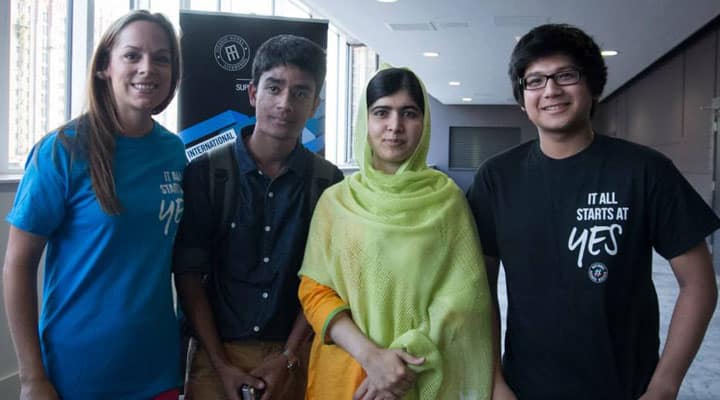 I have travelled extensively and have been working as a youth diplomat for the Indian government in G20 presidency since G20 2011 Cannes, France. I am also the recipient of the Kairos fellowship as well as the Teach for India fellowship. But never have I been in an environment that has given me such intense motivation in Life to make that change.
They say 'Inspiration/motivation has a shelf life', maybe that's true, but World Merit Day motivated many of us beyond measure bringing us up close to success stories, to have a glimpse of what perseverance can achieve and how much it means to the world around us.
Yes, the education scenario around the globe is grim. But there's plenty of opportunity to create the change, if you are willing to seize it!
---
You may also love to know more about Ankur
Ankur Thakuria – Founder Of CampusWriting And A Social Entrepreneur At The Age of 22
---