Bandhwari, a quaint village on the outskirts of Gurgaon is undergoing a beautiful transformation, thanks to one woman's dedicated efforts.
As she begins talking about ACT, Nilanjana Das stops only when she needs to catch her breath. And as I listen, I realize this is not some quixotic woman trying to change the world. This is an intelligent individual with a clear thought process, someone who strongly believes that charity is not a long-term solution for social reform. Sustainability, she tells me, and capacity building is indispensable to long-lasting rural development.
In conversation with Nilanjana Das, founder of ACT – Action Center for Transformation, a non-profit organization which 'acts as a catalyst and an enabler for underprivileged communities'.
Read their stories on how they are changing lives and empowering these rural women.
ACT – Because Action is the only Antidote to Despair
An alumna of Xavier Institute of Social Service, Ranchi, Nilanjana has been working in the social sector for the past 10 years.
My assignments required extensive traveling, so I decided to quit my full-time job after I became a mother. As I wanted to continue to be associated with social development projects, but needed flexible work hours, initiating something of my own sounded like a viable solution.
I always wanted to contribute meaningfully to the society in a more sustainable manner with simple innovative ideas. I learned that when you really want to do something concrete, it is better to have it formalized on papers. It helps to organize your work and give it an identity. So I registered ACT in the year 2010.
To begin with, we started working with 40 children in the slum pockets of Gurgaon. These children were rag pickers and had never been to school. We did several motivation sessions with the parents and convinced them to put the children in the local government school. We wanted to remove all roadblocks so we also arranged for transportation when parents expressed their inability to pick and drop the children.
To support the project, I initiated a newspaper collection drive where a friend would help me collect old newspapers from corporates and two private schools in Gurgaon. We would sell the newspapers to cover expenses such as stationery and transport for the children.
However, since these were migrant families, many went back to their hometown and never returned. The children were motivated and promised me that they would continue their education. But I really had no way of keeping track of the migrant families.
A Village called Bandhwari
After this, we identified another village called Bandhwari on Gurgaon-Faridabad road where we had several brainstorming sessions within the community to identify development opportunities. The panchayat said that the village needed a platform where an interest in reading could be generated in the village children. So we came up with the idea of Udaan, a community library and resource center.
The panchayat donated the land, a corporate helped build the premises and we inaugurated the center in August 2012. Later we also developed it as a resource center for the youth. A corporate partner donated 10 computers which are used to provide computer training to the village youth, particularly adolescent girls. We have storytelling sessions for children, creative learning, drawing, book reading, events, celebrations and other engaging activities.
You will be surprised that in spite of living in close proximity to a flourishing metropolis, these villagers have never heard of the internet. Most youths in the area are into driving cabs. With some technical training, we want to give them the opportunity to create a different future for themselves.
ACT Green – Eco-friendly Art for Social Development
Act Green is a range of beautiful eco-friendly artifacts created using layers of rolled strips of newspaper, a green initiative that provides livelihood to rural women.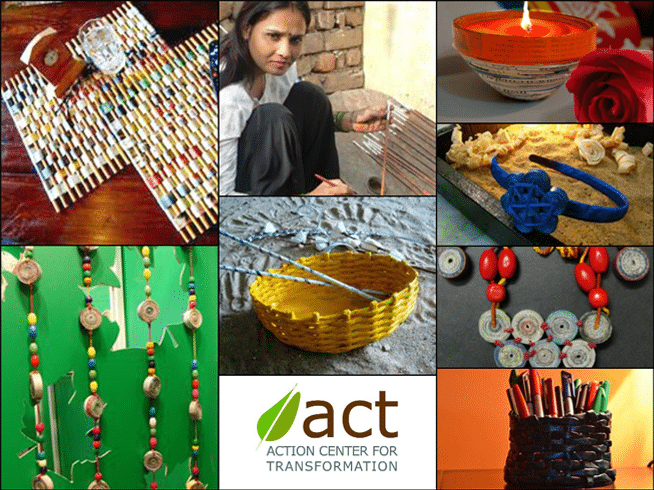 The organization was already carrying out newspaper collection drives which became a means to fund the project "Aao school chale". But we wanted to do something more meaningful which could bring a larger change. Newspaper can be recycled and become a livelihood option for the women clusters in the village. However, with limited resources, the organization was not in a state to put up a recycling plant. In a brainstorming session with our group members, we came up with the idea of upcycling – turning waste into a completely new product without the use of power or energy.
Shiuli Pathak , our friend, gave design inputs and with the simple technique of folding, turning and weaving, we came up with this innovative and fresh line of products. The first thing we created was the table mat using the paper weaving technique. I loved how it looked and I was convinced there are people who would appreciate the product. So we decided to take the concept to the rural women clusters in Bandhwari.
They would often tell us, "We don't have the money to get books and things for our children." We told them one needs to stand on his /her own feet. One needs to be self-reliable and empowered and not be dependent. One needs to explore the strength within and utilize it to the best.
Initially, only two women were ready to take up the skill building process. Then three more came in. We trained five women for six months. Shiuli would come down from Jaipur on weekends to train and share new ideas. Soon the number grew to 10 and today there are about 25 women engaged in the project. To our surprise, the ladies showed immense patience in learning the craft. It took time for many of them to get it right but we told them, "You have to create these things with love, they have to look attractive, presentable and a complete product, only then will people be interested in buying them."
After the mats, the other green products developed were coasters, photo frames, bowls, baskets, earrings, hairbands, lamps, belts, door strings (bandanwar), diyas, lamps, window blinds, jewelry and accessories. The latest is the coffee table made in collaboration with our design partners.
For some of the women, making these products has become their core activity. They are addicted to it. We believe in flexibility and freedom because that's what leads to creativity. Therefore there is no scheduled time to make these products. These women have tons of chores so they get up early in the morning, or stay up till late to make the products. Whatever money is earned from sales goes back into the community.
In September 2012, we started exhibiting the products at various events. We also participated in the Dastkar Green Mela in Delhi. The response was really encouraging. I have always believed that if we do things with good intentions, something good will definitely come out of it. And it has. The products have been appreciated as more and more people are now concerned about the environment. When people learn that this is solid waste management which gives livelihood to rural women, they appreciate the products even more.
How do you make the products durable?
We began with lacquer coating to make the product sturdy and durable. Over the last one year, we have constantly improvised on the basis of suggestions from our customers. We started doing double/triple lacquer coating which makes them waterproof. We introduced bright colors and organic lacquer. It was a gradual process of evolving the product and making it more presentable and acceptable.
How is Up-cycling different from Recycling?
Recycling a product needs resources, there is consumption of energy. Today if I have to recycle newspaper, I have to put up a recycling plant, however, when you upcycle, you are creating something new out of waste without any use of energy or resources.
Here the raw material is trash so no major investment is required to set up a rurally based enterprise. We have tied up with few corporates that give us all their newspaper supplies once a month.  There are many individual donors as well. When you ask people for funds, they may think twice, but something like an old newspaper – everyone is willing to give.
This is more feasible in the rural communities where there is a lack of resources or when there cannot be a continuous supply of resources.
Sustainability – Because Development cannot be Short-lived.
See, development cannot be something temporary. When a project is funded by a CSR (Corporate Social Responsibility initiative), it runs only till the funds are coming and then it comes to a halt. That is what happens with many CSR projects. I have seen it happening and I have even been a part of one many year back. It does not feel good when you show people hope and just when they are beginning to trust you, you have to pack your bags and leave because you have no funding.
Somewhere a model needs to be created so that the community itself takes onus and people support their own development. Then it does not remain a time bound project.
Take the example of the community library. Today if I bring someone from outside to manage the library from 9 to 5,  we are not sure how long they will stay,  even if we pay them a salary.
The volunteers are available for a short period but we need to sustain the activities in the long run. So we thought why not train the village youth and make them in charge, make them owners of the project so that tomorrow when ACT moves on to other projects, the community is able to sustain the program on its own.
We've trained two people from the village who take care of the library. The children who come to learn computers are charged a nominal fee which is used to pay salaries. This way, the village money goes back to the village, people get employment and children get the opportunity to learn.
As of now any shortfall in the funds is supported by ACT's other projects, but we are positive that with time the center will be able to support itself.
What's next?
In the years to come, we would like to replicate this entire initiative at other places. We are working towards identifying villages in Orissa and Jharkhand. Another inquiry has come from Mumbai. When rural women see that this product is marketable, and they can make a livelihood out of it, they get interested. It's a chain reaction. Now I am talking to CSRs that can support and replicate the model in other parts of the country.
An idea needs to be worked out step by step. We need to have a plan – training, production, marketing, all need to be in place. Even though I am not a marketing person, I have to promote the products, have to find avenues to increase sales. And you can't do these things alone. I have a wonderful support system – the trainers, volunteers, designers, my associates, and my family.
As the conversation draws to an end, I can't help but ask the clichéd question, "What do you get in return?"
I feel good when our efforts are appreciated. The project is spreading its wings, more and more people are getting associated with us. People do ask me where the profit is when you are doing so much work. I tell them profit cannot be only in terms of money.
I always knew that the social sector does not give a lot of money. The fixed income that I used to bring home in a regular job is not there, but I took a conscious decision to let go of that and I have never regretted it. It is about how you prioritize and how you scale your satisfaction. Today if you go to this village, you will see these amazing women who proudly contribute to the family income, you will meet children who have gone back to school after dropping out. They would tell you stories and read you a book. One feels good when adolescent girls take up computer training and feel more confident.
If we can replicate this model in two more villages, that is the real profit. And I am confident that we surely can do it together. I am always looking for like-minded people.