Following one's passion and turning it into a profession is something that almost everyone on this planet aspires for. However, it is way easier said than actually done. A lot of people try and give up because of various reasons, others keep waiting for the right time. Some take calculated and prepared risks, and then take the plunge. However one does it, the joy and contentment of the journey towards chasing something that we really want is in itself more rewarding than anything we can imagine. Here's one such story of a Delhi girl who is living her dream of becoming a singer, performer and entertainer. Tanya Nambiar and her band Gravy Train making waves across the country as a fresh and talented rock and roll band. We had a chance to catch up with Tanya in between her hectic schedule these days with her band touring different cities in India, and had an engaging chat.
In this exclusive conversation with LifeBeyondNumbers, Tanya Nambiar talks about her music, her band – Gravy Train, the journey, and lots more…
Tanya Nambiar – The Person
I am completely a Delhi girl. Did my history honors and started working in my second year of college. The dream from childhood has always been to be a singer. And my brother is a musician as well. He has a death metal band and the open Metallica. So, I always wanted to be a singer, but I also wanted to be independent and be foolish enough to leave everything and just chase my dream. I wanted to be more practical, you could say. We have our expenses and you don't earn much as a singer initially. So, I started working at a very young age just to be independent. I would finish my classes and rush off to work. I worked for five and a half years, and last year somehow, I grew some courage from somewhere – decided to quit my job and follow my passion for music as I felt it was the right time. And you know, I honestly believe that there's a time and place for everything. I quit the job and it's been over a year now; and thankfully as a band we've been getting shows back to back.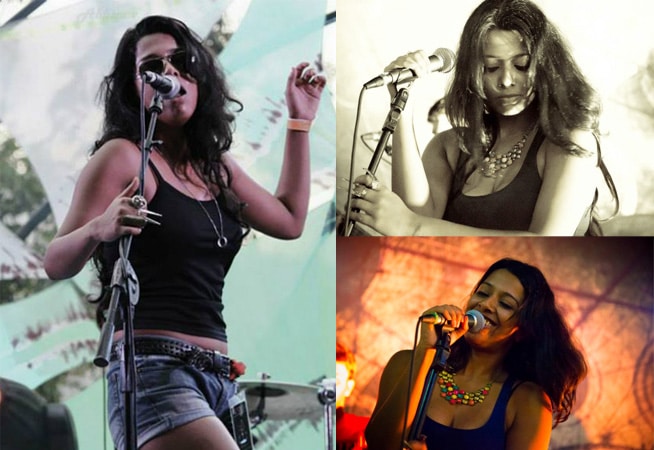 I always knew I wanted to be in the entertainment industry. I was on a show called Get Gorgeous on Channel [V], which was first TV experience and also did a little bit of modeling here and there. And then, four years back, I started hosting karaoke nights in Delhi. The reason if I am known in Delhi, it's because I host karaoke nights. I meet almost 200 people everyday across different pubs. Now we've started a company where we host karaoke nights, and karaoke is a great way to bring people. Karaoke was a very new concept to Delhi when we started. At that time, it was my only outlet to sing and fulfill my dream to perform. And I believe more than a singer, I am a performer or an entertainer. I grew up idolizing Madonna, and she is like a full entertainer.
Initially I was singing with a musician named Tatva Kundalini, and with him I got the opportunity to sing for a film called The Blueberry Hunt starring Naseeruddin Shah. That was my first musical experience.
And now since, one and a half year I am a full time musician. And apart from that I am also an anchor. I do events, award shows and stuff. So basically, the microphone is my life and everything I do now revolves around the mic.
The Gravy Train
There's a Pink Floyd song called Riding the Gravy Train, and gravy train means trying to make a lot of money with very little effort, but we put in a lot of effort (laughs…). The name stuck with all four of us and so far it's been pretty amazing. We are a rock-and-roll band. We are a four piece band – I am the singer and then there's Karan (guitarist), Bhairav (drummer) and Akshay (basist). We started off in December last year, so Gravy Train is going to be a year old this December. Our very second show was to an audience of 6000 people in Lucknow for a University. And the fact that I come from a sales background, I am always constantly pitching for the show. Right now we don't have a manager – we manage the band ourselves, but we're booked out. And only last month that we finally got a recorded song and got to know what we sounded like. All this while, we have been getting shows on what people were talking about us. And that gave us a lot of confidence that we were doing something right. We are performing in the Kingfisher Calendar Hunt, so that's Gravy Train's TV debut. Our songs are playing on the national and international radio as well. We recorded our song 'Wild Night' and our second recorded song is 'Lost & Found'.
We as band members are totally different people, yet somehow there's something that keep us together. And I guess, it's the love for music and making good music which has brought us together and keeps us together. But, individually we're very different. With Gravy Train we are constantly on the road, traveling with back to back shows and that's how I wanted it to be. This band is not like a hobby thing for me. I have quit everything for it and I will work till I am functioning to make it work. I got everybody in the band together, and it's the ultimate job-satisfaction, although I wouldn't call it a job (laughs…). I gave up a very comfortable salary and now doing the thing that I love is something that is great.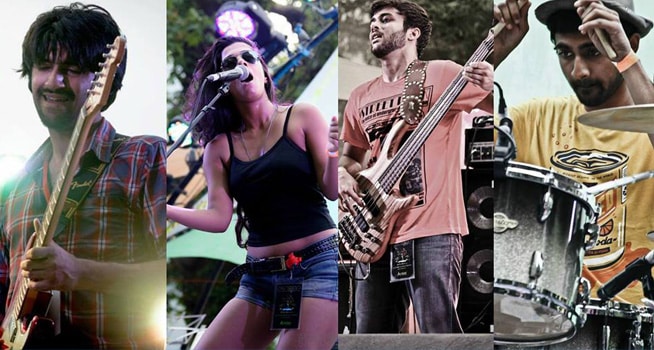 Last Corporate Job, Quitting It And The Family Support
My last job was with a company called Media Transasia. I was working as a Corporate Sales Manager handling magazines like Maxim, Sports Illustrated, etc. So I've been a sales person and I continue to be. Even if I'm not in a corporate job, I am still selling. Selling my band and my work and that sales manager in me doesn't go out (laughs…). If I am sitting somewhere, somebody asks me about my work and if that person happens to be related to music scene, I'd sell my band. And I think there's nothing wrong in that. I know so many people who don't like to talk about their work. If you have a product and which you are doing for the people, so why not talk about it. I'm not talking about basting about it but it's making sure your product is known about. I feel this is the best to be in the creative field because you have social media which is your biggest online platform to reach out to the world.
The family support has been amazing. My parents are happy with what I am doing and you wouldn't believe they actually tell me not to get married and settled so soon. They ask me to see the world, travel more and do what I love. And that's pretty awesome. And I feel extremely blessed to have that support.
The Journey On The Gravy Train And The Future
Besides me, the other band members have their day-jobs. I don't have one right now. I have now started my production company called the Sound Shop, where I do voice-overs, jingles for advertisements and background scores. So I am trying to make a plan for myself, since I don't have a regular job and it's not always certain if we're going to get a show next month. So I do karaoke nights, anchoring and other stuff along with doing shows with my band. Right now and till now, it's been a smooth ride.
We plan to do videos, make more songs, record more songs and also we are also trying to do some international shows. We have a lot of shows coming up, and until the time we make videos and record an album, we will perform. We are taking things step by step. We are focusing on shows right now.
I want to put my band on the international map. The Indian music scene is changing at this point in time. We have a lot of independent artists from India who are performing a lot abroad and putting India musically on the global map; and that's what I want us to do. As I said I quit everything for this, and I don't think many people would understand how it feels to quit a ready-made life and start from scratch and that too not at the age of 15 or 16, when girls are getting married and stuff, you know (laughs…). So, in the coming time I see myself performing a lot, singing and hopefully become famous, also become an actor and that I want to achieve. This is one life and I am ready to give it my all hard work and go the distance.
My only philosophy in life is that life is so short, at least when I go away, people should know who Tanya Nambiar was. My biggest source of inspiration is my mom. She is an educationist and runs a school in Gurgaon. She is a constant source of inspiration for me. And for parents to be okay with their child leaving a very comfortable fat salary and letting her do what she wants is only because of the belief they have. And that belief for me is more important than anything else. And the fact that people know me now and appreciate my work. That is definitely more rewarding than a regular salary.
From singing with the hairbrush in my hand in front of the mirror as my audience to be singing in front of 5000 people and they coming to me saying that I did fantastic is something that's worth more than money or anything.
We, at LifeBeyondNumbers wish Tanya and the Gravy Train a great future ahead…