With the clock ticking every second, time throws its hand to progress itself. With change as its essence, it moves forward without caring for anyone. It creates and destroys every living and non-living object in the universe and flows with its own sequence – a unique never-ending phenomenon.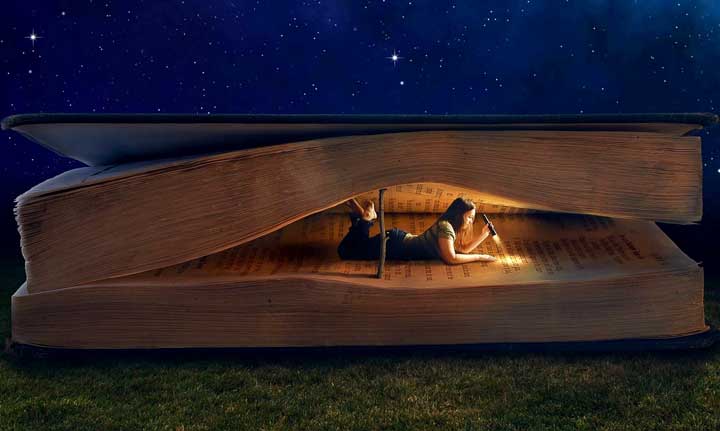 The eras are produced with its own hand, with inventions and discoveries introducing the world to ever growing neo expansion. Time is defiant in character; you can never fight it; instead you can adapt, acclimatize and evolve to circumstances. That's how the history of whole humanity has been written so far.
In the modern era of computer and connectivity, with the advent of social networking, facebook and twitter, time has once again evolved and re-written the gestures of interpersonal communication both verbal and nonverbal. With priorities over occupied, minutes miniatured, time constraint has naturally put limits to the habit of reading. The habit of reading, to be honest, has merely not reduced, but almost entirely stopped.
At the age of five, I was introduced to the world of books, a portal to yet another dimension. Started reading letter by letter and evolved to read sentences within a year. My habit of reading started with reading daily, weekly magazines and then I was introduced to comics by one of my friends. Apart from the curriculum, the fervor for books always coexisted, fed partially by my school library and satisfied later by lots of English and Tamil novels.
So How Does Reading Change A Person?
It introduces one to the ocean of knowledge and alleviates the sorrow of ignorance and suffering. Ignorance is the root cause of slavery and reading breaks the chain of slavery. It makes men knowledgeable, helps to personify their character and makes man an epitome of civilization. Reading can make men great, so that a nation can be proud of their progress and greatness on the world stage.
Reading helps one understand their own self, admire the complexity with which we are created. It helps one decipher the knowledge of the whole creation, the universe in its eclectic uniformity. It also helps us understand how we are interlinked, the oneness with which the entire creation evolves.
The habit of reading not only invokes mental changes but also triggers physical changes, as shown by recent research. The neural changes that have been found associated with physical sensation and movement systems suggest that reading can transform one into a protagonist, a doer.
It makes us well informed, knowledgeable, improves our way of communication, gesturing, body language, confidence  – the entire personality. Reading introduces one to another dimension, a new perspective. It is that virtual link through which we can enter the world of utopia, A SHANGRI LA.
Reading can vary from magazines, novels, comics, professional books and anything you are interested in, the essence is, we must read something every day. Having yourself a book shelf may work as seeing books while you go about your day can motivate you to read. Reading alone is a wonderful way to rejuvenate one's spirit and bounce back into the humdrum of life. 
To conclude, we must read. To re-energize and lift ourselves from the footholds of ignorance, slavery and suffering and bring a renaissance to the society as a whole.  It could be a mind changer and even a LIFE TURNER. But, you will find that out only if you read.