From the sheer duration of my wife's conversation with the Panditji, I was convinced the list would be long. I feel she has this precise notion that longer the list of puja samaghri, better the puja and more the blessings. The puja was planned on account of birth of our second daughter in Delhi.
I was quite tired on that particular evening and in the hope of getting some compliments, I highlighted my day's contribution "look how hard I work, I went for vegetable shopping in the early morning, paid electricity bills, attended office, dropped your friend in the railway  station, brought momos for you and now again going for puja shopping"… Handing over the shopping bag to me she replied politely "Abhi, why don't you give me a chance to work  hard  like you and you stay at home to look after the  kids for a day please." Two kids in two years meant two back to back maternity leave. Poor me, for a while I felt like the empty bag was loaded with a full gas cylinder. Only a wife  knows the art of reverse compliment…!!
Panditji was chanting non stop mantras with occasional swahas and dakshinas – 'ichah anusar' (as per your wish). My collection of Rs. 10 notes vanished within minutes. Only when I started taking out the 100 rupees note the frequency of dakshina giving slowed down. The puja samaghri bought  the night before were distributed among all the gods and goddesses along with a dakshina. With the Hawan wood burning flawlessly, I heard one of our neighbor whispering to my wife "this panditji has magic in his hand – whenever he performs puja, the fire lights up so well!" I wondered was it panditji's hands or the one kilo Mother Diary's ghee doing the magic. Whatever may be the reason, but the incense sticks, hawan fire along with chanting of mantras in the background brought a positive vibration to our house. We cherished the moment, distributed prasad to the small gathering and listen to our new born child's future forecast from Panditji. I knew with the final payment of Panditji still due our daughter's predicted profession would be no less than doctor, engineer or IAS !
Panditji removed all the dakshina's from near each God and Goddesses and advised me "beta yeh sab ka Jalprabah kar dena" (dispose  the left over items in the river). He accepted his direct dakshina, apart from the one that came via God. Blessed us for a 'baby boy' next time! And bid goodbye, leaving behind all the puja samaghris.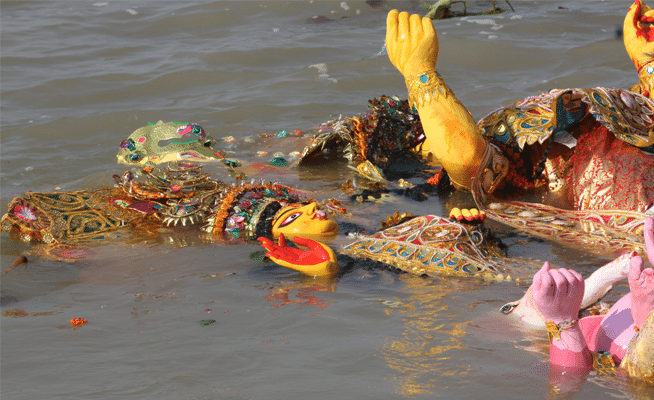 It's been three months since the ceremony was over, but I have not found an appropriate solution for the disposal of the puja left over samaghris. The holy items along with few marriage invitation card marked with Ganesha picture and old ruined idols of God are kept in a box in one corner of our house. I thought of disposing them in the Yamuna but then again, I have attended a few seminars and conferences on climate change and global warming. So I am not supposed to spoil the nature.
The thought of polluting the environment bought back memories of our trip to Gangotri and Yammunotri. There, me and my wife met an old Sadhu Baba and a couple from Czech Republic. The Sadhu Baba spoke in length about the ancient practices, its benefits and  modern lifestyle, its evils. After spending few hours with him I asked what is his message to the young generation like us. "Pariyavaran ko bachao" – Save the environment, he said. We met the couple, Martin and Helena at Yammunotri and instantly connected, as if we were old friends meeting after a long time. Both of them were trekking in the Himalayas and we gave them lift to Uttarkashi in our car. Like all Indians do, I was busy glorifying our culture. I went on saying that "We Indians are worshipers of nature, like we worship trees, stone, river, etc." Helena finally asked me something to which I still don't have an answer, "If you all are worshipers of nature, then why do you throw garbage at the Ganga???"
Back home in Assam, Durga Puja is performed in our ancestral house since years. On VijayaDasami we immerse the idol of Goddess Durga along with all other samaghri in the Brahmaputra river. But the decision for immersion of idol in the river is taken by my uncles and elder brothers. So I justify, or rather fool myself by believing that I am not directly responsible for  polluting the river.
But the box filled with those puja samaghri in my house is my responsibility. If I dispose it in the Yamunna, the environment conscious ego of mine will be hampered; and if I throw it in the dustbin, there is no escape from my wife. I can't dare disturb the blessings my wife has earned so affectionately. But, finally I decided what to do. In the last one week, I have been taking out hand full of the puja samaghri every day and spreading them across my flower pot. Smuggled out those Ganesha printed marriage card and few faded pictures of God, and gave it to the 'Kabadiwala' along with the newspapers. The dried flowers were sprinkled across all the trees in our colony. I folded my hands, begged forgiveness from God, broke the mud pot and few old idols of God, and placed them in a hole dug for some construction work. In return I promised to plant few trees every year, travel by public transports as far as possible and start (re)believing that God is omnipresent and perform puja only through Karma. There are still few plastic and glass items left, I hope someone will come up with a better idea and help me in disposing them.
I must confess worshiping God through puja (and samaghri)  and saving the  environment  at the same time is a tough job!!!