Most parents hate the idea of their children hanging around with their buddies when the exam times are anywhere in vicinity. More so today, in the age of constant liking, sharing, commenting and tweeting. Not to say that social media has got only negative impacts in a student's life, or anyone for that matter. Social media, like any other medium of communication and entertainment, can be very useful in any sphere of life, if used to its benefits. Now all said and done, how about the idea of a buddy for a student preparing for any examination or test, that too on the internet which actually helps them with their studies. Any time of the day. Well, that would really get the attention of parents, students and teachers alike. The MBBS-MBA duo of Dr. Deep Lodhari and Kaizad Hansotia have done just that. With Mytestbuddy.com, they have created a web-based fun learning platform, that's surely a buddy for the students to help them prepare for exams and tests. Students can provide inputs to their teachers, professors and peers which they can respond to in an engaging online learning environment.
In this exclusive conversation with LifeBeyondNumbers, Deep and Kaizad talk about how they met, their venture, vision and lots more…
Inception of Mytestbuddy.com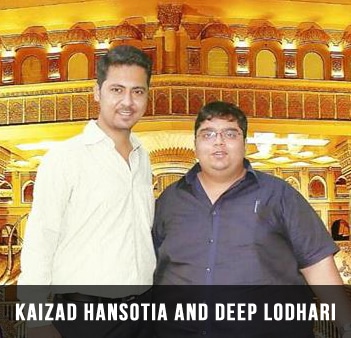 Kaizad Hansotia: We met accidentally over the internet as we had found common grounds to browse and discuss on topics that interests us. Shortly after a few deep and engaging conversations, we decided to team up and take Mytestbuddy to another level. We were able to come together because we had our vision in sync and similar entrepreneurial approach in life. Dr. Deep Lodhari is an MBBS with over 3 years of experience under his belt including working with a successful start-up.  I have done my MBA from IBS, Mumbai in 2010. I have been involved with many different businesses over the past 5 years including start-ups, promotional items manufacturing industry, jewellery manufacturing industry, plastic manufacturing and even services industry including tourism and education, real estate, etc. We both share a deep rooted passion for entrepreneurship and I equally believe that there is a lot of room for growth in the ever growing Indian market.
Dr. Deep Lodhari: While preparing for my Pre-PG examinations, I faced lot of issues, which primarily came as a result of the vast exam curriculum, which then led to me being at a loss. The coaching classes charged astronomical amounts – I knew they were no good, and most of the times I would sleep halfway through the lecture. I can't remember the number of times I have been asked to leave the class for having fallen asleep (laughs…)!! I needed a place where I could share my views, challenge what was given in the books and discuss various aspects of the examination. I wanted a test buddy and that's how I started developing a concept of online educational companion which would be like an all purpose place for students to study online.
Mytestbuddy is an outcome of what can only be described as the combination of sheer passion to solve the problems that I faced while preparing for the competitive examinations and the willingness to plunge into the uncharted seas of entrepreneurship leaving behind the secure life choice of being a doctor.
Mytestbuddy.com – The Platform
Mytestbuddy exists for every child who is dwarfed by the enormity of the competitive examinations that he or she has to face. It exists for the times when coaching classes are just not enough, for those midnight realizations when you realize you have forgotten to study a supposedly important topic, for sharing your discontent towards the system for changing the exam pattern every year, for asking questions that you forgot to ask your teacher in class.
It is there for you, when you need to take up a test series for your examination and get percentile rankings. Teachers, admission consultants, institutes and even coaching academies can use it over the cloud as SaaS to provide an educational learning, testing and assessment platform to their students which is as engaging as Facebook. So it saves hundreds of thousands for any teacher or institute to have their own online learning platform and also because students want to keep coming back to the website for its innovative and intuitive user interface. It's a win-win for both the parties.
Till now, Mytestbuddy has been bootstrapped with a team of 9 full time employees but is actively looking for its first round of funding as a Pre Series – A to develop newer features, acquire newer customers, expand its team of people and grow organically.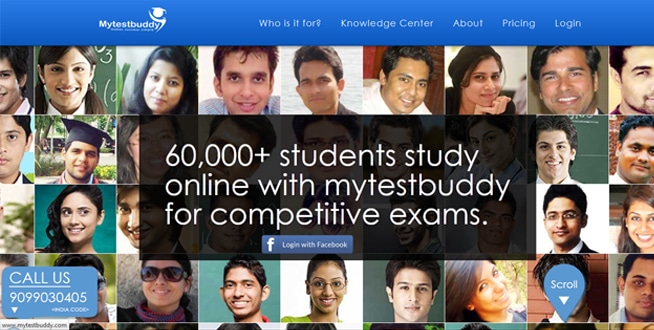 The Work
Mytestbuddy.com has acquired over 50,000 users in just 2 years of starting up and 3000 premium users within 4 months of launching the paid subscription features. Mytestbuddy.com has already tied up with more than 10 different coaching institutes to provide them the educational learning platform as software as a service within a span of 2 months of its launch.
Plus Mytestbuddy.com has launched a germinator program for students where they can come and formulate their business ideas in the education sector and we will help them to incubate as well as provide all the necessary tech support and make it all happen. Currently we have 5 teams from over 5 different colleges in Gujarat consisting of over 20 students.
The Challenges
While introducing Mytestbuddy.com to schools, we found it extremely difficult to convince teachers to understand the benefits of a "social networking" web portal for the students. We considered this as a serious issue and came up with Mytestbuddy for teachers as well as parents thus taking care of every parent's expectation.
We have come up with a more traditional veil for the extraordinary product. We have provided parents with a parent watch where parents can track their student's products. We have online classes for teachers, where they can monitor their students progress, give out specific tests and create content for their students, provide students with online assignments and much more. We now have mock test series and full length tests, virtual simulations of the competitive examinations, allowing students to take diagnostic checks on their own learning patterns and get to know what their weak and strong areas are.
The Future
Yes, we believe that the time has come for technology to change the way we have been studying and learning. With increasing penetration of internet and smartphones in our country, we can now create a system where students can learn on the go, a system that allows and encourages you to study harder and achieve your maximum potential. However this does not mean that classroom teachings have become a passé, rather an integrated approach combining both the methods of online and offline teacher could help bolster a student's performance dramatically. The right combination and tools are important for a student to gather maximum information outside the confines of his classroom regarding a topic so that it helps to improve their basic concepts and give them a holistic idea about the actual subject they are studying and we believe that Mytestbuddy could be just the answer.
We plan to make it a one-stop-shop solution for all the teachers and students online learning needs and make its social learning network as omnipresent in all colleges, universities, educational institutes and even the coaching institutes in India.
Click here to visit Mytestbuddy.com
We feel it is just a matter of time before we see every student having an exam buddy in their desks and pockets. Mytestbuddy seems to be a very innovative concept and a way forward for students to prepare for exams and do well. LifeBeyondNumbers wishes Mr. Kaizad Hansotia, Dr. Deep Lodhari and the entire team of Mytesbuddy.com all the success.