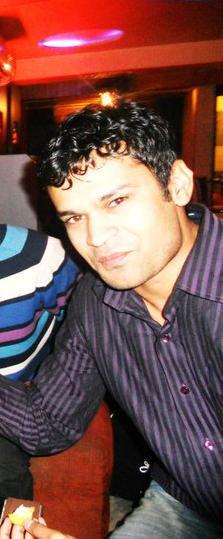 There are many who are not even able to figure out what exactly they want to do with their lives by the age of 27. Nikhilesh Tiwari is certainly not one of them. By the time he turned 27, he has been part of two failed start-up attempts and a successful third one. An Engineer and a management graduate by qualification, Nikhilesh and his partner Nitin Sahu (also an MBA) started Helical IT Solutions, an Open Source Data Warehousing and Business Intelligence solutions company. They have already created a solid base with 12 clients and also raised an initial round of seed funding in just 7 months since the inception of their venture.
Nikhilesh worked in Siemens for sometime after completing his engineering. Then post MBA, he worked in the telecom domain in account management, sales and operations for around three years. Nikhilesh initially started with building a crowd sourced education platform which didn't click. Then started a healthcare IT company and unfortunately had to close the shop since it was not able to gain traction in the market. Finally the successful attempt was Helical IT Solutions which he started with Nitin Sahu, who is also an MBA and comes with rich experience in Business Intelligence.
Helical IT is an Open Source Data Warehousing and Business Intelligence Solutions company and just 7 months old. In these 7 months, the team has already served more than 11 clients across different domains like energy, healthcare, insurance, e-commerce, human resource, etc. and are growing exponentially. Right now the company strength is 9 people and are in aggressive hiring mode. And interestingly, the team is yet to spend their first dollar on marketing. 
Whether your enterprise is already using a business intelligence solution or just starting to explore the possibilities, Helical's solutions can help you on all the aspects, right from tool selection, ETL, Data warehouse designing & consultation, solution development & analytic as well. Helical provide integration of disparate data sources and offers users powerful interactive tools like balanced scorecards, personalized dashboards, key performance indicators, automated alerts, graphical mining, cross tab reporting and more. Their solutions can be accessed on mobile, can be implemented on SaaS, can be accessed via web browser & also can be seamlessly integrated on your software or website as well. Helical solutions are very cost effective as they offer their services based on the open source BI tools like Pentaho. Helical has the advantage of the cost of open source BI tools and services which come as a great relief to organizations of any size against the rising cost of current proprietary BI tools and its licenses.
Nikhilesh talks exclusively to LifebeyondNumbes (LBN) about himself, Helical, entrepreneurship and more.
LBN: What made you give a third attempt, so early, at another start-up just after two failed attempts?
Nikhilesh: We have always believed that if plan A fails, there are still 25 letters left in the alphabet and we didn't give up hope. I had always dreamed of being my own boss, making it large and carving out an identity for myself. We did not find the zest working in the corporate world and felt more like one of the spokes in a wheel, doing the same work mundanely every day, with no personal growth or learning. Every company and every individual has his own shares of ups and downs, their own share of success and failure. Keeping that in mind, we took the failures in our stride, learned from the failures and kept moving ahead.
LBN: You had your fair share of downs and ups. Tell us about what you've learned from these experiences.
Nikhilesh: Yes, we've learned quite a few lessons, some of them the hard way. The most important ones I feel are:

1. Thinking of money right from day one is a very bad strategy; just trying to concentrate on doing good work will result in customers who would stick with you in the journey for a lifetime.
2. We had tried to outsource our selling, but realized that selling is the most important job in a company and is the only revenue point. Hence, for companies and especially start-ups, it's really important to have a solid sales team and sales strategy.
3. It's really very very important to have the domain knowledge in which you are starting up; otherwise the probability of facing a failure would be a lot higher. We didn't have much forehand knowledge of healthcare IT sector and that was one of the biggest reasons of our failure in the same.
LBN: You have managed to bag an initial round of seed funding in quite a short time span. Tell us more about it.
Nikhilesh: We started looking out for funding in the month of April. In the month of May itself, we got funded by a Singapore based senior Citibank official. Since we were already cash positive from the first month itself, we were not in the need of a really big amount. We have raised INR 25 lakhs from the investor. The investors were so impressed with our growth that in our 6th month itself in 2 weeks flat we were able to close the funding round.
LBN: What's in store for Helical in the coming time? What are your future plans?
Nikhilesh: We never had problem in getting clients, but human resource has been a problem. There have been occasions when we had to reject clients since we didn't have sufficient number of people who could handle the project. The first and foremost usage of the funds would be in hiring resources. In the 8th month of operation, our current resource strength is already touching almost double digits.
Helical roadmap is:
– Hiring aggressively and increasing the company strength
– Launching sector specific BI product (to start off with either in energy or e-commerce)
– Start our big data and analytic wing as well
LBN: Tell us a bit about your clientele.
Nikhilesh: Our clients are primarily from the United States except for one or two. Unified Social, Vortecy Energy Consulting, Sage Human Capital, IBNTech and Predikto are some of our valued clients. We are proud to say that we have always got exceptional feedback from our clients for our work. We had to turn down to clients like Jabong, Magnaquest, Inspire-edge IT Solutions, etc. because of lack of sufficient resources to handle those projects.
LBN: Any message or advice that you'd like to send out to budding and peer entrepreneurs.
Nikhilesh: Never think of money right from day one, build value and money will follow. Documentation is paramount, and so is due diligence when approaching vendors to ensure value for money. Also remember, Rome was not built in a day; it takes a lot of time, effort and perseverance to build a brand. So be ready to slog.
Click here to visit Helical IT Solutions
Best of wishes from team LifeBeyondNumbers goes out to young Nikhilesh, his partner Nitin and the entire Helical Team for more of such amazing achievements and growth.