Ronald Reagan once said, "We can't help everyone. But everyone can help someone." And this is how Manish Grover likes to live his life. He started his entrepreneurial journey a few years back. He says he owes his success to a lot of people who have extended their help to him, and hence, his eagerness to help everyone!
Manish did his MBA in Marketing, and his Engineering in Electronics & Communication. With approximately 4 years of experience in entrepreneurship, marketing and consulting projects for start-ups as well as with top management firms, Manish started shaadimagic.com in February 2011, a one of its kind wedding planning portal in India. "It would be fair to call me a Start-up Junkie who dreams to make his small venture into a 'big corporate", he says.
In this exclusive conversation for LifeBeyondNumbers, Manish Grover talks about the inception of Shaadimagic, his journey, challenges he faced and lots more…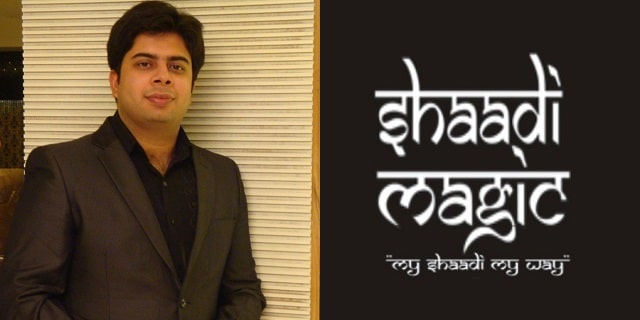 Inception of ShaadiMagic
After one not-so-successful venture, I was looking for a business opportunity to feed the entrepreneurial bug in me. In February 2011, at a friend's wedding an idea struck to me when I saw my friend, along with her entire family, was running in and out of the city every day to arrange the barrage of things that an Indian wedding demands. I thought of starting a wedding planning portal where to-be weds can get all the required information and make their tedious wedding planning experience comfortable. That was the "Aha! moment" for me. I discussed the idea with my brother Sameer and couple of my friends. We researched and found no noteworthy market player in the online wedding planning space. One of my closest friends – Mohit Berry, enthusiastically joined his hands at this venture and became the co-founder of Shaadimagic.com. However, Mohit, due to personal commitments, no longer holds the co-founder title. His 'closest friend' title, however, is intact!
Shaadimagic is a one-stop-shop for end-to-end wedding solutions. Shaadimagic is an idea that is making a difference – in the lives of to-be-wed couples and their families by attempting to eliminate the unnecessary running around. It brings various wedding allied vendors across the country come together on a digital platform for couples to choose – whether it is a Mehendi artist or Band party. We have over 1.7 lac vendors listed. And interestingly, we have a 'Ghodi' wallah listed too!
The enterprise is totally a bootstrap venture. Mohit Berry respectfully gave up the title of co-founder in Jan 2012 owing to personal commitments. And then, Sameer, my brother joined in. Sameer almost has a decade of experience in IT infrastructure and support services, and is an Electronic and Communications engineer.
Challenges
To get the idea sold itself was a challenge. First to parents, and then to the others. After having done very well academically, I was expected to pick up a 'nice' corporate job and have a steady source of income. But, I was swarming with entrepreneurial waves. The initial response the idea got was ambivalent. Many said, "Awesomeness", while others said, "Why don't you pick up a job?"
But with sheer conviction, we pretty much sailed. It wasn't smooth, though. Another big hurdle was Mohit's withdrawal. I was never threatened by a new entrant or revenue leakage or the likes – the reason was a strong partnership and the understanding me and Mohit shared. It was tough recuperating from that shock, but I did. As they say, "You gotta do, what you gotta do"
Future
We have ambitious plans for Shaadimagic. And, increasing revenue manifold isn't the first one. For Shaadimagic, I have always believed that revenue won't be the true indicator of success. International vendor listing will be. We are looking at getting International listing  on our portal. A few years down the lines, we want to see Shaadimagic as the next big thing.
Learning
As I said earlier, don't look for reasons to help, or not help, others. Just go ahead and do it. Your Karma shall catch up! Also, it is great to be rushed by Adrenaline and driven by your idea day and night; but it is also important to take a break every once a while. To budding entrepreneurs – Welcome to the AH-MAZING journey. It will knock you down… but if you get up, it shall give you wings! Go on, get ready to FLY! At the end, I'd like to quote what Richard Branson said, whom I admire a lot, "Business opportunities are like buses, there's always another one coming." Just make sure you get into one!