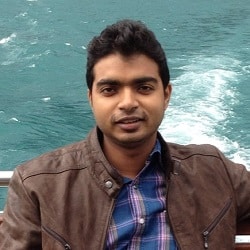 Shachin Bharadwaj, a Bachelor of Engineering from the Maharashtra Institute of Technology, Pune has previously worked with Synygy India, before moving onto building his own entrepreneurial project, TastyKhana in 2007. An aggressive entrepreneur and a people's person, Shachin is a first generation self-motivated entrepreneur. Headquartered in Pune, TastyKhana is now one of the leading online food ordering portals in the country and continues to grow with each passing day. Shachin is a firm believer that no idea is bad and it is the execution that finally matters.
In this exclusive conversation with LifeBeyondNumbers, Shachin Bharadwaj shares his journey with TastyKhana, the achievements, challenges and lots more…
Inception of TastyKhana
The idea and concept of TastyKhana was based out of a personal need for me. In 2007, there was very little information about restaurants on the internet and I was a regular at ordering food in office. So every time I wanted to order food, I needed to hunt for numbers, menus, offers, etc. This activity was very cumbersome and manual. So I started building an excel sheet, which had complete details of all the restaurants around my office. This excel soon became popular among the office staff and everybody started using it for ordering. Very soon the excel started floating outside office and that's when I realized that, this information if published on the web, it would be really helpful. Next step was to accept orders online and this is how it all evolved. So, from 10 odd restaurants in Dec 2007, with 3 people, today TastyKhana is present in 8 cities, with 5000+ restaurants and has catered to approximately half a million customers till date! We will generate business in excess of INR 10 Crores for financial year 2013.

From a business model's perspective, I don't see any challenges being a niche player, the challenges are more business driven like operational efficiency, scaling business fast, etc. Advantages are mainly that you are focused on one segment of users and this means you can provide much better services and user experience. Niche players always have their own standing in the market. Once you distinguish yourself on services and quality standards people would always want to transact from an 'expert' than a have it all player.
Challenges, Learning and Future
When we started TastyKhana we had no clue on how to run a business. Right from building a website to getting a business account was new to us. Especially in our line of business we needed to be available all seven days from 10 am to 11 pm to provide customer support. Now, we being just a 2-person team, the challenge was immense as we had to manage everything simultaneously. Apart from the operational challenges, the other difficulties we faced were lack of support from friends and family. The fear of failure runs so high in our tradition that, everybody wants you to be in a so called 'safe job'. So you work against all odds to ensure you survive. Finally monetary constraints were always there, for the first 3 years we were always 1 or 2 months away from bankruptcy. But the pressure to pay your dues by end of the month, makes you deliver wonders!
We want TastyKhana to be the clear market leaders for food ordering in India. If you want to order food, you will think of TastyKhana. We started TastyKhana in October 2007 and the numbers for first year are nothing much to talk about. By the end of year two – 2009, we were generating business worth INR 10-12 Lacs annually. In 2010 we were doing approximately 30 Lacs. In 2011 we were at 80 Lacs and in 2012 we were at 2.5 Crores. 
Now this is one service we all can drool over. It's food, and we are crazy for anything to do with food! A useful service that's changing the way we see food ordering and getting it delivered. Already making waves in the online food delivery segment, TastyKhana is here to stay and on the way to becoming an important part of urban  lives. We'd love to see how things shape out for them and how they take it ahead in the times to come!