After doing their internships in start-up companies, school friends Amar Saurabh and Nayan Mittal didn't want to go the 9 to 5 job way. Amar is a B.E. From BMS College of Engineering and hails from a very small town in Bihar. A wannabe cricketer as a kid, he played for the district cricket team as a bowling all-rounder, but could not continue playing after joining college. Nayan Mittal did his B.E. From MIT, Manipal in 2013. "Being a Marwari I have always been keen on starting a business, right from my childhood", he says. He is a keen mobile app developer and started developing for Windows and Blackberry platforms while in college and bagged a lot of prizes and goodies from Microsoft and Blackberry.
In the exclusive conversation with LifeBeyondNumbers, Amar Saurabh, talks about how he started Sugoi Labs, his journey so far, challenges he faced and lots more…
The Beginning
I started 'Counseling Master' with three of my friends in 2010 when in 1st year of college,  a portal to help and guide kids passing out of school to choose an apt career path and a good college. It became popular among students in no time. But it failed because of the team metrics and our immaturity to handle success. I started a blog 'Wake India Now' (wakeindianow.com) in 2nd year of college,  with my brother, which was to create social awareness among netizens of India. Wakeindianow.com is still live, but I don't write for it, mostly because of time constraints. In 3rd year of college , I started  a cartoon series based on college life humor, named 'Apna Feelings' on Facebook (facebook.com/apnafeelings)  which became quite popular among college students. I have been associated with a lot of social causes and NGOs throughout my college life. Started 'Change For One' right after college – an NGO which caters to kids' education in slums and orphanages throughout Bangalore.
Inception of Sugoi Labs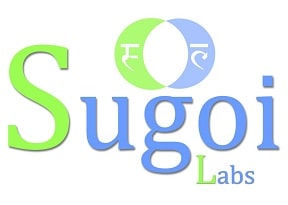 Somehow, the idea of taking up 9 to 5 job in a MNC did not look lucrative enough. I was doing an internship with findyogi.com and Nayan was developing an app for Byju's classes as an intern. We liked the way these start-ups were built. You could feel all the the good things happening. The growth of the start-up could be felt, a lot of energy around, no strict rules. So, working in a start-up sounded cool to both of us. We came up with this idea of having a web development start-up based in Bihar, as there are not many players in the market.  But, after a market survey, we were disappointed to know that the internet infrastructure is not good enough for people to have an online social life. Then we randomly visited a few businesses in Bangalore and found out that there is a need of some reliable solution and service  for the simple requirements like websites, social media management, etc. And hence was incorporated Sugoi Labs. We got Sugoi Labs registered as a Private Limited company in 4th year of college in May 2013, but proper operations started from July 2013. Sugoi Labs is essentially a web development start-up providing supplementary services like social media marketing, SEO. As of now, we completely bootstrapped and we are in the process of building an awesome team. Currently, we are a 6 member strong team. Initially, we worked only on websites and then we took up social media marketing for a few clients.
We have had 40+ clients since we started. Apart from providing the website development and social media management, we are currently working on a product for fitness industry where our target users will be gym and fitness studio owners and managers. It is still in its very initial stage, but we are working with a couple of gyms in Bangalore to give it a proper shape which covers their pain-point. The name for that product is yet to be decided. Not only will this product help the users manage their fitness arenas better, but it  will also give the gym-goers a complete analysis of their fitness level, improvement in their various fitness parameters in very easy to understand graphs. This will be a combination of cloud and tablet app.
We aim to be essentially a service based company serving very small to medium size enterprises with the mission of helping small businesses increase efficiency of their business processes with use of technology. A year down the line, we want to branch out to 4 other cities, mostly tier 2, for client acquisition. Two years down the line we want our fitness product to be being used by at least 200 gyms and fitness centers all across India. Few years down the line, I still want to be the odd job man that I am for my company, working on anything and everything.
Challenges and Learning
There were a few challenges on the way, Firstly, parents were not ready with the decision of getting into entrepreneurship. I too had this sense of responsibility that they have cared for me so long. Paid for my college education, so I should listen to them. But, somehow I had this conviction that I can make it work. So, starting Sugoi Labs was the toughest part, as 9 out of 10 people I knew were either skeptical about it or were dead against the idea of starting it. Once we needed other helping hands, it was really difficult to get good people, who would be passionate about working with us, working in a start-up. It still is a challenge to get good people on board.
In my first sales meet with a client, I could not open my mouth (laughs). Thankfully we got the project with efforts from my friend and co-founder Nayan Mittal. Sales is still not my forte, but I have closed quite a few deals now. Learnt how to sell. Initially I was trying to sell my services. But later I realized, I have to sell myself, people have to trust me for taking my services.
I think one should make sure before starting, do a lot of soul searching and have a reason other than money to be an entrepreneur. If money is the only motivation you have, better not start. Something like money can motivate for a few days, beyond that, all the pain you take will look worthless. If you don't have a motivation beyond money you will soon start missing your daily TV series and late-night movies. I feel, this should be a lesson that each and every aspiring entrepreneur should understand before starting. Entrepreneurship is not about how you work, it is a lifestyle choice. It's a way of leading life where passion for doing good work takes precedence above everything else.