"In a car you're always in a compartment, and because you're used to it you don't realize that through that car window everything you see is just more TV. You're a passive observer and it is all moving by you boringly in a frame.
On a cycle the frame is gone. You're completely in contact with it all. You're in the scene, not just watching it anymore, and the sense of presence is overwhelming." ― Robert M. Pirsig, Zen and the Art of Motorcycle Maintenance: An Inquiry Into Values
When the objective is to travel, one can travel by various means, however, if you have ever had the opportunity to ride a bike, you would probably know that biking is not just about traveling. In fact, once you start riding, it becomes less about discovering places and more about discovering yourself.
When you ride a bike, you feel everything – the heat when the sun is at his zenith, the water soaking through your bones when the rain gods pour-down their generosity, the chill slicing through your body when it's cold. And that's what separates biking from all other means of travel.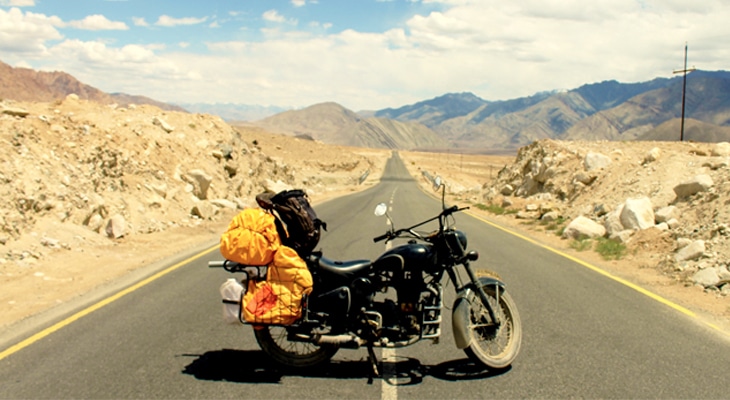 I have been a biker for almost 10 years now and a proud rider of a Royal Enfield Bullet Electra 350cc called –The Messiah. In our 90,000+ kilometers of riding, me and Messiah have covered quite a few places in the hilly parts of Uttaranchal & Himachal and have had the privilege of riding to Ladakh & Spiti Valley twice. We have also been to other long distance places like Harsil, Chopta, Chittorgarh, Munsiyari etc.
Having spent a considerable time of my life riding Messiah to places known and unknown, there are a few tips I can share, which may come handy if you are contemplating getting on two wheels.
The Bike
Honestly, it does not matter what bike you ride so long as you have the passion to remain on one for 10-12 hours a day. While I am not really the jury to decide which bike is ideal for long rides, I can say one thing for sure – you need to keep in mind the terrain that you would be covering since its impact on a bike would vary from one machine to another.
Apart from the mechanics of your bike, what also matters is your confidence about your bike. I have seen people covering the entire Manali-Leh stretch on 100cc and 125cc bikes.
So, it is not necessary that for long rides, you must have nothing less than a Harley.
The Ride
By this I mean the following:
A short spin lasting about 4-5 hours, for example Breakfast rides.
Day ride – start early in the morning and return by evening.
Overnight ride – one that has an overnight stay at the destination.
Long rides – anything that lasts about 5 days or more.
If you are a beginner and have never been on long rides before, I strongly recommend that you start with a short spin. For example, being a Delhi resident, I often head out to places like Murthal on the National Highway-1 for a short ride. The ride is roughly 60 kms one way and gets over in a matter of 3-4 hours. Once you get a hang of going on some of these short spins, you would be able to gauge your comfort level on your bike. Gradually, you can look at increasing the duration to a day ride and then to overnight rides and so on.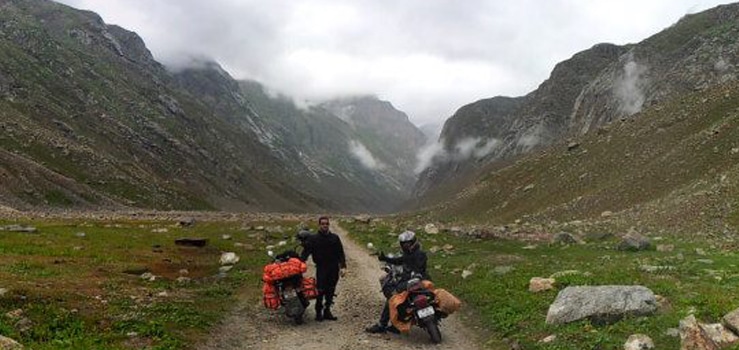 I would not recommend taking off on a long ride without prior experience of riding your bike long distance. At my workplace, where I lead a biking group called Nomads Riders, it is mandatory that the participants have prior experience of going on long distance rides.
Planning A Ride
In my many years of riding, one thing that I have always followed religiously is to meticulously plan my riding itinerary.
Usually, the perception most people have about bike rides is that it's impulsive, spontaneous and impromptu. I personally disagree with this mindset and I can already feel some people sneering at me.
Having been there and done that, I recommend planning a ride before you begin one.  Here are some of the factors to consider when planning your ride:
Duration – How many days? I believe this is the most important factor as this would help determine your destination.
Destination-Very important to have one. Choose a destination before you start off. This way, you will have a target in mind and can push yourself accordingly. Also, a lot of the following factors would depend on the destination you choose.
The terrain – Plains or Hills. By terrain, I mean the type of landscape that you will encounter. Is the road mostly plain or hilly or both?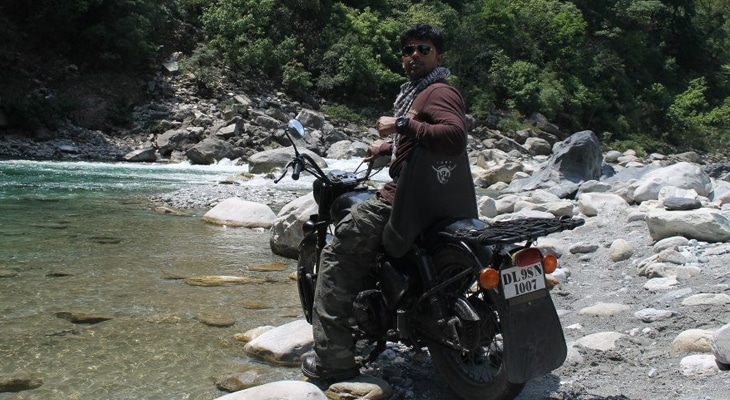 At a speed of 60kph, the average output comes to about 45 kmph. That's because on any highway it is not easy to maintain a steady 60kph in the midst of all the traffic. So, when I ride at 60kph, the average speed comes to 45kmph in plains. Similarly, if you are riding uphill, you can roughly maintain a speed of about 40kph.
Therefore, in an hour you would end up covering anywhere between 30-35 km. This gives you a good idea of where your night halt should be.

The Road  – 4 lane or 2 lane; national or state highways. Another very important factor, in terms of both time and safety. Generally, 4-lane or 6-lane highways would let you maintain good speed for a continued duration whereas single lane or roads passing through villages would slow you down. Also, from safety point of view, 4-lane and 6-lane roads are better than single lane roads.
The weather you would encounter, riding solo or in a group and last but not the least, your physical endurance levels are other things you need to consider before starting out. Contrary to what many aspiring bikers believe, riding can be as strenuous as it can be fun.
Therefore, as I said before, short spins are an easy way to gauge and build up your physical stamina before you set out to your dream destination 2000 miles away.
The Load 
Yes, you do need some luggage on a long haul. 
Rides that last more than 2-3 days usually require some basic clothes and accessories. A lot of first timers would simply stuff their paraphernalia into a duck-bag and hang it on their shoulders for the entire ride.
Let me tell you, it's very cumbersome to do so. And I speak from experience. To have a duck-bag hung on your shoulders for long durations only means that by the time you get off the bike your shoulders will no longer be in talking terms with you.
Be nice to your shoulders and let your bike carry the bags. Especially if you are riding solo with no pillion, use the rear seat for packing your bag with the help of the ever-reliable bungee chords. They are available all over the world and are extremely handy in tying your luggage to the bike.
I recommend good quality saddle bags for slightly longer rides and if you are heading towards places like Ladakh, then definitely the Ladakh carrier. While packing your luggage, you need to remind yourself to pack only the essentials.
No one is going to check if you bathed and changed every day. It's important to pack light. 
Next up, I will be sharing tips on preparing your cruiser for the road, how to maneuver different types of terrain, a list of destinations around Delhi and last but not the least, a few safety tips. Because it may be an adventure for you, but for your family, all that matters is that you're back home safe. And I say that from experience!
Don't miss the second part of this article on how to prepare your bike for the journey ahead. Click here to read now.
Do share your thoughts and queries in comments below.