Ankit Jain and Aditi Gandhi were both business consultants with Ernst & Young and, interestingly, had no prior experience in advertising, creative design or even working at an agency, when they decided to start ColourCraft Studio (CCS). They both nursed a creative streak on the personal front though. Ankit is a closet writer and Aditi a trained dancer but their business education, Indiana University (USA) for Ankit and NMIMS (Mumbai) for Aditi, steered them into the big, bad world of business consulting. Two great things came out of that detour though – they met each other and founded ColourCraft Studio, and they gained valuable organization-building and leadership experience, which has helped them grow CCS with fiscal responsibility and strong processes.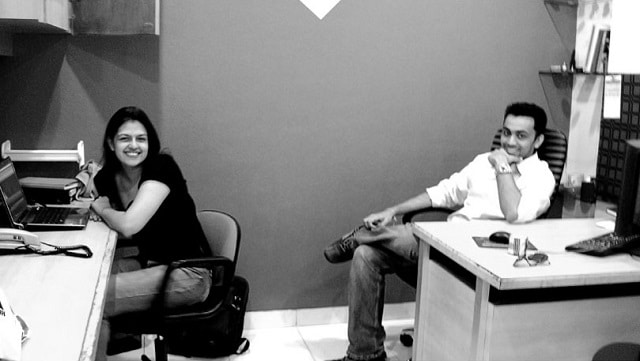 In an exclusive conversation with LifeBeyondNumbers, Aditi Gandhi shares their journey, about their work and much more…
Inception of ColourCraft Studio
ColourCraft Studio was started in 2009 over breakfast much like most great things in life! Ankit had quit Ernst & Young in 2008 because he wanted to translate his passions for writing and film into a profession. He tried to get a job at film production houses but realized soon that the film industry was not suited to his introverted and idealistic sensibilities. In the enormous free time that unemployment afforded him, he started designing and writing ads for some friends' businesses as a freelancer.
Me, on the other hand, was tired of writing reports for big businesses and filling out time sheets which didn't have much to show for in terms of quality of time spent on Earth. I too quit my job to find something that I could be passionate about. After dabbling my feet with a dance company for a while, I astutely realized that making a passion into a profession has its own pitfalls.
That's when ColourCraft Studio happened – born out of the frustrations of two passionate and disillusioned people who didn't like the way the world worked. So instead of complaining about it, we decided to create our own nook in it.
For both of us, ColourCraft Studio may not be the first passion but it is definitely like our first child. We live and breathe ColourCraft Studio, and spend most of our living hours nurturing it, but also continue to be in touch with our own individual passions. Ankit continues to spend his free time writing film scripts and novels which may see the light of day at some point, and I continue to travel all over India attending dance festivals and workshops.
What is ColourCraft Studio

ColourCraft Studio is an end to end Creative and Digital Agency. We create design for print, digital and brand identities with a forte in content, something that sets us apart from your average agency. We are currently based in Mumbai and Bangalore with a total of 45 employees spread over four major departments – Print Design, Digital & Social Media Design, Creative and Business. All our departments and their heads are born and bred in CCS. We have never acquired a division or hired department heads laterally because we grow and promote from within.
Like other start-ups, we are not playing a valuations game. We do not believe in acquiring clients at all costs just to hop-up our valuation and sell the company to the highest bidder. ColourCraft Studio is in this for the long haul. Therefore, our company is completely partner-funded. ColourCraft Studio is proud to claim that it doesn't have a penny in debt to its name. And neither does it plan to take venture capital unless the venture capitalist is willing to put 15 hour days like the rest of the Partners in growing this baby.
In less than five years, ColourCraft Studio has grown to a self sustained agency of 45+ employees, servicing clients across a broad spectrum of industries, sizes and countries for their creative, advertising and digital needs. Our clients range from the bigwigs like L'Oreal India, JM Financial, Ramada, Indiabulls, Tata Star Bazaar, Vedanta Resources, Mars Hospitality to SMEs/Start Ups as we don't believe in any job being too big or too small as long as it makes for a great addition to their portfolio of work. We service clients across the country and the world, including Delhi, Bangalore, Chennai, Ahmedabad, Kolkata, the United States, United Kingdom, Argentina, Australia, Singapore and UAE.
What sets us apart in our offerings is that we bring a certain strategic thinking to our products. We like to get into the skin of the client and do what we would do if we owned their business.
In a nutshell, CCS attributes its success to two major factors – 1) a passion for functional and unobtrusive design and 2) a culture of meritocracy and respect
Life at ColourCraft Studio
Unlike many agencies, ColourCraft Studio does not have a culture of odd working hours and working on the weekends. Most of the employees are women, some even married, so their safety and work-life balance has been made a priority. We don't believe in bowing down to every whim and fancy that a client has at 12 AM in the morning. We believe in a good productive 8 hour work day. Anything beyond that can wait till the next morning.
Challenges and Learning
Challenges? What challenges…?? (laughs…) Well, jokes apart, entrepreneurship is a challenge everyday. Just getting out of bed takes courage when you own your own business but if you are excited about facing those challenges head on and creating a legacy and not just a business, then it (entrepreneurship) can give you a high like none other.
Another supposed challenge, our lack of industry experience and formal design education has actually helped us differentiate from other outfits. You have to think outside the box when you have never been inside the box, don't you? This challenge has made us strive harder, think different and sometime reinvent the wheel for the better.
Finding quality people is another challenge, like it is for any business in India. So our answer has been to get them young and hungry, invest in their training and growth, help them cultivate their own brand of professionalism, ethics and design sense. In that context, ColourCraft Studio is a mentorship-based organization.
In fact, ColourCraft Studio is one of the few agencies which has started their own academy called "CCS LiveDesign" that teaches, mentors, gives hands on experience and offers placement support to design students. Our pilot program last year with Nirmala Niketan College was extremely successful and we now plan to now extend the academy to other colleges in Mumbai including JJ, Sophia's, B.D. Somani amongst others.
Do it your own way. You will make mistakes. You will fail. But the victories will be oh so much sweeter because they will be as original and unique as the mistakes.
The Way Ahead
In the short-term we plan to open another office in Mumbai, besides our Headquarter at Nariman Point, which will primarily service our international clientele. We started the New Year with a bang by opening shop in Bangalore and we plan to bring that to its full potential followed by an office in Delhi shortly! We also plan to take CCS Live Design to the next level by building a full-fledged design academy by 2018.
Our overarching vision would be to preserve the sanctity of design. "Design should not be for the heck of it", says Creative Director Ankit Jain, it should serve a purpose and it should be subtle, even invisible sometimes because its objective is only to give a desired experience to the user, not be the center-piece or the hero of the show. This philosophy, which has been pioneered by people like Steve Jobs, a personal hero of Ankit Jain, has worked for ColourCraft Studio even in a country that prizes clutter and over exaggeration in design.