It was in 2003, when Dr. APJ Abdul Kalam was the President of India, that I met him first. I was working as HOD, English in St.George's College (SGC), Mussoorie, and we were celebrating the Sesqui Centenary (150 years) of the College. Dr. Kalam was the Chief Guest and we were all in a flurry that the President was coming. Amidst strict instructions from the Prez' Office that only five questions be asked to Dr. Kalam and these questions be faxed to His Excellency's office with the name and class of the students who were to ask them and other protocol, the elation on campus remained unabated.
Everything was planned to the minutest detail – the seating in the auditorium to the order in which the chosen ones would ask their questions to the faculty photograph with the Prez, no aspect was left untouched. His chopper was to land on the helipad that SGC boasts of and the function would roll immediately. On this historic day, jubilation wed commotion and what a union that was! From the Head of the Institution to Tillu, the gardener, everyone sang the same strain. Till a last-minute announcement threw us off-guard.
The Prez was now coming by road! The squad waiting at the helipad with bouquet and smiles were asked to withdraw and line up at the main gate. To this day, no one knows whether that move was to avert any supposed threat to the Prez' life or was it actually the inclement weather. Even before his arrival, Dr. Kalam had taught us all one life lesson.
1. Be Prepared
Life does not always follow the path we have set for it. Sometimes, it takes its own course and makes us follow it instead. And when that happens – an emergency, as some would term it, we better be prepared. At least have the presence of mind to know what is the best course of action suited to that particular situation. The fanatic emphasis on 'Plan B' that professionals talk about is not a coward's fall-back system. It serves a purpose, a purpose that a strategist has envisioned and planned before the need for an alternate solution surfaces.
After the initial tweak of schedule, everything went as planned. Dr. Kalam formally addressed the audience, spoke about inspiring leadership and upheld his mentor, Prof. Satish Dhawan, the Chairman of ISRO, as a stellar leader.
2. Leaders Acknowledge Contribution
Prof. Dhawan was the Chairman of the Indian Space Research Organization when India's Rohini satellite was to be launched into orbit. Dr. Kalam, then a scientist, was the Project Director for the launch. Despite the best research and technical expertise, the whole rocket system plunged into the Bay of Bengal instead of the satellite going into orbit. In the press conference that followed the disastrous launch, Prof. Dhawan faced the media, took the blame of the failure on himself and assured the world that by next year his team would definitely succeed.
The following year, in 1980, SLV-3 successfully went to space. Prof. Dhawan put the Project Director, APJ Abdul Kalam, to the forefront and urged him to conduct the press conference that day.
Shouldering the blame for failure and conferring credit where it is due comes rarely to most. In an era where playing the blame-game and taking undue credit to forge ahead in life has become the norm, Dr. Kalam inspired over 1500 minds that day, with the exception. That an exemplary leader is one who gives credit and recedes into the shadow as the protégé takes center-stage.
After this anecdote, Dr.Kalam answered the five questions, graciously obliged the starry-eyed staff with a photo session, and then came down from the stage. And in an unprecedented move, Dr.Kalam started mingling with the students, shook hands with them and answered questions that were not part of the agenda! If this took even his own OSD (Officer on Special Duty) and security off-guard, they did a good job of not showing it. Dr. Kalam's love for children and touching lives was legendary then as it is now. The scenario at SGC was something his team might have always been privy to. That was our third learning for the day.
3. Go With The Flow
Dr. Kalam knew the effect he had on the masses, especially the youth. With a leader's vision, he knew how eager the audience was to talk to him, hear him, and be inspired by him. He went beyond what was chalked in his schedule and made an exception for all present that day. He let them touch his hand and in return, touched their lives. He gauged the situation, sensed the unspoken dreams and went with the flow. And because he did that, everybody present in that auditorium that day emerged a different person- more inspired, more ready to face the world, more willing to make a difference.
So potent was my first meeting with Dr.Kalam that it became the backdrop of my debut novella, Love's Labor, ten years later. After the book was published, I wanted to present him with a copy and requested an audience with him. Dr.Kalam obliged. There was more learning in store. The first thing I noticed about the former Prez was how he had kept himself up at his age. The mental alacrity, more than the physical, is what caught my attention.
4. Keep Fit
Successful people realize the importance of a healthy body and a healthy mind. They know that the two are inextricably interlinked and imperative for their smooth functioning. They follow a strict regimen of healthy habits which include right eating, adherence to mealtimes, a holistic exercise plan that suits one's age and a mind full of positivity. It is established that the first three invariably impact the fourth.
At eighty plus, when most resign from life and suffer from purposelessness and isolation, Dr. Kalam has launched his mission for the youth of the nation called the What Can I Give Movement with a central theme to defeat corruption. He writes Tamil poetry, plays the veena, and continues doing what he had set forth after his Presidential tenure – sharing his experiences with the youth, helping them 'to ignite their imagination and preparing them to work for a developed India for which the roadmap is already available'. He exemplifies what others aspire for, he looks to the future with hope.
5. Have A Vision
This is that single most potent factor that drives our civilization. Having a vision, nurturing it, waiting for its fruition, reaping its rewards – all give meaning to life. The human spirit collapses not when it is deprived of food but when it is denied a dream. People with purpose move far ahead in life than those with none. The auto-pilot mode that works well for an aircraft is fatal for a human. The youthful lament of 'getting bored' or the elderly refrain that all 'responsibilities are over' and there's nothing else left, does not bode well for a nation that still has a long way to go.
Dr. Kalam's vision for 2020, Save the Environment, found a reflection in my e-book concept. He may have granted me a meeting, not because he remembered me from a decade ago, but because the digital book resonated with his vision for a better world. 'Good, you're saving trees' he complimented.
When I finally presented him my book, he could have accepted it and motioned the end of the meet. Dr.Kalam insisted on knowing my family and friend, instead. He asked to be introduced, showed an interest in learning their name and their profession, and remarked at how apt their fields of work were. When signing autographs, Dr.Kalam ensured that each book was signed with the owner's name. What could have been just my evening of glory became memorable for my husband and our friend too. And we realized the importance of connecting with people, despite their social standing, when there is nothing to gain from the association.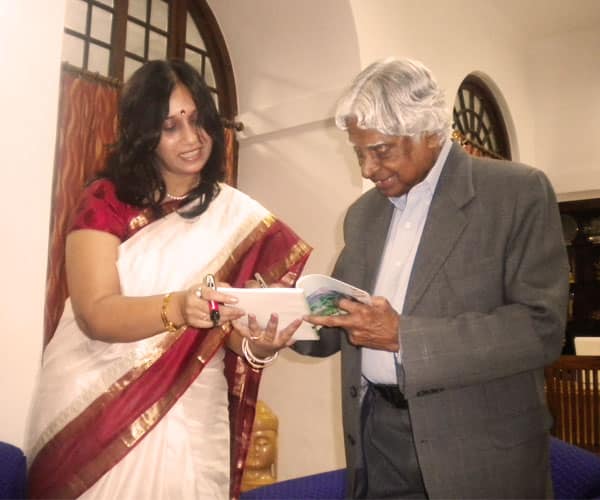 6. Connect With People
In the mad race for success, we often distance people and embrace numbers. If this is inadvertent and not deliberate, the realization of the same comes as a shock to even oneself.  Gregarious that we are by nature, it is in our best interest that we make an effort to know our neighbors and keep in touch with our family. Healthy interpersonal relations contribute greatly to our happiness and longevity. Research proves that people who are more connected, either to other people, pets or a Supreme Being, are more cheerful and enjoy a better quality of life. So the next time you are at the grocer's, address him by name and see the delight on his face.

Most who know I've met Dr. Abdul Kalam ask me to describe him in one word.  'Humble' is my inevitable reply. I could not have learned all the above from this great leader had he not displayed genuine humility. No arrogant man has ever touched the human heart, no despot ever commanded respect.
7. Be Humble
This should top the list because all else fails in the absence of this. Spiritual Masters have extolled the virtues of humility and parents have taught us to be humble. The value education classes in schools aim to instill this virtue in our being if we were unfortunate enough to be born without it. All success in life comes to naught if it is laced with vanity. Modesty has and will remain, an alluring trait because where egoism falters, humility conquers. This is why an icon like Kalam moves us to utter – Kalam, Tujhe Salaam!