Vivek Vyas and Vimal Popat, two enterprising souls from non-technical backgrounds have started a web portal that serves as a platform to seal the memories of parted loved ones  forever in a beautiful way. For ages, obituaries in India have been published in newspapers. The first of its kind website in India, Shradhanjali.com, is a welcome way to pay tribute to and remember the dearest ones who have passed on. Vivek is a first generation entrepreneur, with a sales and training background whereas Vimal, a commerce graduate, left a well settled job and took plunge into entrepreneurship.
Vivek Vyas and Vimal Popat, talk exclusively with LifeBeyondNumbers about their unique concept of Shradhanjali.com, how it came about, their entrepreneurial journey and more…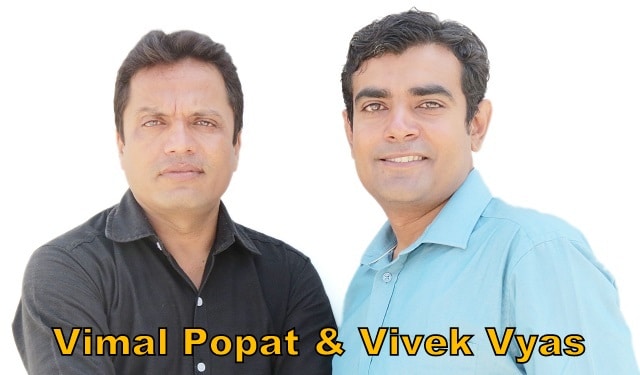 Inception of Shradhanjali.com
The idea came in fluke while having some snacks. As the snacks were served on piece of newspaper obituary column page, we felt a bit disturbed we discussed, "Can't these be presented in a more respectable and presentable manner which also stays forever and can be accessed globally and be remembered and shared?" These questions made us go about this noble portal Shradhanjali.com, which is India's 1st tribute portal that helps us relive lives and memories of our parted loved ones and ancestors, and prepares ready archives for our future generations.

One can upload, store and publish a complete memoir on Shradhanjali.com. Photos, embedded videos, family details, complete biography (in Indian regional languages), condolence messages, birth and death anniversary reminders to relatives and friends, and choice of religious background music – all these are possible on Shradhanjali.com. In addition to that, all of the controls of the profile remain with the subscribers and they can edit the profile any way they wish to. We do not accept any commercial advertisements on the profile pages to maintain the decorum of the profile. As of now we at Shradhanjali.com are totally self funded. We have started looking out for investors to take this service to the national level.
Currently we have a more than 280 paid subscriber base and around 60 complimentary profiles. We have got successful entry into India book of records and another prestigious record book is also going to register us in their 2014 record book. We have received a special appreciation letter from Honorable Chief Minister of Gujarat Shri Narendra Modi for starting up and running the service.
Challenges, Learning and Future
Being from non-technology backgrounds, it was a challenge for us to develop a portal like this. We never knew what problems can arise post launch. Things have gone wrong many times but we have managed to overcome. As an entrepreneur the learning I can share is – Never plunge into entrepreneurship only because it offers freedom and lots of money. Enter if you have the mindset to serve, sustain and have lots of patience. Also, you should keep in mind that not all investors will like your ideas. You must have the guts to take NO with a smile.
Our future road map is very clear. We want to take this service on a national scale and make it popular in every household. We believe the service appeals to emotions and helps us know about our roots and ancestry. Within 3 years from now each of the states will have agency and franchise presence of Shradhanjali.com
An engaging conversation about a novel concept ended on a high note. Knowing Vivek and Vimal was wonderful, and we found their venture is to be a pretty useful one when it comes to people's emotions and memories of loved ones. In today's technology dominant world and families living in all parts of the globe, having the access to relive memories and remember dear ones in images, videos and messages with a few clicks makes them live forever not just in our hearts but also in a virtual world of endless possibilities.