A Bachelor in Electronics and Computer Engineering from Newcastle University, UK, Rishabh Jain specializes in Android development, JAVA and C++. Born and brought up in Delhi, Rishabh worked with Occam Financial Technology based in London as a Junior Software Developer for a year, before returning to India and starting Bowstring Studio to follow his passion for technology and software development. Having a taste for adventure, Rishabh never shy away from testing my nerves. "I have a gift when it comes to programming and always enjoy working on a particularly complex bit of logic", he says.
Akshit Rungta is also a Bachelor in Computer Science from Newcastle University, UK. Before starting Bowstring Studio with Rishabh, Akshit worked with Prismtech as a Salesforce (CRM) Administrator and with RPM Music as a web developer. "I've always had an eye for good design and a passion for bringing those designs to life with my programming skills", adds Akshit.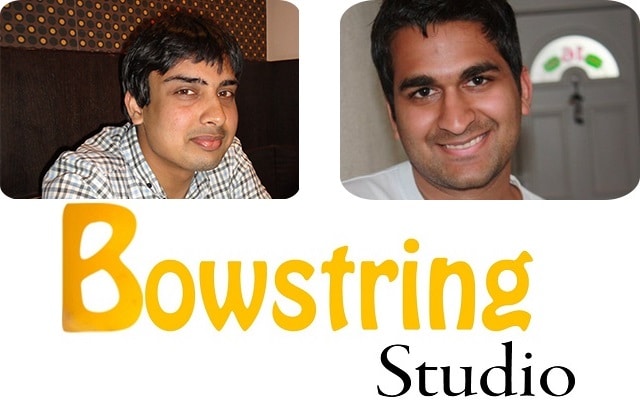 In an exclusive conversation with LifeBeyondNumbers, Rishabh Jain shares their journey with Bowstring Studio so far, about their app – Quikpeg, challenges they faced and much more…
Inception of Bowstring Studio and the app Quikpeg
After completing my graduation and working for a year in UK, I came back to India to be close to my family. I traveled for some time and looked for a job after that, but I could not find anything I felt satisfied doing. It was then that Akshit, my college friend and now business partner, suggested opening a firm developing mobile applications. I am a very technology obsessed guy with a passion for developing software, and so the idea immediately piqued my interest. The thought of having the freedom to choose what to do and how to do it also appealed to me. That was when Bowstring Studio was born.
Quikpeg was not a business decision, it was an app that we really wanted to use and would have loved to find something like this on the app stores. But we couldn't find any and so, decided to do it ourselves. We cursed liquor stores every time we went there, found them closed and no one knew of an open shop nearby. So many of us have returned back to a party disappointed. We wanted to change this and make the parties last longer.
What is Quikpeg
Quikpeg is an application that helps you find the nearest open liquor store in town and bring you to its front door. Say you are having a party and you fall short of alcohol, its late and you are not sure which liquor store would be open. You can just open Quikpeg, browse through the list and find the open stores near you. What's more – if you don't know your way, Quikpeg will navigate from your current location to the store's doorstep.
Users can choose to view liquor stores nearby either as a list or as markers on a map. Quikpeg's detail page shows information like opening and closing times, address and special instructions like nearest landmark or special brands available. Quikpeg also guides the user from his or her present location to the selected store and plots the way on a map.
What's next on Quikpeg?
A list of dry days for various states with notifications a day before to stock up
Price lists for various volumes of various brands of liquor in various states
We have been fortunate in terms of the projects that we have been asked to work on. We did not get projects that were similar or used the same technology but rather had a new challenge every time, thereby, increasing our knowledge with each passing day. We have developed video streaming applications that use REST APIs to text based apps that use internal SQLite databases to store content.
The first word that comes out of anybody's mouth on hearing about Quikpeg is WOW!!! The next reaction is a huge smile which says it all. Quikpeg has been really appreciated by the people and we don't get tired of hearing what an interesting idea it is.
The Way Ahead
We want to grow both as a firm and as professionals. We expect to grow to an organization with an employee count of at least a few dozen people. We want to see ourselves exploring new areas in design and technology, and make Bowstring Studio's name synonymous with innovation and excellence.
We want to make our product, Quikpeg to be used by the whole country, so we'd like to expand our database of liquor stores country wide. Hopefully, we would also be able to add several more interesting features to it.
Challenges and Learning
The biggest challenge for us being a start-up has been getting our name out there. It was imperative for us to market our name rigorously  in the industry to have any kind of success. Attending conferences and workshops, networking with like-minded people and doing good work made us visible to the market. Maintaining our standards in this competitive environment is another challenge that we have been facing since day one. There are plenty of developers out there  who would deliver sub quality product at low costs just to get more clients.
Only work on something if you believe in it, only then you would give it your best shot. One fact that we have learnt in our brief experience as entrepreneurs and developers is that developing something that we believe in is the easiest thing in the world. When you work on something interesting, it ceases to be work and becomes fun.
Go. Take a Quikpeg now.